For the second week in a row, precious metals prices were little changed. However, it was a stellar third quarter for both gold and silver, with the former gaining 10.7 percent over the last three months as the latter surged an impressive 25.5 percent, and the same positive forces that have been in play in the late-summer are likely to drive metal prices even higher in the months ahead, though there could be further weakness over the very near-term.
These positive forces include heightened investor demand in both ETF and bullion form due to central bank money printing and rekindled inflation fears, strong demand from emerging market central banks who are swapping out their euro and U.S. dollar reserves, and a host of bullish technical factors after the metals emerged from their lengthy correction over the summer.
New demand drivers that are likely to develop in the period ahead include renewed jewelry and investment demand in both China and India along with what, in my view, could be the biggest price driver of all: a tumbling dollar should the U.S. "fiscal cliff" fail to be resolved in a way that bolsters confidence in the currency as detailed here back in July.
For the week, the gold price fell about two dollars, from $1,773.00 an ounce to $1,771.10, and silver dipped three cents, from $34.52 an ounce to $34.49. Spot gold is now up 13.1 percent for the year, down 7.9 percent from its 2011 high, and silver is up 23.8 percent in 2012, down 30.3 percent from its peak last year.
Both metals are now undergoing a much needed consolidation at much higher prices than that seen over the summer and, while it's surely possible that a more substantive correction will develop in the weeks ahead, I wouldn't be surprised to see prices stay fairly stable before moving higher, meaning, investors have likely seen the last of gold prices at around the $1,600 level and silver that could be purchased for less than $28 an ounce.
Some of the recent calls for weakness directly ahead for precious metals have been based on somewhat faulty interpretations of the historical record on prices. One that came to my attention last week was this story by Mark Hulbert at Marketwatch who looked at the monthly gold price performance going back to 1980 as shown below.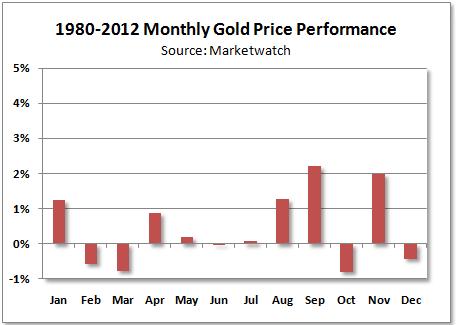 While I'm sure the data is correct, I have to disagree with the conclusion that slack Indian jewelry demand during the month of October is likely to have much of an impact on prices as most of the long-established seasonal patterns have been turned on their head over the more recent 11+ year bull market as shown in the graphic below.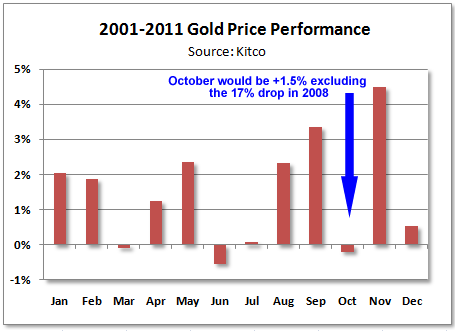 Note that the first six months of the year have been much stronger recently as weak jewelry demand at that time of year has been replaced by early-year investment demand and buying by central banks. Importantly, average January-to-July price gains have improved by nearly an order of magnitude, from 0.14 percent in the upper graphic to a full 1.0 percent in the lower graphic.
Even more importantly for the near-term, upon closer inspection of the data, the October weakness prevalent since 1980 vanishes over the last decade if the horrific 17 percent gold price plunge that occurred at the peak of the financial market panic in 2008 is excluded from the data set.
The 1.5 percent gain as indicated in the second chart puts October gold performance squarely in the middle of the 12-month pack at 7th, and it seems clear that unless you're expecting a repeat of October 2008 next month, seasonal weakness during the month has little basis in recent history.
After last month's outsized gain of 7.7 percent, slightly lower metal prices shouldn't come as too big of a surprise in October, but there is good news in both charts about November. So, regardless of what happens over the near-term, history suggests that precious metals will end the year higher, perhaps spectacularly higher, given the right conditions.
Central banks continue to buy the yellow metal. Last week, the International Monetary Fund reported that Turkey added 45 tonnes to its reserves in July, Russia added almost 19 tonnes, South Korea increased its tiny gold reserves by almost one-third with an addition of 16 tonnes, and Paraguay went from, basically, zero to over 8 tonnes.
Recall that the world's central banks went from net gold sellers to net buyers in 2009, and this trend accelerated as the European sovereign debt crisis got underway and the U.S. continued to borrow and print money with abandon. At just past the mid-way point, emerging market central banks have added more than 250 tonnes to their gold reserves in 2012, and expectations are that last year's multi-decade high of almost 450 tonnes will be exceeded. This important new source of demand is not likely to go away anytime soon given the propensity of Western central banks (along with China and Japan) to print money so freely.
Retail investment also firmed up as the summer drew to a close, with worldwide gold-backed ETF holdings rising to a record 2,500+ tonnes, most of this owned by the popular SPDR Gold Shares ETF (NYSEARCA:GLD) that is now worth an astonishing $75+ billion. Though there were outflows of 120 tonnes on Friday, late-summer additions of more than 350 tonnes to the iShares Silver Trust (NYSEARCA:SLV) and a rising silver price combined to push this ETF's holdings to over $11 billion.
Investment banks have become more bullish on gold and silver in recent weeks, with Barclays Capital raising its fourth quarter gold forecast to $1,810 an ounce, Deutsche Bank putting the price at $2,200 next year, Citibank saying it could go as high as $2,500 in six months, Bank of America laying out its case for a $3,000 gold price just last week, and Sharps Pixley Chief Ross Norman saying the price could go as high as $4,000 based on an expanding Fed balance sheet.
As I've been telling subscribers at Iacono Research for some time now, higher metal prices will require broader participation by the world's two biggest gold buyers - China and India - and, over the short-term, there may be some downside for both gold and silver. But, a seasonally favorable November combined with more attention paid to the U.S. "fiscal cliff" and the negative ramifications that this may have for the trade weighted dollar have set the stage for what will likely be an exciting finish for precious metals in 2012.
Disclosure: I am long GLD, SLV. I wrote this article myself, and it expresses my own opinions. I am not receiving compensation for it (other than from Seeking Alpha). I have no business relationship with any company whose stock is mentioned in this article.
Additional disclosure: I also own gold and silver coins and bars.