China Pharma Holdings, Inc. (NYSEMKT:CPHI) reported that its Q2 revenues climbed 32% to $11.3 million. Net income was up by 21% at $4 million. While these numbers are moving in the right direction, the Q2 results are less impressive than the 60% revenue growth and 78% profit increase of Q1. China Pharma makes and markets generic and branded biopharmaceuticals in China.
In our discussion of China Pharma's Q1, the issue of Accounts Receivable was a major concern. The AR number jumped an unusual $6.2 million to $24.8 million in the quarter.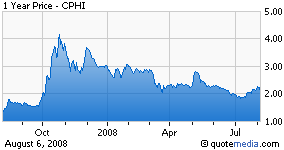 The growth in Account Receivable almost equaled the quarter's gross profit for the company. Among other issues, this jump causes cash flow problems and, indeed, China Pharma announced a $10 million dilutive stock offering within a month of reporting its Q1.
The cash flow problems have continued in the second quarter, though they are not as severe. The new Accounts Receivable number is $27.3 million, implying an increase of $2.5 million from Q1. That is a substantial decline in growth from Q1, though it remains an increase, and the number is still high for a company with $11.3 million in quarterly revenue. On the other hand, a 10% increase in AR in a company that is growing at 32% would be understandable if the amount was not so high already. And, as we have said before, China Pharma's main market is hospitals, which are slow payers, though they usually come through.
Still, the increase in AR wipes out the majority of the company's $4 million in net income in terms of raising cash levels this quarter. Because of the refinancing, however, China Pharma ended the quarter with $7 million in cash, a big improvement from the $.68 million at the end of Q1.
Part of the reason that Q1 was so much better than Q2 may have been cold remedy Pusen OK, which notched an impressive near-doubling of revenue at $1.6 million in Q1. Pusen OK probably was not much of a revenue-producer in the warmer spring months. China Pharma attributed its Q2 growth to increased marketing and an expanding portfolio of products.
China Pharma pointed with pride to the Q2 revenues from its bio-product Cerebroprotein, a treatment for stroke. Sales of the product increased 125% year-over-year, though the company did not disclose specific numbers. Also, China Pharma launched its Bumetanide injection product, a generic diuretic, in June 2008.
Operating margins remain high for China Pharma. Its net income is 35% of revenue. China Pharma continues to enjoy a low 5.5% tax rate, though that will increase to 25% over the next five years.
The net-net on China Pharma is that the company is doing well – it is growing and soundly profitable, and it continues to increase its product portfolio. But the Accounts Receivable issue remains a concern that does not seem to go away.
Disclosure: None