By Rocco Pendola
I take most Wall Street analyst research with a grain of salt.
In some cases, it's simply because the research stinks; in others, it's because I do not get to see the entire report. I do not have enough depth or context to properly assess its usefulness.
Several financial writers make their livings reviewing analyst notes and longer research reports. The analysts, who charge clients for this information, send it, for free, to many members of the media and the companies they cover. Of course, they want to get their work out there. They're happy when it appears on Seeking Alpha or elsewhere, particularly when it's an uncritical regurgitation of their outlook.
With that in mind, as an investor, you have to understand something. When you read that this analyst said this or that analyst said that, often, you're not getting the entire picture. Generally, the writers who spend most of their time relaying analyst thoughts and projections pull what they think is most meaningful from the longer reports they read.
That's what I will do with the September 28, 2012, Morgan Stanley (NYSE:MS) research report I received on Pandora (NYSE:P). I pick and choose what I think is important.
It's no secret that I am long and very bullish P. I don't have to cherry pick the positive from this MS report. Doing so would not enhance what is already my almost entirely bull case. Instead, I pull what I think is important from two standpoints:
I highlight portions of the report I think investors should see. Some of these sections come standard with every report produced by every firm. Often, they do not make the summaries you see in the financial media.
Specific to Pandora, Morgan Stanley gets into several areas I rarely see covered, present company excluded, in the financial media. It's solid information and helps cut through the noise regarding Pandora's competitive position and long-term prospects.
Most financial media summaries of analyst research do not go beyond the headline. For example, in this instance, they would stop with "Morgan Stanley sets Pandora price target at $20."
No doubt, Morgan Stanley is bullish, but like any good researcher, the firm also includes alternative scenarios.
You'll find this in most analyst research reports: A bull case, a base case, and a bear case. All are quite plausible.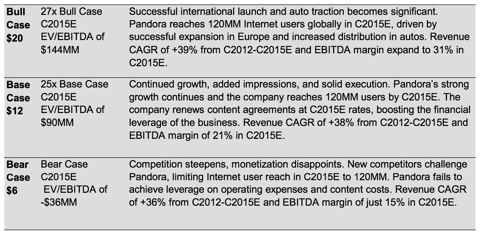 That's not Morgan Stanley covering its butt. Any worthy piece of academic research contains similar sections. What could go wrong? What could produce a different outcome than I anticipate or predict based on what my data tells me?
That section comes with a whole slew of "investment positives," "key value drivers," "potential catalysts" and "investment risks." Most of the rest of the report goes on to flesh out these points.
While the report focuses on MS's positive opinion on Pandora, it provides the investor with complete information so they can make an informed decision. It's important to point this out because when you read the standard media summary of these reports, that's hardly clear.
Morgan is bullish P. They think the stock will hit $20. End of story.
That's shoddy journalism.
From a bullish perspective, Morgan Stanley's report deals with something almost every P bear tends to gloss over: The significance of Pandora's proprietary Music Genome Project.
We get plenty of memes - there's no barrier to entry in internet radio (that's a crock) and Pandora will face competition that will hurt it. Rarely do we get an honest and realistic assessment of the situation. In its report, MS provides one of the best I have seen to date:
Pandora's Music Genome Project is the cornerstone of its music recommendation engine. Pandora employs 20+ analysts accomplished in music theory who attempt to objectively map the intrinsic characteristics of musical works as if they were sequencing the human genome. To date, these musical experts have "sequenced" over 1MM songs from over 100K artists across more than 350 different genres. Up to 450 unique attributes are measured on a scale of 1-5 for each song, such as melody, harmony, rhythm, meter, tempo, influences, instruments, and vocals. Pandora focuses on these qualities to recommend which songs to play, rather than how recently the songs were released or how popular they are. Once songs are genotyped, complex mathematical algorithms determine which songs Pandora should play for users by combining the musical analysis with station-level feedback gathered from other users. Users can further personalize playlists through thumbs up / thumbs down buttons that guide the flow of content in real-time. Each "thumb" actually adds to the collective wisdom of the service by improving recommendations for future users, and Pandora has collected well over 10B thumbs in aggregate.
I have been to the company's headquarters. I have seen Pandora's analysts in action. Even I, knowing full well how bullish I am, did not expect to see what I saw.
Pandora invented personalization. Nobody even comes close. Morgan details how the company's competition takes a stab at the same style, but takes what it calls a "good enough" approach:
Competing services, in both the Internet radio and on-demand streaming categories, for the most part outsource their recommendations to 3 parties. The biggest names in streaming outside of Pandora - Spotify, MOG, Rdio, Rhapsody, and iHeartRadio - all use the same music intelligence platform called The Echo Nest to power their radio tools. By using the same service to provide recommendations, these services have trouble providing truly differentiated recommendations and discovery. The Echo Nest uses mathematical algorithms powered by wisdom of the crowd and data points gathered from crawling music sites on the Internet, but its recommendations often deviate from the intended style of the station after a few songs are played. Pure mathematical wizardry provides great recommendations for a service like Netflix, where suggestions are about whether or not someone will like a movie, than streaming radio services, where context is much more important.
That's so key. As Morgan goes on to explain. If you use Clear Channel's (CCMO.PK) iHeart Radio, you do not get true personalization and discovery - at least not in the Pandora sense. Morgan notes:
... building a station powered by The Echo Nest for the song We Are Young (by Fun.) quickly yielded songs from hip-hop artists like Jay-Z and Kanye West. Granted, there is a good chance the listener may enjoy these artists (as this track has resided closely to songs from both artists on the Billboard charts recently), but the musical characteristics of these songs are extremely different ...
Try any of Pandora's competitors. This becomes immediately clear.
Consider the playlist Pandora spit out for me as I wrote portions of this article:
Snowglobes by Minibar (local Santa Monica band, check 'em out!)
All Cleaned Out by Elliott Smith
(Expletive) and Run by Liz Phair
Catastrophe by IV Thieves
Cold Feelings by Social Distortion
Live Forever by Oasis
Adia by Sarah McLachlan
One More Night by Phil Collins
Time Won't Let Me Go the Bravery
Winners and Losers by Social Distortion
While You See a Chance by Steve Winwood
An insanely complex analysis of musical characteristics, my thumb up/thumb down feedback and the amalgamation of the 40 or so stations I had on shuffle produced an incredibly varied playlist that hit my musical taste right on the nose.
It's level of detail that nobody can match. Not even Apple (NASDAQ:AAPL). In fact, the hysteria over what will happen to Pandora if Apple launches a streaming service is nothing but wholly uninformed noise.
All Apple could do to hurt Pandora is remove it from the iOS. That probably never would have happened, but it certainly will not now given the backlash Apple brought on itself when it removed Google (NASDAQ:GOOG) Maps from iPhone 5/iOS 6.
Most investors make decisions on the basis of easily accessible information. They don't go the extra mile.
That means digging deeper into something like an analyst report. But don't stop there. Listen to conference calls. Call the company yourself. I visited Pandora on my own dime. That's how I was able to know that what Morgan says about the Music Genome Project is not B.S. It's 100% legit. I saw it with my own two eyes.
Then, when you experience a product or service for yourself, you can know whether your resultant investment thesis is objective and free from a "hey, I love this product" bias.
It's OK to love the product, but does that love translate into an investment case when you factor in all other meaningful variables. In Pandora's case, that means dealing with issues such as the percentage of revenue it pays in content acquisition costs.
You have to go through a lot to conduct a credible side-by-side analysis of Pandora and its competitors. Until you do that - and it actually requires time and money - you really are just repeating memes when it comes to ideas such as barriers to entry. Sure, lots of players can do Internet radio, but can they do it as well as Pandora does?
It's a bit easier to look at a more straightforward space, such as smartphones, and come to conclusions.
For starters, that story has largely been told. It's out there. There's no mystery, Apple dominates. If I did not know that already, it became clear this past week. My iPhone 5 arrived. For now, it sits next to a Nokia (NYSE:NOK) Lumia. It's an insult to the iPhone to keep it within close proximity of another smartphone, even the somewhat serviceable Lumia.
If you make an honest attempt, it becomes clear that the wide distinction between an Apple smartphone and a Nokia smartphone applies equally to comparisons between Pandora and its competition, even potential big dogs such as Apple.
Once Congress clears up the royalty situation (see my above linked article about context costs), $20 as bull case target for P will seem conservative.
Disclosure: I am long P. I wrote this article myself, and it expresses my own opinions. I am not receiving compensation for it (other than from Seeking Alpha). I have no business relationship with any company whose stock is mentioned in this article.