I am absolutely in love with Meridian Bioscience (NASDAQ:VIVO) but with the latest quarter mildly disappointing, and the stock lagging while the rest of the market moves higher, I grew impatient yesterday and started looking for another vehicle for my investment purposes.
Okay, it isn't exactly consistent with my trading 'rules.' But you might recall, I did a similar thing with my IHS stock, that I chose to sell when it appeared to be acting sickly.  I took the proceeds and jumped into Graham (NYSEMKT:GHM) which was probably the smartest move of mine this year (except for my short-term trades in Meridian recently, which were WAY outside my usual trading actions!)
With all of that in mind, and thinking maybe I could 'fine-tune' my portfolio a little, I sold my 171 shares of Meridian shares yesterday at $25.4844 and went to the list of top percentage gainers yesterday to find out if there was a better place to park the proceeds.
In light of my own sale of Meridian, I am reducing my rating on the stock:
MERIDIAN BIOSCIENCE IS NOW RATED A HOLD
Reviewing the 'top % gainers', I noted that ResMed (NYSE:RMD) was on the list! This stock has been an 'old favorite' of mine and I have owned it in the past as well. After a review of the news, which consisted of a strong earnings report, I thought it might be wise to switch from one medical technology firm to another that was acting a bit healthier.
I went ahead and purchased 140 shares of ResMed at $43.269. ResMed actually closed at $43.09, up $4.84 or 12.65% on the day.
RESMED IS RATED A BUY
Let me review with you some of the facts that led to my decision to buy shares in this company, which, as I have written, is an 'old favorite' of mine.
First, there is the earnings report.
On Tuesday, after the close of trading, ResMed reported fourth quarter 2008 results. Revenue for the quarter increased 23% to $235.2 million from the prior year same period. Net income was $29.6 million, up from $27.7 million last year. Diluted earnings per share came in at $0.38/share, up from $0.35/share last year. Excluding some one-time expenses, this would have been $0.40/share.
Sometimes just as important as the actual result and comparisons to prior quarters, is the question of expectations. In other words, the result was impressive because the 'street' had been expecting earnings of $0.39/share. In addition, ResMed beat expectations with its $0.40/share result. In addition, with its revenue of $235.2 million, it beat expectations of revenue of $220.3 million according to analysts polled by Thomson Financial.
Sleep apnea is big business.
As this, same Reuters article reports:
ResMed and bigger rival Respironics Inc. control about 80 percent of the $2 billion U.S. market for sleep breathing devices, a rapidly growing market as people become more aware of the links between sleep disorders and heart disease and diabetes.
In America alone, it is estimated that 18 million American may suffer from obstructive sleep apnea, and of these, 10 million are undiagnosed.
Here are some other 'facts' from that same article:
The condition affects about four percent of middle-aged men and 2 percent of middle-aged women.
Men in general suffer from sleep apnea more often than women do.
Children can also have sleep apnea.
Sleep apnea in children has been linked to attention deficit/hyperactivity disorder, or ADHD.
Some studies suggest sleep apnea runs in families.
Studies have linked sleep apnea to high blood pressure, heart attack, and stroke.
Up to 50 percent of people with sleep apnea also suffer from high blood pressure.
People with sleep apnea are three times more likely to be involved in motor vehicle accidents.
People with sleep apnea sometimes fall asleep unexpectedly during the day, such as while talking on the phone or driving.
Risk factors for sleep apnea include being overweight and having a large neck.
Losing even 10 percent of body weight can help reduce the number of times a person with sleep apnea stops breathing during sleep.
African-Americans, Pacific Islanders, and Mexican-Americans may be at increased risk for sleep apnea.
Smoking and alcohol use increase the risk of sleep apnea.
Continuous positive airway pressure, or CPAP, is the most common, noninvasive treatment for moderate to severe sleep apnea.
I share these facts with you as both an investor as well as a patient who also hooks himself up to his own CPAP machine for the last several years! If you or someone you know snores at night, has a large neck size, is a bit overweight - now we are talking about most of us - and if your significant other notes that you sometimes stop breathing when you are snoring, get yourself down to a sleep lab - it could mean the difference between life and death!
However, looking at the fundamentals, besides that little health plug, we can check with Morningstar.com "5-Yr Restated" results. Here we can see the steady pattern of revenue growth, the slight dip in earnings last year and the subsequent rebound, the modest increase in outstanding shares, the recently improved record of free cash flow, and the very strong balance sheet.
Like many stocks recently, the stock price has been under pressure. Let's take a look at the "point & figure" chart on ResMed from StockCharts.com: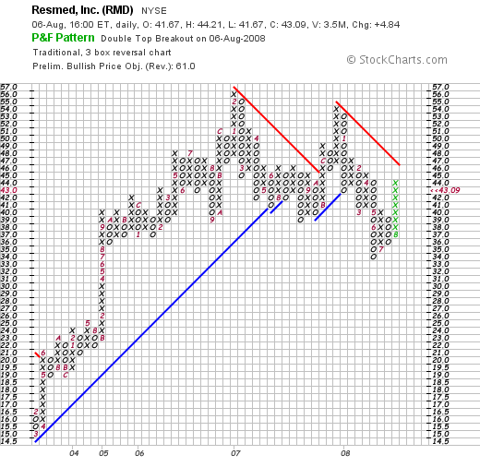 You can see how after June 2007, the stock broke through support levels at the $40 level. Even with Wednesday's strong rise, the stock hardly looks over-extended. In fact, it has some upward price appreciation to do before it even confirms this bullish move. I hope I haven't moved in prematurely, but I believe that the financial results are once again on track and that usually, the stock price follows along. At least that is my strategy.
Sometimes you have to just jump from one wave and pick up another. Of course, I don't surf. However, in my mind, that's what investing in this fashion is all about.
I will keep you posted. Meanwhile, wish me luck with this new purchase.
Disclosure:  The  author owns GHM and  RMD.