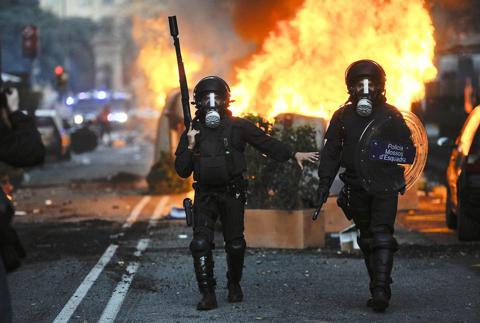 Those whacky Europeans. They're back.
After a much deserved annual summer vacation from their reported 25% unemployment rate, Spanish citizens surrounded the Parliament and Catalans spoke of secession. Perhaps because they use a language unfamiliar to the rest of Spain, not too much attention was paid to their claims that they wanted to withdraw their relative wealth from the morass that has become the Spanish economy.
But with a re-ignition of European issues that had been somnolent over the past two months in the belief that ECB President Draghi's magical touch would be able to cure a millennium of multilateral national antagonism and a decade of currency unity, came uncertainty.
The markets hate uncertainty as much as I like it when my covered shares are either well in the money or have been just assigned, after having been well in the money. The natural order of things depends that there being downs along with the ups and most recently that natural order has been disrupted.
With reports of rioting late in the afternoon on Tuesday, the US markets did what they normally do. They over-reacted, but to their credit returned to stability the next couple of days in realization that a populist expression of disgust with proposed austerity measures shouldn't be a metric by which to buy or sell anything.
What made me happy was not civil disobedience, but rather the fact that many of those well in the money positions became much more reasonably priced and were easily rolled over to the coming week. In an ideal world, that would be the essence of selling options. Week and week out selling the same options on the very same shares. It's not a glamorous way to make money and no one is really going to fight to find a space to listen to your tales of trading, but then again, you could always buy new friends who will.
Unlike last week when I presented many more than my usual number of potential selections for the coming week, this week, despite the drop in prices on Friday (September 28, 2012), I don't really see the bargains that I would have liked.
Instead, I think this coming week we may play it a bit more by ear and see which way prices go and which stocks have their moment of unwarranted darkness. However, the few that are on the radar screen are again categorized as being Traditional, Momentum or Double Dip Dividend positions and are all familiar names, having recently been recommended, owned or currently owned (see details).
Although JP Morgan (NYSE:JPM) was on the list the past weeks and on numerous previous occasions, this week it is also the lone Double Dip Dividend selection. Although it's a few dollars more costly than the last time I owned it, the financial sector was on the weak side over the past few days and as far as cycles go, a few days is the one time equivalent of a lifetime. Of course, the dividend always helps.
Performing even more poorly than the financial sector last week was the energy sector. Already holding shares of British Petroleum (NYSE:BP), Chesapeake Energy (NYSE:CHK) and Halliburton (NYSE:HAL), all of which suffered price pullbacks in the last two days of the week, I can attest to the nearly 2% drop in the sector. Undaunted, it's time to re-purchase shares of Phillips 66 (NYSE:PSX), just assigned away a week ago and now back to a more reasonable price. It's also time to add to the Halliburton position or open up a new such position, as the Mid-East seems to be getting ready for some kind of consummation of tension.
I'm also throwing Paccar (NASDAQ:PCAR) into the mix. It, along with Phillips 66 and many others were assigned as the September option cycle came to a close. It, along with some other heavy industrial shares such as Caterpillar (NYSE:CAT) and Ingersoll-Rand (IR), suffered last week, matching the sector drop seen in Financials.
Rounding out the Traditional choices, also having in common a rough going of things last week are United Technologies (NYSE:UTX) and Rio Tinto (NYSE:RIO)
For the moment, I have nothing much new to add in the Momentum category. Last week subscribers received trading alerts to both buy shares of Molycorp and to sell calls and puts. Luckily a late week surge saw the opportunity to roll over calls to this week and the puts expired, but by only $0.01. It might just be wise to accept that good fortune and move on, but MolyCorp has developed enough support at this low level that a short term drop would likely be matched by a short term pop soon after.
Although I like the potential in MolyCorp again, I'll likely be swayed one way or the other based upon its price movement and direction at the opening. If shares go down at the open, I'm inclined to want to repeat the sale of weekly puts. After all, it's so much easier to keep doing the same thing than to come up with new ideas.
Finally, there's AIG (NYSE:AIG). AS with many stocks last week, recently purchased shares had their sold call positions rolled over to this week. At a somewhat lower level than its recent purchase prices the past month AIG may again offer opportunity to deliver a credible return by selling calls on the purchase of new shares. However, as with MolyCorp, a move to the downside may be just the right time to sell puts instead.
Traditional Stocks: HAL, JPM, PCAR, PSH, RIO
Momentum Stocks: AIG, MCP
Double Dip Dividend: JPM (ex-div 10/3)
Remember, these are just guidelines for the coming week. Adjust accordingly with market movement, and you'll have the makings of a healthy income stream for the week with reduced risk.
Disclosure: I am long AIG, MCP, HAL, BP, CAT, RIO, JPM, CHK. I wrote this article myself, and it expresses my own opinions. I am not receiving compensation for it (other than from Seeking Alpha). I have no business relationship with any company whose stock is mentioned in this article.
Additional disclosure: I may initiate positions (or sell puts) in shares of PSX, UTX, PCAR