On the September 28 Lightning Round, Jim Cramer made the following comment on Ford (NYSE:F):
You can't own Ford because of Latin America and Europe. The international business is way too tough.
But in my opinion, that comment doesn't make a lot of sense. As you can see in the below graph, the operating profits of North America are much larger than the losses in Europe, and South America is actually profitable.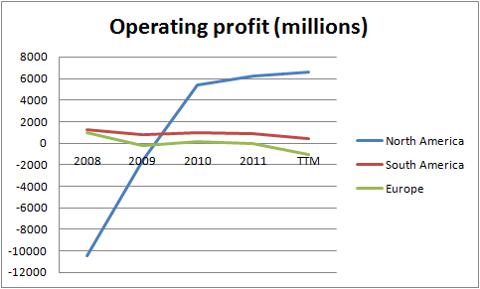 While it is true that we would like Europe do better, the "problems" are more than priced into the stock. The Forward P/E is 6.1, and analysts predicts that Ford will grow earnings over the next five years by 13.8% y/y. This means that the PEG ratio is just 0.4, and in general, any PEG ratio below one is considered cheap.
North America isn't slowing down
We can see by looking at the monthly sales of Ford in North America that sales haven't slowed down in July and August 2012 (the two months that aren't included in the most recent quarterly report).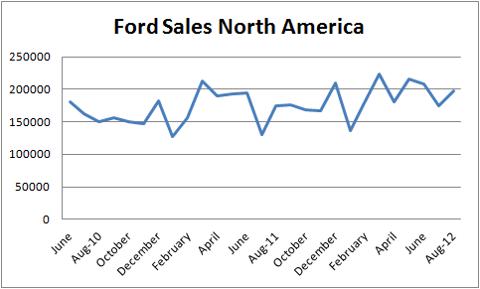 Especially Ford Focus and Ford Escape have been successful and sales have grown nicely over the last couple of years. Since January, Ford has sold roughly 182,000 units of the Ford Focus, compared to 169,000 in the same period in 2011. Ford Escape has been sold 177,000 times compared to 167,000 over the same period in 2011.
Ford has also recently raised their forecast for 2012 total U.S. auto sales, and they now expect sales to be between 14.5 million to 15 million vehicles from the prior estimate of 13.5 million to 14.5 million. Ford currently has a 16% market share in the US.
Europe won't slow Ford down
It should be clear by now that success in North America is the most important aspect of whether Ford will be a great investment or not. As mentioned in the beginning of this article, Ford actually makes money in South America, but even if things get worse there, their operation in the region is too small to impact earnings significantly. But as you can see in the below diagram, Europe accounts for 24% of the revenue of Ford, and therefore, a worsening or an improvement could have a decent impact on the overall profit of Ford.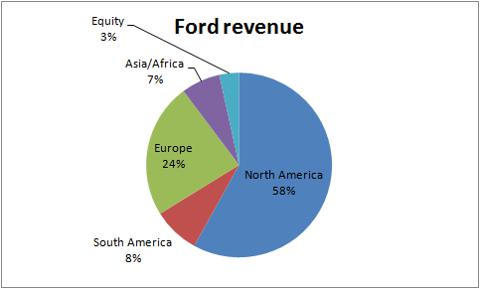 But, while I don't see a return to profit in Europe anytime soon, I doubt it will get much worse. Ford is planning to restructure Europe, and they will cut several hundred salaried workers. In a previous article on Ford, I argued that the biggest disadvantage that Ford has is the wages it pays to their workers:
The advantage Hyundai has over Ford is the ability to produce cheap vehicles. Hyundai produces its vehicles in low-cost countries like Czech Republic, Slovakia and Turkey, while Ford has its main factory in Germany. Hyundai pays workers about 207 Euros to make a Hyundai i30, while Ford pays workers about 480 Euros to make a Focus compact.
So if Ford can cut some of the "overpaid" workers, it could lead to an improvement of the margins.
Besides cutting workers, they are also trying to find a way to close some of their plants. Furthermore, Ford has also announced that they will bring 15 new or restyled vehicles to Europe over the next five years.
While new or significantly restyled models do not guarantee success, I think it's likely that we will see an improvement, and I doubt that losses in Europe will get worse than $1 billion a year in the future.
Given my expectations for increased auto sales in North America and a slight improvement of margins in Europe, I think Ford makes for a pretty good investment.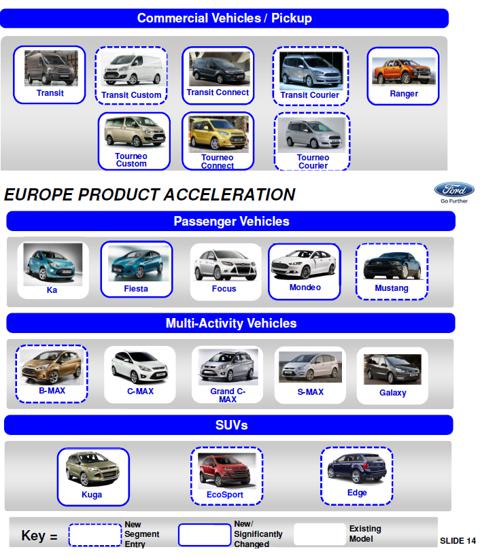 Disclosure: I have no positions in any stocks mentioned, but may initiate a long position in F over the next 72 hours. I wrote this article myself, and it expresses my own opinions. I am not receiving compensation for it (other than from Seeking Alpha). I have no business relationship with any company whose stock is mentioned in this article.