Tronox (NYSE:TROX), a producer of Titanium Dioxide (TiO2) primarily used to whiten paint and plastic, has been severely pummeled over the past few months. From its April peak of $38 per share, the stock now trades around $22.65, having given up over 40% of its value despite the fact that EBITDA looks likely to fall only 10-15% this year from its 2011 levels (on a proforma basis).
With the stock at an estimated 19% FCF yield (5.2x cash earnings), and a 4.4% dividend yield, TROX is a compelling buy at today's prices.
Basics
Company: Tronox Limited
Ticker: TROX
Recent Price: $22.65
Shares: 112mm (proforma for Exxaro acquisition and post share buyback)
Market Cap: $2,534mm
Debt, net of cash: $959mm (added $400m for recent buybacks)
TEV: $3,493mm
EBITDA guidance 2012 midpoint: $831mm (919mm less Minority Interest EBITDA)
TEV/ EBITDA:4.2x (proforma for Exxaro deal)
FCF 2012e: ~$4.33/share
FCF 2013e: ~$3.00/share
Note:Tronox implemented a 5:1 stock split shortly after the merger with Exxaro's mineral sands assets in June. Readers should note that historical stock charts often have not been adjusted for this split.
Background
Tronox is a producer of Titanium Dioxide, or TiO2. The company purchased Exxaro's mineral sands assets in June 2012, providing the company with a stable supply of titanium ore feedstock. The end product, TiO2, is a fine white powder that provides the highest level of whiteness of any known pigment. Roughly 77% of TiO2 is used in paints and coatings, 20% in plastics, and 3% in paper.
There are only a handful of producers of Titanium Dioxide. These include Dupont ((NYSE:DD), 20% share), Cristal (privately held, 13% share), Kronos ((NYSE:KRO), 10% share), and Huntsman (NYSE:HUN) and Tronox with around 8-9% market share each. In 2009, amidst a fall in demand during the recession, several TiO2 manufacturers permanently reduced high operating cost capacity. The resultant past 3 years have seen strong fundamentals for TiO2, as demand has rebounded while capacity has remained steady. There is a good presentation here.
Additional capacity is in fact extremely expensive and long dated, taking 3-4 years to construct and permit. Among major players today, only Dupont is expanding production, adding 350,000 tons of capacity which is expected to be online in 2015. In total this adds only 5-6% to total global supply over a multi-year period. This lack of increased capacity is a bit surprising for a cyclical industry, as typically capacity expansion at cyclical peaks seems the norm for chemical manufacturers. Fortunately, industry discipline likely ensures a healthier pricing environment going forward despite some near term expected weakness.
At the low end of the quality chain, approximately 20% of worldwide capacity comes from China. TiO2 produced by Chinese firms is generally an inferior grade of pigment, from a costlier process utilizing sulfuric acid instead of chloride.
Since 1990, Titanium Dioxide consumption has increased at a 3.3% CAGR, at approximately global GDP growth rates. Low per capita consumption in emerging markets should drive growth overall despite mature markets in the developed world. While much has been made of a slowdown in China, Tronox only sells 8% of its pigments there, with 40% of TiO2 sales to North America. A housing recovery at some point in the US should improve demand significantly, although it's far from necessary to see healthy returns in Tronox (and not at all baked into the valuation here).
Why the selloff in the stock? First of all, this is a company that emerged from Chapter 11 in February 2011, and is substantially under-covered on Wall Street. It is also heavily owned by a weary and skittish hedge fund crowd. Catalysts that many expected to occur since emergence from bankruptcy have been overshadowed by their strategic move to acquire Exxaro last year and volume weakness in TiO2 this year. There are also signs of weakness in titanium dioxide markets too, as TiO2 prices have recently been negotiated downward by roughly 5-8c per pound (or around 2.5-4.0%). Buyers have also stated that they expect similar reductions in 2013 given slowing demand. The recent transcript also has some helpful info.
Overall Tronox operates 465,000 metric tons of annual TiO2 production capacity. According to competitor Kronos's management, it would cost roughly $1.0BB to build a new 150,000 metric ton facility. That implies a replacement cost for Tronox's pigment capacity alone of $3.1BB. Add in the price tag for the Exxaro acquisition of $1.6BB (the Mineral Sands Segment now), and total replacement cost for Tronox works out to approximately $4.6BB.
Given that Tronox's stock trades at a TEV of $3.5BB, that means investors at today's prices are able to invest in Tronox's titanium ore and TiO2 pigment capacity at only 75% of cost! No wonder management recently issued debt to repurchase stock.
Shareholder Friendly Management
Last week, Tronox announced that its $400mm stock buyback plan was complete. Seemingly this sent the stock reeling, perhaps as investors viewed support for the equity to be gone. Because Tronox recently re-incorporated in Australia, the company is precluded from purchasing more than 10% of its common shares in the open market over any rolling 12-month period.
Management's commitment to return capital to shareholders means now that near-term buybacks will have to come in the form of a tender offer or special dividend, both of which are likely on the table. Not to mention the board has stated its commitment to pay a $0.25 quarterly dividend. With trough FCF/share estimated at around $3.00 (see below how I get there), this $1.00 annual dividend seems quite doable even in a recessionary environment.
Worst Case
Overall, March 2012 seems to have been the peak. March 2012 TTM EBITDA (proforma) reached roughly $1.0BB, with management now forecasting $919mm in consolidated EBITDA for 2012.
Tronox pigment volumes in Q2 were down 27% yoy, offset by 24% higher prices. But, with 1st half proforma consolidated EBITDA of $537mm, it appears that management's full year guidance (of $919mm) implies a much weaker 2nd half EBITDA of only $382mm.
Taking that $382mm, annualizing it, and baking in a further 10% fall in TiO2 prices in 2013 (off of a lowered 2nd half figure already), implies a worst case EBITDA next year of around $675mm (net of 60mm of estimated EBITDA from the minority interest, the 26% stake Exxaro retained on its South African mineral sands).
While I haven't seen Street estimates here, the original S-4 Proxy forecasted $1.0BB of EBITDA next year, just from the Exxaro mineral sands assets! The Pigment Segment has generated EBITDA between $100mm and almost $500mm last year, meaning the next cyclical peak EBITDA figure could easily approach $1.3-1.5BB.
By the way, if you want to run your own price sensitivities on TiO2 prices, management has implied that a 1% fall in prices roughly impacts EBITDA by $2.8mm.
This draconian case still yields over $340mm of FCF, or just a bit over $3.00 in FCF per share in 2013, arguably a trough year. Here is a summary of my model: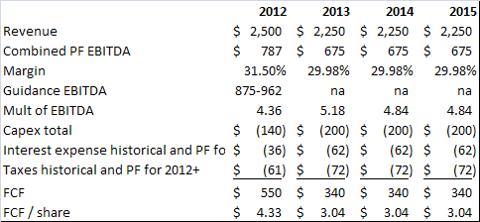 Note: management's proforma EBITDA guidance midpoint is $919mm. It includes minority interest EBITDA that I excluded. I also used the low end of the range of EBITDA for 2012 which is $875 less MI EBITDA of $88mm from the 26% stake in 2 South African mines retained by Exxaro.
Valuation
Given my estimated range of FCF/share of $3.00 to $4.33, I would argue that this stock is worth anywhere from an 8% to a 12% FCF yield. Kronos Worldwide is the best comp, and arguably should trade at a discount to a vertically integrated producer with substantial titanium ore reserves.
Over the past decade, Kronos has traded between 6.2x and roughly 20x earnings. Applying a trough multiple of 6x to a Tronox trough cash EPS figure of $3 implies an $18.00 stock price for TROX in twelve months excluding dividends. That is down 20%.
In the upside case however, assuming a mere 12x multiple (far below peak multiples) and $3.00 in cash earnings, (aka FCF/share) implies a $37 stock in twelve months, or upside of 63%.
That is downside of $4 a share over a year, and upside of $15 a share. Given that the stock traded over $38 earlier this year, I suspect a cyclical upswing over an 18 to 36 month time period could easily equate to a double in the stock.
As for data supporting a healthy industry, one only has to consider Sherwin Williams (NYSE:SHW). A $9BB paint retailer with sales in over 100 countries, Sherwin Williams's stock is hitting all-time highs this month, as management has forecasted sales to rise 5% in Q3 2012 compared to the prior year. Healthy end markets are ultimately what will drive Tronox sales. Near term however, inventory stocking and de-stocking by paint/coating manufacturers can cause swings in demand for TiO2.
I think the dip in Tronox pigment volumes in Q2 can largely be attributable to inventory de-stocking. In Q2, Sherwin Williams sales were up 9.3%, but inventory fell by almost 5%. That could explain the roughly 15% TiO2 volume swings experienced at Tronox. Declines in inventory mean that Sherwin Williams is de-stocking its TiO2 inventory, however that inventory ultimately will need to be replenished.
Other Items
Overall Tronox has $1.5BB of Net Operating Losses (NOLs). Management has stated that they expect cash tax rates to be roughly 15-20% beyond 2012, and 8-12% this year. Anadarko has reserved $525mm of liabilities in an environmental suit between Tronox, which if settled at that price implies that much more in NOL's. (The cash would resolve government claims in the Chapter 11 case as opposed to going directly to Tronox, but the company would get the tax benefit of the cash paid to the government thereby increasing NOLs).
Maintenance capex is only $100mm. Because of heavy capital required to develop the mineral sands at the Fairbreeze mine, total capex looks to be around $200mm for each of the next 2-3 years. Using a maintenance capex figure only implies FCF/share of almost $4.00 next year. Again, I have baked in a 30% drop in EBITDA in 2013 compared to Tronox's peak EBITDA of $1BB (TTM March 2012). Peak FCF / share could be as high as $6 per share post the Fairbreeze mine completion.
The Exxaro Fairbreeze mine in South Africa recently received government approval to commence construction activities. This should be complete by early 2015. By my math, the company needs 512,000 tons of ore feedstock per year, and without Fairbreeze will only produce 473,000 tons. Fairbreeze should add 250,000 tons, meaning that Tronox will be net long plenty of rutile needed to produce TiO2.
Zircon, a by product of the mineral sands assets acquired from Exxaro, originally was forecasted to generated 16% of combined EBITDA, which roughly is $147mm for 2012. Management stated on their last conference call that Zircon sales are down between 25% and 50% from expectations, meaning declines perhaps of $100mm of EBITDA. This product is driven by Chinese construction activity, and while I think I have baked in enough cushion in my estimates, it's hard to say what happens in the event of a hard landing in China.
Conclusion
A global recession no doubt will hurt Tronox. Any worldwide growth in GDP, however, with limited supply of new TiO2 capacity expected over the next few years, should mean a continued healthy market. In either case, a 4.4% dividend yield (and low 30% payout ratio too), coupled with management buybacks supporting the stock, means I am happy owning Tronox stock in either case. Good luck.
Disclosure: I am long TROX. I wrote this article myself, and it expresses my own opinions. I am not receiving compensation for it (other than from Seeking Alpha). I have no business relationship with any company whose stock is mentioned in this article.