Can a miner get too big and expand too quickly? That's the question that value investors need to ask when they look at Rio Tinto (NYSE:RIO) and similar companies. Big miners, including Rio, BHP Billiton (NYSE:BHP), Newmont Mining (NYSE:NEM), and Barrick Gold (NYSE:ABX) have been expanding aggressively in recent years, but does it translate into income and share value?
In Rio's case, apparently not. The company's income growth fell by 59.3% in the last year, even though its sales grew by 9.7%. Yet it managed to maintain a profit margin of 8.45% and pay a dividend of $1.58. The aggressive growth designed to feed China's seemingly insatiable desire for minerals does not seem to be paying off.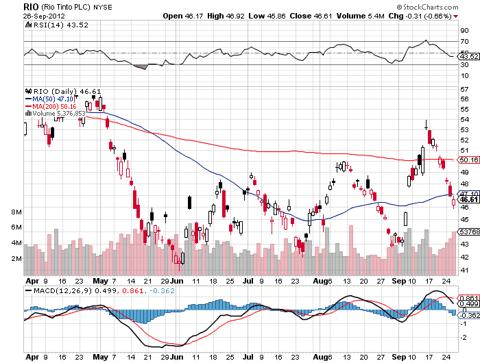 As you can see from the charts, Rio Tinto's share price has been on a roller coaster ride for the past few months. It goes up then right back down again, and it has not really recovered from a steep drop in April and May. The company has not been able to convince the market that it has value even though it owns some very impressive assets.
Trouble in Mongolia
The most impressive of these is the Oyu Tolgoi copper and gold mine in Mongolia, which reportedly contains the world's largest undeveloped copper deposit. This mine, which is right on the border between Mongolia and the world's top copper market, China, should be a money machine. The only problem is that the $5.2 billion mine is not running because the Mongolians won't let Rio Tinto buy electricity from China.
Every day that Oyu Tolgoi (which is 97% complete) sits idle costs Rio and its partner, Turquoise Hill Resources (NYSE:TRQ), the company formerly known as Ivanhoe, $8.4 million in lost revenues.
The dispute at Oyu Tolgoi demonstrates the problems facing big miners like Rio Tinto. They have to spend a fortune to develop mines that may never produce an ounce of ore because of politics and other outside factors. They are also highly dependent upon expensive infrastructure that does not always exist in the remote areas where the minerals are found.
Assets for Sale as Rio Expands in Australia
Rio is trying to deal with this situation by selling off some of its assets. It has sold two coal mines in South Africa to Forbes & Manhattan Coal (NYSE:FMC) for $53 million. The company has also sold off its share in the large South African coal miner, Palabora Mining (PAMJ).
Yet Rio is still expanding on other fronts, including its Robe River joint venture in the Pilbara iron mining region in Western Australia. Rio's partner in Robe River Mitsui & Co Limited (8031 in Tokyo) has decided to invest $1.5 billion to expand the massive iron mine. Rio has plans to invest $3.7 billion in the expansion.
This expansion might be what is really driving the roller coaster ride Rio's share price has been on lately. The company is expanding its iron ore business at a time when iron ore prices are falling. Iron ore prices in China, the top market, fell to $106.4 a ton last week. Reuters reported that the reason ore prices are down is that the Chinese are stockpiling less iron, probably because demand for it is lower.
The situation might be even worse because the increased demand for iron in China is driven by infrastructure projects that require a lot of steel. The infrastructure projects are part of the Chinese government's stimulus attempt. That means the demand for more iron in China in recent months has been artificial.
So Rio's expansion plans in Australia might not be justified by the market. Instead it might have no market for all that new ore it plans to dig. Most experts think iron prices will remain low for at least six months, which will lead to more losses for Rio.
Rio Is a Buy and Hold Stock
This makes Rio a buy and hold play. Iron will rebound when the economy recovers, and so will Rio's income. That means value investors might be well advised to wait to buy Rio, because it might fall lower. The stock is still a good one because of the dividend and the high profit margin, but it might be overpriced right now.
Rio is one of those stocks you buy for the long haul because it is dependent on long-term trends. That makes Rio a stock to watch to see when it hits bottom because, when it does, it will be a very good buy.
Disclosure: I have no positions in any stocks mentioned, and no plans to initiate any positions within the next 72 hours. I wrote this article myself, and it expresses my own opinions. I am not receiving compensation for it (other than from Seeking Alpha). I have no business relationship with any company whose stock is mentioned in this article.