Current shareholders should hold Sirius XM Radio (NASDAQ:SIRI) long-term to benefit from its high potential for capital appreciation due to revenue growth or impending acquisition. Interested investors should buy Sirius soon; strong earnings for the remainder of 2012 are expected, and Liberty Media (LMCA) currently has more than 49% stake. During the second quarter, Sirius XM was able to increase its revenue, subscriber base and net additions. This was accomplished despite increasing subscription fees in January 2012. Internet radio from popular ecosystems may compete in the long-term, but currently, there is no immediate threat to Sirius XM's prominence. Current shareholders stand to benefit from the Sirius XM current trajectory or if it's taken over by Liberty Media in the near term.
It's appropriate to review both Liberty Media and Pandora (NYSE:P) when considering Sirius XM's current metrics. Liberty Media is a more stable asset for investors that want to hedge their interests in Sirius. Pandora is the most direct competitor to Sirius in the user-driven radio broadcasting sector. Liberty Media's market cap is around $12 billion and currently trades at around $103 per share; its price is about 17 times earnings. Pandora's market cap is around $1.7 billion and it trades for around $11 per share. Sirius XM's market cap is around $12 billion and it currently trades for over $2.50 per share; its price is around 4.7 times earnings. Pandora's price-to-book ratio is around 18.9, Liberty Media is around 2.2 and Sirius XM is around 2.4.
Sirius XM's price-to-sales ratio is around 3.04; Liberty Media's price-to-sales ratio is around 4.8 and Pandora's around 5.2. Liberty Media's EPS is around $5.64; Sirius XM's EPS is around $0.53 and Pandora's around -$0.20. Sirius XM's sales grew 36.4% during the past 5 years and 12.5% in the past quarter, YOY. Pandora's sales grew 130.9% and 51.2%, respectively; Liberty Media's sales for the past quarter were at a 0.19% deficit, YOY. Sirius XM's ROE is over 151%, its operating margin is around 23.2% and profit margin is over 107%. All of Pandora's respective margins are running at significant deficit. Liberty Media's ROE is around 12.9%, its operating margin is around 23.8% and profit margin is around 27.4%.
Sirius XM's beta score is the highest among these firms and is usually over two. Its average daily volume of 59 million trades is also the highest; Pandora averages around 4.6 million and Liberty Media is around 628,000. Sirius XM's relative volume is around 1.1, Liberty Media is around 1.7 and Pandora is close to 0.7. Sirius XM's stock has already doubled from its 52-week low and is less than 3% lower than its recent 52-week high, Liberty Media is also 3% lower than its 52-week high. Sirius XM stock has outperformed these firms and the major indexes as well; it's increased over 37% YTD through late September. Sirius XM is down 1.5% in the past month but has increased 9.1% since the earnings release.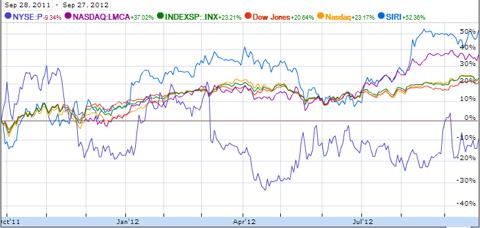 Sirius XM's second quarter earnings release details the financials behind the recent surge in its stock price. Total second quarter revenue was $730 million, increasing 13%, YOY. Total operating expenses was $609 million, increasing 7% YOY. Sirius chose to realize the valuation allowance established against deferred tax assets at the end of the quarter, this increased net income to $3.13 billion from $173 million, YOY. Sirius XM's EBITDA increased to $237,096 from $185,094, YOY. Free cash flow increased to over $230,018 from over $165,433, YOY. Long-term debt decreased from $2.68 billion to $2.54 billion. Sirius XM ended the first half with 22.9 million subscribers increasing 9%, YOY. Sirius XM's net additions increased to 622,042 from 452,174, YOY.
Over 462,870 net additions were self-pay, over 159,160 were paid promotional. Sirius XM's average self-pay monthly churn rate was flat at 1.9% through 2012 and 2011. Sirius XM's new vehicle consumer conversion rate also remained flat at 45%, YOY. Subscriber growth was driven by increasing new vehicle shipments, conversion from unpaid trials and returning subscriber activations. Sirius XM's ARPU increased to $11.97 from $11.53, YOY. Advertising revenue increased 14%, YOY from an increase in advertising spots as well as charged rates. The increased revenue was primarily due to increased sales of premium services, the increased subscription rates, and subscriber base as well.
The recovery in auto sales and the growth in mobile devices are the main catalysts driving Sirius XM's growth. Some speculate that Apple (NASDAQ:AAPL) is interested in entering the streaming audio entertainment sector by providing a free platform or app complimentary to iTunes. Several tech firms with ecosystems are considering this new market in order to gain an edge on their competition. For now, the Apple devices are more of a help and proponent for Sirius XM's growing returns rather than a threat. Eventually, IP radio could be a viable threat for Sirius XM, but the Liberty Media takeover is projected to occur sooner in the near term.
It would be interesting to see if Sirius XM is able to negotiate similar terms with tech ecosystems that it has with popular automakers. Over 60% of the new cars sold in the US have Sirius XM service pre-installed. Nissan (NSANF.PK) recently appointed Sirius XM as the exclusive partner to provide premium telematics services on new vehicles. Nissan will be the first automaker to provide this combination of audio entertainment and data services for consumers. The telematics services include roadside assistance, stolen vehicle tracking and 24/7 emergency support alongside the Sirius XM radio. Sirius XM's differentiating factor is its ability to combine satellite and cellular coverage in order to optimize telematics services.
Sirius XM CEO Karmazin already adopted the 10b5-1 trading plan in late August 2012 to maximize returns on his position before the expected exile under the new Liberty Media regime. Sirius is doing well with subscriber retention, improving auto sales and increasing earnings; current shareholders will do well regardless of the outcome of the hostile takeover. Liberty Media is simply waiting for FCC approval before it takes full control of Sirius XM. With its current assets, Liberty Media is expected to spin-off Sirius XM as an independent publicly traded company and possibly more of a global brand by capitalizing on emerging markets overseas. Interested investors will benefit by establishing a position with Sirius XM before its next earnings release and its future with Liberty Media becomes clearer as its price continues to increase.
Disclosure: I have no positions in any stocks mentioned, and no plans to initiate any positions within the next 72 hours. I wrote this article myself, and it expresses my own opinions. I am not receiving compensation for it (other than from Seeking Alpha). I have no business relationship with any company whose stock is mentioned in this article.