Alpha and Omega Semiconductor (NASDAQ:AOSL) has posted an average earnings surprise of 82% over the past four quarters, most recently delivering a 73.3% beat in the fourth quarter of 2012. This manufacturer of power semiconductor products moved to a Zacks No. 1 Rank (Strong Buy) status on Sept. 24.
However, the stock remains significantly undervalued, with a forward price-to-earnings (P/E) multiple of just 8.59 and a low price-to-book (P/B) multiple of 0.79.
Earnings Surge in Q4
Alpha and Omega Semiconductor reported strong fourth-quarter 2012 results on Aug. 14 with earnings at 26 cents per share. The better-than-expected earnings were primarily driven by strong revenue growth and margin expansion.
Revenue jumped 12.4% from last year to $94.3 million. Gross margin expanded 350 basis points, driven by productivity improvements. Although operating expenses soared 11.2%, operating profit surged 106.3% based on a higher revenue base.
The strong fourth quarter encouraged Alpha and Omega Semiconductor to provide a positive guidance for the first quarter of 2013. The company forecasts revenue between $92 million and $96 million, while non-GAAP net income is expected to be 8%-9% of revenue for the upcoming quarter.
Earnings Momentum on the Rise
Over the last 60 days, the Zacks Consensus Estimate for Alpha and Omega Semiconductor's fiscal 2013 has risen 3% to $1.03. This reflects 102% earnings growth from 51 cents in the year-ago period.
Valuation Continues to Impress
In addition to low P/E and P/B multiples, the stock looks attractive given a price-to-sales (P/S) multiple of just 0.65. A P/E below 15.0, a P/S ratio less than 1.0, and a P/B ratio under 3.0 generally suggest a value stock. Moreover, Alpha and Omega's PEG ratio of just 0.43 indicates that the stock is reasonably valued given the expected growth of 20%.
Historically, declining earnings have significantly impacted prices. The uptrend in 2013 and 2014 earnings estimates should encourage investors as the stock is likely to follow the trend.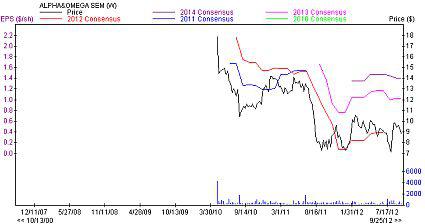 Sunnyvale, Calif.-based Alpha and Omega Semiconductor manufactures power semiconductor products that transfer, manage and switch electricity to deliver the appropriate amount of voltage to a broad range of electronic systems (TVs, computers, smartphones) and also protect electronic systems from damage resulting from excessive or inadvertent electrical charges.
Alpha and Omega Semiconductor is a leading provider of more than 1,000 power semiconductor products. The company introduced more than 240 new products in fiscal 2012. Alpha and Omega Semiconductor has a strong client base that includes Dell (DELL), Hewlett-Packard (NYSE:HPQ), LG Electronics and Samsung Group.