This morning's highly surprising acquisition of Ceradyne (CRDN) by 3M (NYSE:MMM) has opened my eyes to yet another reason to spend more time on smaller companies, which have lagged the market this year: M&A. In this case, you had a $64 billion market cap company with sales of $30 billion paying a 44% premium to buy a company with a market cap of less than $1 billion (and less stripping out the net cash on CRDN's balance sheet). An odd-lot for MMM, but huge for CRDN's shareholders.
It sounds like a one-off, but it's likely not. The pending tax-law changes could spur more of this activity, as I will explain below. I recently shared my views that pending tax-law changes could unleash a flood of special dividends. I shared several examples, all of which are smaller companies, and even this morning we saw a massive one, with Watsco (NYSE:WSO) announcing a $5 special dividend (>6% of the market cap). The basic premise is to look for companies with high insider ownership and the ability to return cash. By definition, this leads one to most likely focus on smaller companies, but not necessarily. I shared an article earlier this year of several companies with massive ownership positions by the CEO. The bottom-line, as I explain in my previous article about special dividends, is that with dividend tax-rates likely to rise, many companies will be pushing out special dividends before year-end in order to efficiently return cash to the insiders and the outside shareholders who happen to be investing too!
As I suggested, CRDN is likely not a one-off. Instead, it represents a company with heavy insider ownership and some strategic value. I have followed the company closely for several years and even had the pleasure of meeting with CEO Moskowitz when he came to Houston a couple of years ago for the Offshore Technology Conference. He is a relatively older CEO (70) and had over 1.4mm shares (>5%). His health hasn't been so great either. I doubt many will recognize this, but CRDN and MMM had a strategic relationship previously in the orthodontics market.
I believe that there are likely many smaller companies looking to sell in front of higher capital-gains taxes. This could benefit small-caps in two ways. First, private company sellers could allow smaller companies to make smart, meaningful acquisitions. These can close relatively quickly too, so, at the margin, we could see this positive develop for the sector. Second, and this is where it could get fun for stock-pickers, there are many companies out there like CRDN that could hit the bid.
I think that the primary factors to evaluate would include high insider ownership, the age of the CEO and/or Chairman, and how "special" the company might be (CRDN had a lot of patents). This universe isn't so large that it will impact the entire small-cap universe (NYSEARCA:IWM), so this is likely more of a "within the sector" call as opposed to a reason to buy the ETF. I would say the same for the special dividend concept.
I said in my title, though, that there are three reasons, but I have only shared two: Special dividends and M&A. The third reason is one that applies to all Small-Caps: They are due to bounce. Before I explain why, take a look at the action since the market peaked at the end of April in 2011: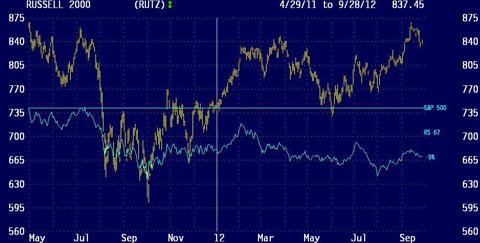 The chart shows that the Russell 2000 is nearing its all-time high set in early May 2011, but the blue line shows the sad history of poor relative performance to the S&P 500 over that time. In those 17 months, it has lagged by 9%! It's interesting to see that most of the weakness took place during the meltdown in the summer of 2011, but, while the S&P 500 has moved to bull market highs, the R2000 hasn't.
The fact that the S&P 500 is up so much and the R2000 is trailing is somewhat of a surprise, as the more volatile R2000 has a 'beta' of about 1.2X. In other words, if the S&P 500 is up about 15% in price, one would expect the R2000 to be up about 18%. Instead, it's up 13%.
I believe that the poor performance reflects the lack of confidence in stocks that continues to be demonstrated on a weekly basis as data regarding mutual fund flows is released. Individual investors continue to sell stocks and buy bonds, and this has a punitive impact on smaller stocks. There has also been a dividend focus this year and a focus on safety, two influences that favor larger companies. As the uncertainty over the fiscal cliff fades, hopefully in Q4 though perhaps we have to watch another circus and wait until Q1, I expect more appetite for risk, which would favor smaller companies.
So, if you are a stock-picker, likely tax-law changes lead to potential opportunities to invest in companies that could pay special dividends or be acquired. There is overlap, but special dividends are a lot easier to effect than M&A. If you are an ETF investor, these trends could help you marginally if you favor Small-Caps with an allocation to IWM, for instance, but the more powerful driver is that we are in a bull market and IWM is likely to clear its prior high and to benefit from better investor sentiment.
Disclosure: I have no positions in any stocks mentioned, and no plans to initiate any positions within the next 72 hours. I wrote this article myself, and it expresses my own opinions. I am not receiving compensation for it (other than from Seeking Alpha). I have no business relationship with any company whose stock is mentioned in this article.