Shares of CSX Corporation (NYSE:CSX) have returned approximately 6% over the past 12 months. The company offers railroad transportation services primarily in the Eastern US. On a YTD basis, the stock has been fluctuating within a tight range between $19 and $23. At $20.75 per share, CSX provides a solid dividend yield at 2.5%. I am bullish on this railroad stock at the current price based on the following 5 reasons:
1. The stock valuation appears low relative to the company's financial fundamentals (see table below). Analysts in average predict the company's revenue, EBITDA and EPS to grow at 2-year CAGRs of 3.2%, 5.6%, and 9.9% over the current and next fiscal years. The estimated rates are lower than the average rates of 9.3%, 12.7%, and 14.2% for a peer group consisting of CSX's comparable companies such as Norfolk Southern (NYSE:NSC) and Kansas City Southern (NYSE:KSU). CSX' EBITDA margin is forecasted to expand by 1.8% in the next 2 fiscal years, compared to the peer average of 2.4% expansion. In terms of profitability margins, CSX' performance is fairly in line with the peer group as their differences are only marginal, but the company has done a better job in investing capital as reflected by the above-average ROE and ROIC ratios. CSX assumes a slightly higher leverage relative to the peer group as the company's debt to capitalization and debt to EBITDA rates are slightly higher than the averages. On the liquidity side, CSX' LTM free cash flow margin at 3.0% is lower than the peer average of 3.9%. Its interest coverage ratio is also a bit lower given the firm's lower EBIT margin and higher leverage. Both CSX's current and quick ratios are in line with the averages, reflecting a relatively healthy balance sheet.

Overall, the company's growth weakness as well as the firm's slightly lower profitability and cash flow should warrant a stock valuation discount (i.e. 10% to 20%). At the current market price, the stock trades at 2.5x EV/sales, 6.6x EV/EBITDA, 1.8x P/S, and 11.6x P/E. The valuations (LTM basis) represent a sizable average discount of 34% to the 4 peer-average trading multiples (see table above), suggesting that the current stock price has fully factored in CSX's relative financial weakness. The 34% valuation discount also appears somewhat over my discount expectation (10-20%), and as such I believe the stock is likely over-discounted. In addition, CSX also trades at 0.8x PEG, approximately 12% below the peer group average at 0.9x.
2. Both CSX's EV/EBITDA and P/E multiples are trending very close to their 3-year lows (see charts below). The stock has also been trading below the average valuation of S&P 500 over the past year, and the valuation gap is more divergent at present compared to the difference in exactly a year ago (see chart below).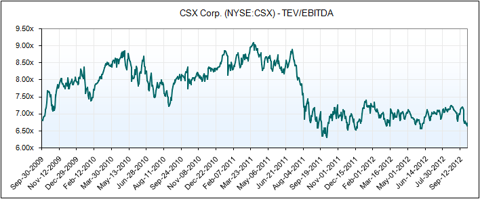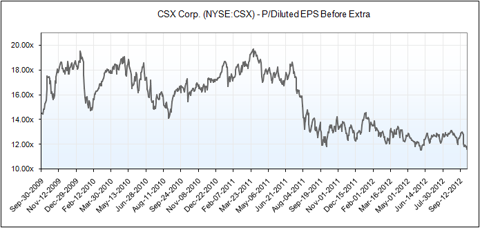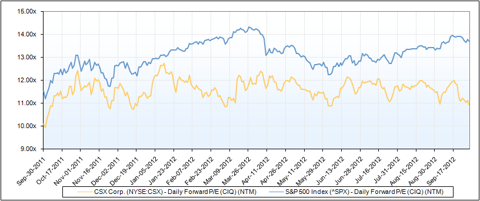 3. The decent dividend yield of 2.5% appears to be backed by the management's strong commitment as well as the firm's free cash flows. Since 2003, annual dividend per share has been raised by a substantial 8-year CAGR of 26.8% from $0.07 in FY2003 to $0.45 in FY2011 (see chart below), and over the last five fiscal years, The company's annual free cash flows are significantly higher than the annual dividend paid (see chart below), suggesting that there remains an ample room for further dividend increase.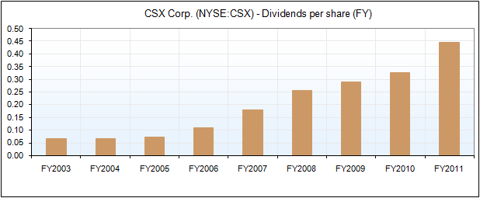 4. From a technical prospective, there has been a solid price support at $20 over the past 12 months (see chart below). During the period, the stock has touched that support level for multiple times and rebounded subsequently.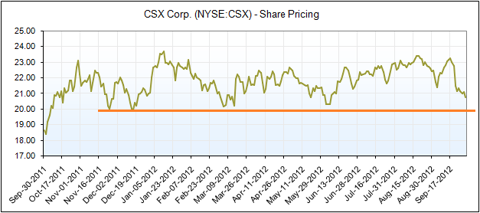 5. Street analysts are generally bullish on CSX primarily due to the investment's attractive risk/reward profile. Of the 29 ratings according to Capital IQ, there are 11 buys, 9 outperforms, 8 holds, and only 1 underperform. Fadi Chamoun at BMO Capital Markets wrote in his recent research note:
"With a 15% P/E valuation discount versus Union Pacific based on 2013 earnings and an even greater discount compared to the Canadian railroads and KSU, CSX's stock appears attractive to us, particularly in light of moderating utility coal headwind (i.e., lower EPS risk). We believe that CSX's low valuation multiple provides downside protection in the event of a deteriorating economic growth outlook and offers upside relative to peers in an environment of easing utility coal headwinds and continued moderate economic growth. CSX's stock offers the most compelling risk/reward in the sector in our opinion. We maintain our Outperform rating. Member of Top 15 U.S. Large Cap stock selections."
Bottom line, in the light of CSX's cheap valuation, stable fundamentals, and solid dividend yield, I recommend taking this cheap valuation opportunity to invest in the stock for long term.
Comparable analysis table is created by author, all other charts are sourced from Capital IQ, and all financial data is sourced from Capital IQ, Morningstar, and Thomson One.
Disclosure: I am long CSX. I wrote this article myself, and it expresses my own opinions. I am not receiving compensation for it (other than from Seeking Alpha). I have no business relationship with any company whose stock is mentioned in this article.