The recent escalation in commodity prices led to a bubble and that bubble has certainly popped. Oil, metals and grains all have cratered more than 20% in just the last four weeks. Meat processors are especially benefiting as feed corn has dropped more than 25%, propelling those companies' shares into the stratosphere.
The pieces I recently wrote on Sara Lee (SLE), ConAgra (NYSE:CAG) and Smithfield Foods (NYSE:SFD) arguing that their shares were extremely oversold, all have rallied significantly. The star of the group was SFD, jumping an amazing 50%. Bridgford Foods (NASDAQ:BRID) has not yet seen any appreciation since the collapse of commodity prices, making it even more attractive as a short term play.
Commodity relief: BRID's largest product line is frozen bread dough and its main ingredient, flour, is closely related to the price of wheat. The price of wheat had spiked up to $12.50 per bushel, but has since fallen 40% to about $7.50 per bushel. The reduction in corn prices (lower feed prices make it cheaper for farmers to raise animals) also bodes well for the company, as it enables its meat processing division to procure its product from meat packing houses at lower costs.
Fiscal third quarter earnings: In the third quarter of fiscal 2007, BRID reported sales of $26.6 million. Its gross margin was 36.3% and SG&A costs were 34.3%. It broke even for the quarter after including depreciation and other costs. Fiscal 2008 third quarter earnings are due out near the end of this month and should not see any improvement as the benefits of dropping commodity prices came too late to rescue the quarter. Substantial earnings improvement should evolve in the 4th quarter.
Recent trading activity: The shares have been stuck in a meager trading range of $5.65 to $6.77 within the past three months.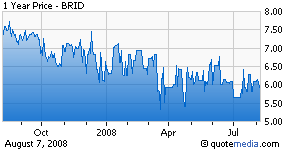 Trading volume has dried up completely, with a total of only 39,000 shares (about $244,000) changing hands for the entire period. Average daily volume was only 623 shares. There is typically a large spread between the bid and ask, ranging from .20 to $1.00, so if you have to buy at the ask, or sell at the bid, the transaction will cause an immediate 'hit'. Out of the past 64 trading sessions, there were 31 sessions without any trading activity whatsoever. If you extrapolate the quarter's $244,000 worth of trading activity over an entire year, it amounts to less than $1 million per year. The short interest is even minute, at only 34,000 shares. The float is so small that trading is almost non-existent, making it very difficult to buy or sell any substantial quantities.
Public company that is private: The Bridgford family controls 80% of the 9.45 million shares outstanding. The next largest shareholder is Forest Hills Capital, which owned 402,000 shares. However, BRID utilized its stock repurchase program to purchase Forest's stake last March for $2.7 million, leaving Dimensional Fund Advisors' 2.7% position as the single largest shareholder, excluding the Bridgford Family holdings.
Case to go private: One of the primary goals of going public is to raise capital. Since BRID has never tapped into its revolving credit line within the last twenty years, it's apparent that its need for capital is not a top priority. If BRID were to go private, its costs could decrease as much as $2 million a year, because it would not be required to comply with Sarbanes Oxley and other costly accounting requirements associated with public companies.
Feasibility of going private: A tender offer would most likely benefit shareowners in the short run, as it could result in a minimum 10-20% premium to the current share price. The company has nearly $10 million in cash and would need to purchase only 1.9 million shares to complete the transaction. At $7 per share, BRID would have to come up with about $13.3 million, requiring them to tap into their credit line for about $3 million to make up the difference.
Bottom line: The company's real estate holdings alone are probably worth more than $15 per share, and the shares have traded as high as $30 in the past, so I can see major resistance from those shareholders whose cost basis is over $7. If the company were to go private, the big winner would be the Bridgford family as well as very short term shareholders. The family, which has been entrenched in management for the past 70 years, seems to be highly ethical, and has a track record of 'doing the right thing'. They treat their employees and retirees like family. I hope they don't go private. I believe it is likely that the company will ultimately be successful in their earnings turnaround endeavors, especially now that commodity prices are cooperating. It would be more beneficial to wait two to three years, and sell my shares in the open market for $15 per share rather than settling for $7-8 tomorrow.
Disclosure: Long BRID