Fashion trends come and go. I believe money can be made (and losses avoided) by understanding what stage of the lifecycle a certain trendy product is in.
Today I will look at UGG Boots [produced by Deckers Outdoors Corporation (NASDAQ:DECK)] and Lululemon Pants [produced by Lululemon (NASDAQ:LULU)]. But product trends don't just apply to fashion - remember when the following items were hot?
Blackberry phones (offered by Research in Motion (RIMM))
Krispy Kreme Doughnuts (KKD)
Atkins Diet
The Macarena
This list could easily spiral out of control so I'll stop there.
But how does one decide when a trend is building and when a trend is dying?
Below I will look at the brand attributes, sales trends and consumer interest as a way to evaluate where on the trend cycle these brands lie.
Note: this is not a quantitative evaluation of financial statements or stock valuations. A brand could have positive momentum, but that doesn't necessarily mean that its stock is a 'buy'. But positive brand momentum should eventually help grow revenues and support profit margins, which would presumably, at some point, have a positive impact on the stock price. This is not a solicitation to buy securities and investors should consult a professional financial advisor before making any investment decisions.
The Brand
The UGG brand accounted for 87% of Deckers' 2011 sales, and the boots, in my opinion, are ugly as sin. The Lululemon brand, in comparison, is spread across a wider range of yoga-related apparel. Of course, Lululemon's big draw is its pants, which make the wearer's *ahem* derriere a site for sore eyes. In fact, there are many videos and websites that pay tribute to this characteristic - a benefit that should have lasting appeal. For this reason, the Lululemon's pants have the attention of both women and the men that love them.
Another big difference between UGG Boots and Lululemon items is the product branding. I'm not talking about the logos, ads or taglines. I'm talking about true branding. UGG Boots are very distinctive and have a unique look that only a mother could love. The appeal - as with most obtrusive visual trends - will eventually fade. On the other hand, Lululemon apparel has understated visual branding that is subtle and, therefore, more difficult for consumers to get sick of.
Moreover, the UGG brand is more-or-less is centered around the product and not a larger system around it. If you like the product you like the brand. The Lululemon brand, however, has been built into a core (and satellite) eco-system, based on activity and attitude. While many buy Lululemon for the product, Lululemon's vertical integration, much like Apple's (NASDAQ:AAPL), enables it to build this eco-system. A brand based on an eco-system is more sustainable than one that is built solely on the look of a product.
Sales
The chart below shows the cumulative sales growth for DECK and LULU over the past several years. Both are on an up-trend, but LULU's trajectory is more exponential than DECK's. Also, the bottom of DECK's seasonal trend is awfully close to where it was a year ago. This is better seen in the second chart below, which shows year-over-year sales growth. Year-over-year revenue growth for DECK seems to have slowed substantially.
Note: in all fairness, UGG Boots are a seasonal item whereas Lululemon pants are sold year-round. So I will attempt to respect this fact as I proceed.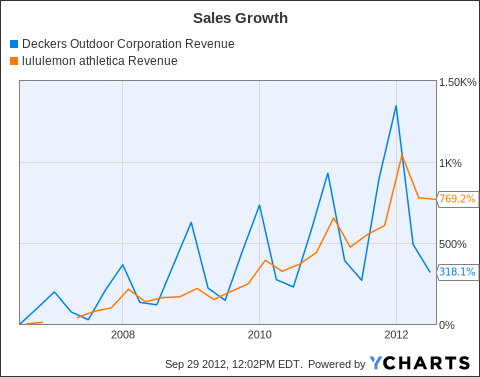 DECK Revenue data by YCharts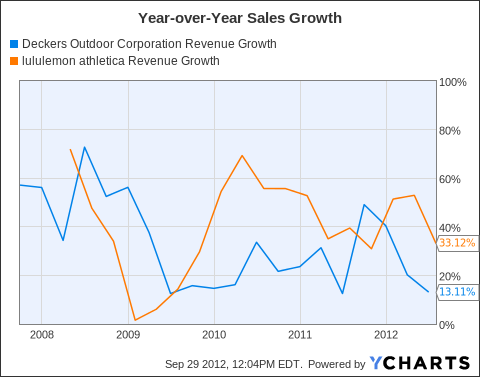 DECK Revenue Growth data by YCharts
Revenues tell the start of the story, but I think there are other more telling indicators.
Revenues vs. inventories can show two things: 1) Company sales expectations vs. sales reality, and 2) the potential for future discounting.
Looking at DECK's sales vs. inventories, one can see the sudden disconnect over the past year. It appears like DECK's inventory has lost touch with the sales cycle.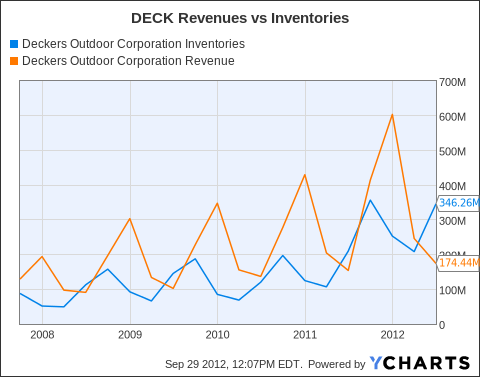 DECK Inventories data by YCharts
In comparison, LULU's inventories have more-or-less grown with sales, although there does appear to be a small disconnect over the past year.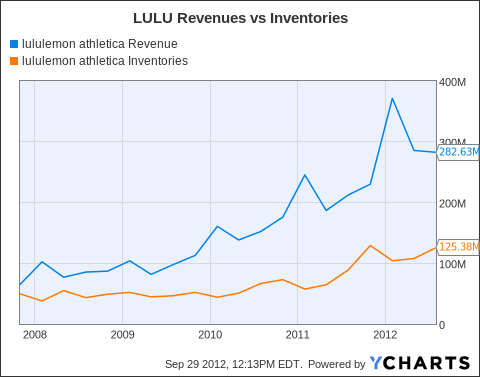 LULU Revenue data by YCharts
It appears my concerns over inventories are not unwarranted. As it turns out, DECK has in fact started to discount UGG Boots:
According to retail analyst, Sam Poser:
"Beyondtherack.com apparently has broken the ice with a flash sale for this past weekend (September 15th & 16th) where, for the first time, we have seen Classic UGG styles, including the Classic Tall and Short, The Bailey Button, and the Triplet and other styles including the cold weather Adirondack boot on sale for 15% to 50% off regular prices. Basic colors and fashion colors were available in all styles."
Going further, Sam Poser states that channel checks show that UGG Boots sales are disappointing and that the trend has definitely faded. In other words, current/historical revenues and margins likely don't reflect the shifting tide.
Consumer Interest
The final qualitative piece of the unscientific trend evaluation puzzle depends on the fickle desires of consumers. Again, this is something that doesn't show up on any financial statements...and by the time it is reflected in sales and margins, it's too late for the investor.
The average consumer often takes her cue from opinion leaders, such as celebrities. By scanning the dates of celebrity UGG sightings in Google Images, I observed that the vast majority of celebrities stopped wearing UGG Boots by 2010.
As I stated earlier, Lululemon products have a more subtle branding making them harder to spot on celebrities. As a consequence, very few celebrity Lululemon pictures showed up in Google Images. I believe this works in Lululemon's favor, since the products are less of a fad that is born and killed by celebrity opinion leaders.
Web searches for each brand are also revealing. Searches for UGGs are highly seasonal (understandably so) and experienced a peak in 2011. It currently appears that this year's cyclical upswing is falling somewhat below those of the past. Interest in the brand may be waning and we may see peak season searches fall below those of last winter. If this happens, I would consider it confirmation that the trend is dying.

Web searches for Lululemon, on the other hand, have grown steadily over time. Peak search volume appeared during the last Christmas season and it appears that searches are on track to surpass that this year.

Interestingly, searches for Lululemon in the U.S. are still isolated to a few areas (see map below). This tells me that trend penetration is still very light across much of the U.S. - there is tons of room for growth.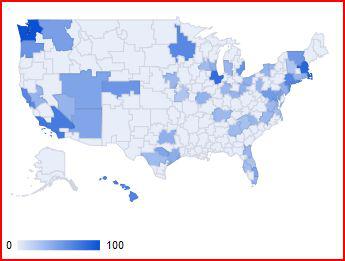 Compare this with the geographic locations of U.S. searches for UGGs. In my view, this shows that the UGGs trend is far more saturated yet soft, leaving little room for growth.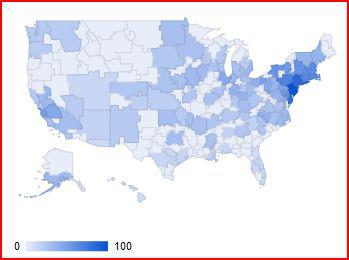 Conclusion
I think it's clear that the UGG trend is faltering, giving investors cause to re-think their DECK holdings. In contrast, the Lululemon brand is sustainable, has growing consumer interest and has tons of opportunity for growth ahead. At the right entry price, I certainly prefer LULU as an investment.
I'd love to hear your thoughts below.
Disclosure: I am long AAPL. I wrote this article myself, and it expresses my own opinions. I am not receiving compensation for it (other than from Seeking Alpha). I have no business relationship with any company whose stock is mentioned in this article.
Additional disclosure: This is not advice. While the author makes every effort to provide high quality information, the information is not guaranteed to be accurate and should not be relied on. Investing involves risk and you could lose all your money. Consult a professional advisor before making any investing decisions.