After reaching all-time highs of over $16 a share in mid-2011, GT Advanced Technologies (GTAT) has suffered as the solar industry has suffered. However, its strong balance sheet cushioned the blow and allowed GTAT to outperform other solar stocks.
For some background, GTAT is a provider of polysilicon production technology and sapphire and silicon crystalline growth systems and materials for the solar, LED, and other specialty markets. In GTAT's fiscal year ending March 31, the solar businesses represented nearly 80% of the company's revenues with the balance in the Sapphire segment. However, Sapphire is expected to play a bigger role as the company expects that for calendar year 2012, the Sapphire business will constitute about 45% of the company's revenues. That is somewhat backed up by the company's $1.6 billion backlog, with nearly $700 million of that in the Sapphire segment.
In its 10-K, the company provides a good overview of Sapphire:
Sapphire is one of the hardest materials on earth and is recognized for its durability, chemical resistivity and optical transmission qualities. Synthetic or industrially-produced sapphire has been used in photonics applications for decades. Sapphire gained wider market adoption in the 1960s when the semiconductor industry developed the first silicon-on-sapphire applications for certain electronic components. Sapphire usage has grown significantly since the adoption of nitride-based light-emitting diodes, or LEDs, began use in the 1990s and today LED applications represent the largest market segment for synthetic sapphire.
Despite the company being in good position to weather the solar storm with its balance sheet and growing Sapphire business, there leaves much to be desired by the company's recent actions, strategy, and financial incentives.
The company's corporate strategy focuses on diversification and growth, or in other words, growth. Below is a slide from a recent presentation detailing the company's focus. I pay close attention to the fact that shareholder value is nowhere to be found on the slide, or any other slides for that matter. The goal is to become a "multibillion" dollar technology company, which maybe is or maybe isn't in the best interest of shareholders.
Click to enlarge image.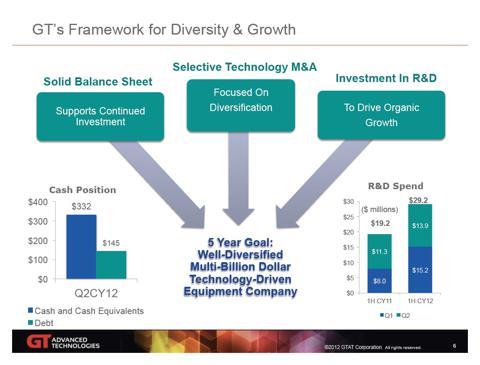 The company's recent actions and statement suggest that it is following its empire-building platform. Here is a statement from the management commentary section in the company's Q2 press release:
We remain committed to investing in next generation technologies and product innovations in our core businesses to solidify our market leadership and develop new opportunities… In addition, we continue to explore ways to further diversify the company's portfolio into new high growth areas. During the quarter we added $70 million of debt in anticipation of several potential investments that are under discussion.
Here's another statement from the company's Sept. 19 release, reaffirming CY 2012 guidance:
The company continues to advance its diversification efforts and new business initiatives outside of the PV segment. In its polysilicon business, the company continues to make progress in negotiations on several new projects in Southeast Asia and the Middle East. Initial engineering contracts may be signed by early CY 2013 for one or more of these opportunities.
On Sept. 25, the company announced a large convertible bond issue. GTAT announced the pricing of $205 million aggregate principal amount of its 3.00% convertible senior notes due 2017. The notes will mature on Oct. 1, 2017, unless repurchased or converted in accordance with their terms prior to such date, and will bear interest at a rate of 3.00% per year, payable semiannually in arrears on April 1 and Oct. 1 of each year beginning on April 1, 2013. The notes will be convertible, under certain circumstances, into cash, shares of the company's common stock, or a combination of both at the company's election at an initial conversion rate of 129.7185 shares of the company's common stock per $1,000 principal amount of notes, which is equivalent to an initial conversion price of approximately $7.71 per share of the company's common stock.
The purpose of the debt offering is to expand as suggested by public comments in the New Hampshire Business Review by the company's spokesperson: "GTAT will be using the proceeds to build its 'war chest' -- in the words of spokesperson Ryan Blair -- to continue to diversify beyond the struggling solar industry."
Insider ownership for the company is very light. The last reported insider ownership figure stood at just 1.3%, which was as of June 30, 2012. Since then there have been a number of sizable insider sale with four insiders combining to sell more than $1 million worth of stock, or about 189,000 shares, at the end of August. So the insiders just sold 11% of their stock to drop their holdings to less than 1.2%.
The compensation structure is flawed and incentivizes growth vs. shareholder returns as GTAT's executive officers receive bonuses based on operating income. Here is a quote from the company's DEF 14A proxy filling describing how the financial incentives are calculated:
Annual cash incentive opportunities are provided to NEOs to motivate achievement of short-term company performance as measured by incentive operating income under the 162(m) Plan. Incentive operating income is used as the performance metric under the 162(m) Plan because it is believed to be the most accurate reflection of the financial and operational performance of the company.
Despite management positioning the company well into the solar downturn, the stock has done very little since its IPO in 2008. GTAT's total stock return since it completed its IPO in mid-2008 is -57% compared to the S&P which has a return of -20% over the same time period.
The valuation on GTAT is very cheap, as it is trading at a trailing EV/EBITDA ratio of just under 2. The market is either placing too much emphasis on the solar business or skeptical of the corporate strategy. For comparison purposes, Cree (NASDAQ:CREE), which is an LED pureplay, trades at a trailing EV/EBITDA ratio of nearly 12. Rubicon Technology (NASDAQ:RBCN), which is another LED play, trades at a trailing EV/EBITDA multiple of just under 13. With a different incentive structure and corporate strategy, GTAT would be an attractive investment, but at this point it is best to stay on the sidelines.
Disclosure: I have no positions in any stocks mentioned, and no plans to initiate any positions within the next 72 hours. I wrote this article myself, and it expresses my own opinions. I am not receiving compensation for it (other than from Seeking Alpha). I have no business relationship with any company whose stock is mentioned in this article.