Previous monthly pay (MoPay) dividend dog stock lists reviewed in June and July prompted reader suggestions to expand the list to include funds, trusts, and partnerships. A list of MoPay equities to buy and hold resulted from reader additions supplemented with a high yield collection from here. But buy and hold dogs don't hunt. They're docile, sleeping beasts that just show good dog behavior in the form of fetching dividends.
The Monthly Pay Dividend Advantage
Quarterly and annual pay dividend stock owners anxiously await announcements from a firm, fund, or analyst to learn if their next dividend will be higher, lower, or paid at all. Monthly pay stocks, funds, and trusts inform the holder every four and one third weeks by check or statement. If the equity reduces or suspends a payment, the holder can sell out of the investment immediately to cut future losses.
Dog Metrics Used to Cull Projected Annual Gains
For this article 33 equities paying out monthly dividends were ranked using the two key dog performance metrics: (1) stock price; (2) annual dividend. Dividing the annual dividend by the price declared the percentage yield by which each dividend dog stock was primarily ranked. (3) One year mean target price estimates by analysts supplemented 12 equities showing higher prices for 2013.
A hypothetical $1000 investment in each equity was divided by the current share price to find a number of shares purchased. The number of shares was multiplied by projected annual per share dividend amounts to find a dividend return amount. Thereafter one year mean target prices multiplied by the number of shares supplemented the dividend amount minus a flat $20 broker fee to determine a net gain amount for the 12 stocks showing upside price gains into 2013.
Historically dividend dog investors utilized this ranking system to select portfolios of five or 10 stocks in any one index, sector, survey or list to trade. They awaited the results from their investments in the lowest priced, highest yielding stocks and prayed that the price of every stock they now owned climbed higher (having locked in a high yield percentage at purchase).
Dogs of the index strategy, popularized by Michael B. O'Higgins in the book "Beating The Dow" (HarperCollins, 1991), revealed how high-yielding stocks whose prices increase (and whose dividend yields therefore decrease) can be sold off once each year to sweep gains to reinvest the seed money into higher-yielding stocks in the same index.
The 33 monthly dividend-paying (MoPay) equities listed below were ranked by net gains calculated as of September 28 to determine the Top 10.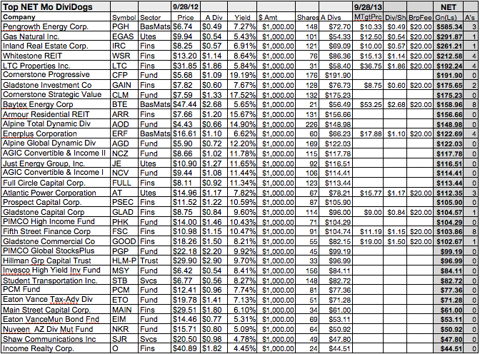 Ten monthly dividend equities showing the biggest net gains as of September 28, 2013, represented four of nine market sectors. The top net gaining holding as revealed by Yahoo Finance data was a basic materials entity, Pengrowth Energy Corp. (NYSE:PGH) as was the 10th best, Baytex Energy Corp. (NYSE:BTE). A utility, Gas Natural Inc. (NYSEMKT:EGAS) was the second best. Seven financial firms made up the majority of these monthly pay annual net gainers: Inland Real Estate Corp. (NYSE:IRC); Whitestone REIT (NYSEMKT:WSR); LTC Properties Inc. (NYSE:LTC); Cornerstone Progressive Fund (NYSEMKT:CFP); Gladstone Investment Co. (NASDAQ:GAIN); Cornerstone Strategic Value Fund (NYSEMKT:CLM); Armour Residential REIT (NYSE:ARR).
Dividend vs. Price Results
Below relative strengths for the top 10 MoPay Dividend Dogs by net gain was graphed as of September 28, 2012, and compared with those of the Dow. Nine months of historic projected annual dividend history from $1000 invested in the 10 highest-yielding stocks and the total single share prices of those 10 stocks created the data points for each month shown in green for price and blue for dividends.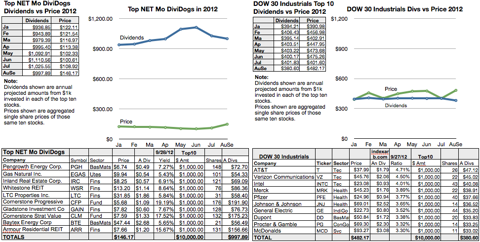 Conclusion: Top Net Mo Pay Dividend Dogs get Bullish like Dow
Filtering MoPay Dogs by net gain limited the influence of all but the top-yielding new equity funds on the list. This configuration of stocks continues a bullish trend that began in June as measured by dividend vs. price performance. Aggregate single share price for the top 10 popped 34.2% while projected dividends from those top 10 invested at $1k each decreased 2.7% for that period between June and September. The gap between aggregate single share prices rising to meet dropping projected dividends from $1k invested in each of those 10 equities narrowed from 927.2% in June to 582.7% in September.
Meanwhile, the Dow index moved back to overbought divergence as aggregate total single share prices popped 20% while dividends from $1k invested in the top ten fell 5.3% to move beyond the 18.76% overbought divergence shown in June to 26.7% in September.
As of September 28 the Top Net MoPay Dogs showed $617 or 162.2% more dividends (with equally bigger risk) at a $336 or 69.7% lower aggregate single share price than the Dow top ten.
Conclusion Two: Analysts Forecast September 2013 Net Gains of 159.5% over Dividends only
Top 10 dogs for the top net MoPay list were graphed below to show relative strengths by dividend and price as of September 28, 2012, and those projected by analyst mean price target estimates to September 28, 2013.
Historic prices and actual dividends paid from $1000 invested in the 10 highest yielding stocks and the aggregate single share prices of those 10 stocks created the data points for 2012. Projections based on estimated increases in dividend amounts from $1000 invested in the ten highest yielding stocks and aggregate one year analyst mean target prices as reported by Yahoo Finance created the 2013 data points green for price and blue for dividends. Note: one-year target estimated prices below current price were not included.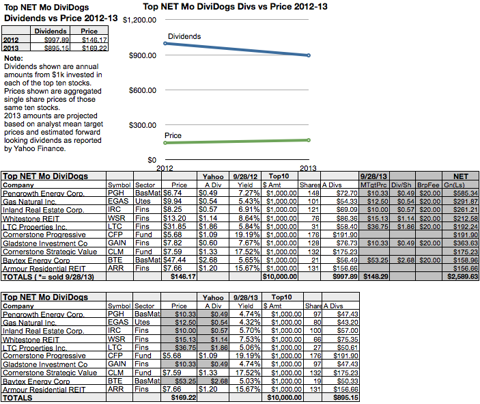 For the coming year Yahoo Finance projected a 10.3% lower dividend from $1k invested in each stock within this Top Net MoPay group while aggregate single-share price for the 10 was projected by analysts to increase by 15.8%. Seven probable net gain generating trades were revealed by Yahoo Finance for 2013: Pengrowth Energy Corp. (by 3 analysts); Gas Natural Inc. (by 1 analyst); Inland Real Estate Corp. (by 1 analyst); Whitestone REIT (by 4 analysts); LTC Properties Inc. (by 4 analysts); Gladstone Investment Co. (by 2 analysts); Baytex Energy Corp. (by 8 analysts) based on analyst one-year mean price projections. Three stocks made the top 10 based on dividend returns alone: Cornerstone Progressive; Cornerstone Strategic Value; Armour Residential REIT.
This portfolio of monthly dividend-paying stocks based on analyst one-year mean price target estimates revealed a configuration of equities estimated to net a return 25.9% versus 9.98% return from dividends alone. This result is estimated to be 1007.8% less risky than that detailed in the Buy and Hold article noted previously.
Disclosure: I have no positions in any stocks mentioned, and no plans to initiate any positions within the next 72 hours. I wrote this article myself, and it expresses my own opinions. I am not receiving compensation for it (other than from Seeking Alpha). I have no business relationship with any company whose stock is mentioned in this article.
Disclaimer: This article is for informational and educational purposes only and should not be construed to constitute investment advice. Nothing contained herein shall constitute a solicitation, recommendation or endorsement to buy or sell any security. Prices and returns on equities in this article except as noted are listed without consideration of fees, commissions, taxes, penalties, or interest payable due to purchasing, holding, or selling same.