Qualcomm (NASDAQ:QCOM) currently dominates the smartphone and tablet semiconductor industry. The company is very well placed to benefit from the expected boom in 4G technology, brought about by Apple (NASDAQ:AAPL)'s iPhone 5. A number of products in the Semiconductor Industry are expected to be launched next month. Most notable amongst the products are smartphones carrying the Windows 8 operating system. With Qualcomm's hardware being used in smartphones of all three industry leaders, namely, Apple, Samsung and Nokia (NYSE:NOK), we believe the company is very well placed to benefit from the growth in the smartphone industry. Therefore, no matter what consumers end up buying in terms of high-end smartphones, QCOM will be the beneficiary. Based on these reasons, we recommend buying Qualcomm.
Business Overview
Qualcomm is the world's leading manufacturer of smartphone hardware. The company designs, manufactures, and markets various telecommunications products and services. It has four major operating segments; Qualcomm CDMA Technologies (QCT); Qualcomm Technology Licensing (QTL); Qualcomm Wireless & Internet (QWI), and Qualcomm Strategic Initiatives (QSI). Qualcomm has recently made a number of major acquisitions. Three of those acquisitions are Atheros Communications (2010), HalolPT (2011) and Summit Microelectronics (2011).
| | | | | | | |
| --- | --- | --- | --- | --- | --- | --- |
| $ (millions) | 2006 | 2007 | 2008 | 2009 | 2010 | 2011 |
| QCT - CDMA Technology | 4,331 | 5,275 | 6,717 | 6,135 | 6,696 | 8,859 |
| | | 22% | 27% | -9% | 9% | 32% |
| QTL - Tech Licensing | 2,467 | 2,772 | 3,622 | 3,604 | 3,659 | 5,421 |
| | | 12% | 31% | 0% | 2% | 48% |
| QWI - Wireless & Internet Group | 731 | 827 | 784 | 640 | 627 | 656 |
| | | 13% | -5% | -18% | -2% | 5% |
QCT has been the biggest contributor to the company's revenues in the last six years. The segment showed its best growth between 2010 and 2011. The Technology Licensing segment also showed phenomenal growth of 48% in 2011. QCOM has benefited a great deal from the increasing popularity of smartphones and tablets. According to market research firm Strategy Analytics, annual sales of smartphones and tablet processors is expected to reach $25 billion by the end of 2016; last year it was $9 billion.
Q32012 Performance
The company disappointed investors with its previous quarter's results. It narrowly missed market expectations of $0.86 per share by reporting EPS of $0.85. Revenue for the quarter was reported at $4.63 billion, missing analyst estimates of $4.67 billion. The company also adjusted its outlook for the next quarter. Qualcomm is expecting revenues in the range of $4.45billion and $4.85 billion from its fourth quarter. Wall Street is expecting fourth quarter revenues of $4.6 billion and EPS of $0.81.
Marketing
The competition for market dominance between smartphone manufacturers is intense. With infringements, alliances and litigations being the weapons of choice, it seems like the rule book has been thrown out the window when it comes to becoming the leader in the smartphone industry. Component manufacturers are usually hidden from consumers behind smartphone manufacturers' brand name. Intel has decided to change all that by launching its highly successful 'Intel Inside' campaign for the smartphone world. Laptops and computers are adorned with Intel stickers, which are symbols of quality. However, smartphone manufacturers are more possessive about the advertisement space on their products, which is generally reserved for carriers or the manufacturers themselves. Therefore, it remains to be seen whether this campaign by Intel has the same results for smartphones as it had for personal computers. Motorola is the most recognized brand as yet to sign up for this campaign, with their Razr i carrying the 'Intel Inside' logo. It remains to be seen what type of counter-marketing efforts and marketing budget Qualcomm can bring to the table, with Intel spending more than $2 billion on marketing every year. Qualcomm has announced that it will start a new branding campaign in October. The company has already hired Anand Chandrasekher as its chief marketing officer, who was a former senior executive at Intel.
Valuation
Qualcomm looks expensive when compared to its competitors. However, we should take into account that it has the largest market share in an industry that is showing phenomenal growth. Moreover, if we compare its forward P/E to the industry average, it's still trading at a discount.
| | | |
| --- | --- | --- |
| Company | Forward P/E | P/S |
| Qualcomm | 15x | 5.8x |
| Nvidia (NASDAQ:NVDA) | 12.1x | 2.1x |
| Intel (NASDAQ:INTC) | 10.3x | 2.1x |
| Industry (Reuters) | 17x | 1.3x |
Analyst Opinions
The majority of analysts are recommending a hold position on the stock. Out of 37 analysts, 13 gave it a buy or strong buy rating, and 23 gave it a hold rating. For the current month, only a single analyst has given it an underperform rating as of now.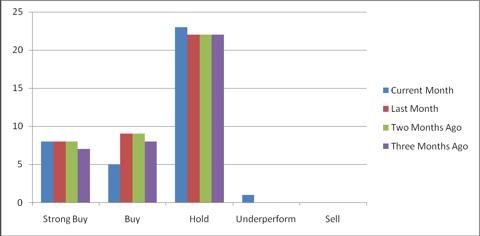 Source: Yahoo Finance
Conclusion
Qualcomm dominates the smartphone semiconductors industry. Being the primary provider of 4G hardware and services, the introduction of 4GLTE in the iPhone 5 is great news for Qualcomm. We believe the iPhone 5 will greatly benefit the prospects of 4G in the U.S. It will also immensely benefit QCOM. The primary competitors for the iPhone 5 are Samsung's S III and Nokia (NOK)'s Lumia 920. These phones also contain hardware from Qualcomm (Snapdragon S4). This gives us an insight into the company's current dominance over the smartphone hardware industry. We believe Qualcomm is the best placed stock to benefit from the continued growth in the Smartphone Industry, which makes us bullish on QCOM.
Disclosure: I have no positions in any stocks mentioned, and no plans to initiate any positions within the next 72 hours.
Business relationship disclosure: The article has been written by Qineqt's Technology Analyst. Qineqt is not receiving compensation for it (other than from Seeking Alpha). Qineqt has no business relationship with any company whose stock is mentioned in this article.