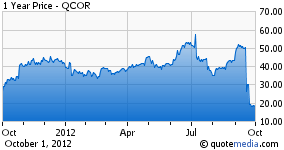 I last took a look at the interesting story of Questcor Pharmaceuticals (QCOR) on September 25, where I gave a general overview of its situation and pointed out the general arguments for both bulls and bears.
The trading drama began a few weeks ago, when the health insurance giant Aetna (NYSE:AET) dropped its healthcare reimbursement policy for H.P. Acthar Gel for MS relapses and nephrotic syndrome, but not infantile spasms (aka West Syndrome). Questcor stock was immediately halved on the news, as it confirmed every QCOR shareholder's worst nightmare.
A Citron Research report that was published on September 19th exposed just how badly shareholders were misled prior to the announcement too. Oppenheimer raised their price target for QCOR from $59 to $69/share at the worst possible time (on the day before the 50% drop in share price). To make things worse for Oppenheimer's call on QCOR, they cited the exact same reason that the stock lost half its value overnight - healthcare reimbursements.
While it was basically impossible for Oppenheimer to time Aetna's policy change with a timely downgrade, their argument was apparently based on nothing more than meetings with confident QCOR investors and (naturally) positive comments from management.
The government probe that was announced a week later threw fuel on the fire, and triggered a bunch of reactionary downgrades from the analysts (including Oppenheimer, of course). The total damage to QCOR grew, bringing losses to almost 70% from September highs.
In line with my own expectations from September 25, I'm noticing that short interest is beginning to die off quickly. This is probably because the analysts are now starting to hate Questcor too, and nobody wants to follow their advice on QCOR at this point. I wouldn't.
The sudden creation of a $.20/share quarterly dividend on QCOR stock is a new factor that was introduced to us on Friday (September 28th). I guess this can be considered a direct attack on Questcor shorts by company management, since the new dividend effectively tacks on 4.2% in annual losses for a QCOR short position. Considering the extra 7 million shares they decided to add to their stock repurchase program too, it's obvious that Questcor is not going down without a fight.
Assuming that we don't see more reimbursement withdrawals from other healthcare companies, I think QCOR will have a hard time falling any further. Short interest is still exceedingly high (at about 33% of float), and the stock is ridiculously undervalued from a value standpoint when you factor in a 4.2% yield on top of sales growth and enormous share repurchases.
I don't expect QCOR to regain $52/share for a very long time, but the bears really can't expect to hold all of their gains while the company takes every measure it can to boost share price. Fighting Questcor isn't like fighting the Federal Reserve or anything, but the company does earn $40 million each quarter and holds about $114 million in cash. It's not particularly strapped for cash at this point, and Questcor is watching it's own share price quite closely.
Disclosure: I have no positions in any stocks mentioned, and no plans to initiate any positions within the next 72 hours. I wrote this article myself, and it expresses my own opinions. I am not receiving compensation for it (other than from Seeking Alpha). I have no business relationship with any company whose stock is mentioned in this article.