In an investment environment marked by low yields, MLPs that offer above market yields are of particular interest to investors. Energy Transfer Partners L.P (NYSE:ETP) is one such energy MLP that offers a high yield of 8.45%, and has also made sound strategic moves, which will allow it to expand in the oil business to counter the impact of falling natural gas prices. We believe ETP has a potential short-term catalyst in the form of the closing of the Sunoco Inc. (NYSE:SUN) deal, which is expected to materialize in October. In light of the high dividend yield and acquisitions that will boost its cash flows, we recommend the MLP as a buy.
Energy Transfer Partners LP operates in the Oil and Gas Pipeline Industry. It transports and stores natural gas, and distributes propane. It owns the largest intrastate pipeline system in Texas, and operates interstate natural gas pipelines. In this context, ETP is a midstream company i.e. it transports natural gas and NGLs from producers to end markets. ETP conducts its business through four main segments: Intrastate transportation and storage, interstate transportation, midstream, and NGL transportation and services.
Chart 1: 2Q2012 Breakdown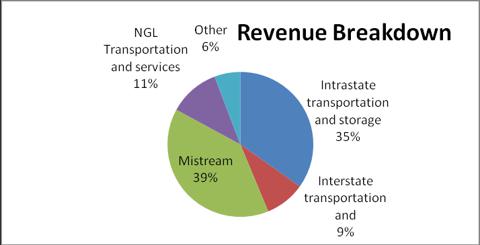 With the acquisition of Sunoco Inc., ETP will also make inroads into the liquids midstream segment. This will involve the transportation and storage of crude oil and refined products. The company announced, in June, the formation of a holding company owned by Energy Transfer Equity (NYSE:ETE) and ETP, which will incorporate the assets of Sunoco Inc. and Southern Union. ETP will have a 40% interest in the holding company as compared to ETE's 60%. ETP expressed its intention to acquire Sunoco Inc in April. The $5.3b deal is expected to close in the third quarter (shareholder vote is scheduled for October 4, 2012), with ETP having $25 per unit and 0.5245 units for every unit of SUN.
The deal will provide ETP wider access into the Northeast, and also increase its exposure to crude oil. The deal was in line with ETP's goal of deriving more distributable cash flows from the transportation of crude oil, NGLs and refined products. As natural gas became cheaper, driven primarily by the shale gas boom, ETP decided to bring in more oil into its business. The transaction will provide a cash flow mix comprising 70% natural gas and 30% heavier hydrocarbons.
Why Are Distributions Not Growing?
When it comes to MLPs, distribution is all that matters. ETP has one of the highest yields (8.45%) in the industry. There is, however, a concern that the company has failed to boost its distribution since 2008 (Graph 2), which has made some investors wary of ETP's business. Nevertheless, this break in increments has come about at a time when the company is busy making strategic moves that incorporate heavier hydrocarbons in its business model. Deals require hefty cash payments, and the available cash had to be diverted away into acquisitions. Once the deal with SUN is closed, and the combined assets are utilized, we see increased inflow of revenues, which will provide a base for distribution increases. Investors must however bear in mind that these predictions are subject to an effective incorporation of the acquired assets into the business, and the element of risk is present, as is the case in all such acquisitions.
Graph 2: Distributions

Source: Ycharts.com
Valuations
ETP currently trades at $42.42, at an EV/EBITDA multiple of 12x. The partnership has expanded quickly and has made numerous acquisitions with an aim to diversify into the liquids business. Upside price movement of the units is limited until the deal is closed (expected in October). This is a sentiment headwind, which, in turn, creates an ideal opportunity for investors looking for a high yield to buy ETP. The approval will prove to be a positive catalyst for the MLP.
ETP

KinderMorgan

Partners (KMP)

Magellan Midstream Partners L.P (MMP)

NuStar Energy L.P (NS)

Spectra Energy Partners L.P (SEP)

Enterprise Products Partners L.P (EPD)

Enbridge Inc (NYSE:ENB)

Average

EV/EBITDA

12x

14x

17x

15x

24x

15x

22x

17x
ETP trades below the industry average EV/EBITDA multiple of 17x. We believe the discount in valuations is attributable to the risks associated with the successful acquisition of SUN. ETP has a debt/equity ratio of 140%, along with an interest coverage ratio of 2.79x, which indicate that it is in a comfortable position to service its debt. Analysts expect an EPS growth rate of 16%. In light of the current undervaluation in the market and the high yield that the partnership provides, we recommend the MLP as a buy.
What its Competitors Offer
KMP (covered earlier) provides a yield of 6.02% and a long-term earnings growth rate of 13%. KMP's management has made a commitment to make distributions grow by 7%. Like ETP, KMP also generates a majority of its revenues from its natural gas business.
Enterprise Products Partners L.P. (NYSE:EPD) is another competitor, which is a provider of midstream energy services to producers and consumers of natural gas, crude oil and refined products. It yields 4.78%, and analysts expect a long-term growth rate of 15.5%.
MLPs are attractive because of the high return that they offer to their holders. A company's cash distribution history and its capability to sustain reasonable levels of growth in distributions are deciding factors in the selection of MLPs. Although ETP has refrained from increasing its distributions for the last few years, we expect this trend to reverse in the future, albeit slowly, as the company utilizes its acquired assets.
Disclosure: I have no positions in any stocks mentioned, and no plans to initiate any positions within the next 72 hours.
Business relationship disclosure: The article has been written by Qineqt's Energy Analyst. Qineqt is not receiving compensation for it (other than from Seeking Alpha). Qineqt has no business relationship with any company whose stock is mentioned in this article.