Recently, Compete posted a blog interview with Jon Swallen, SVP of Research for TNS Media Intelligence. In the blog, Jon details the state of the auto insurance market, which included his view on growth opportunities within car & other vehicle insurance. Jon specifically addressed the growing importance of specialty lines, such as motorcycle, boat, and small commercial auto as private passenger auto business growth slows. We took a look at the online market for these three lines of specialty insurance.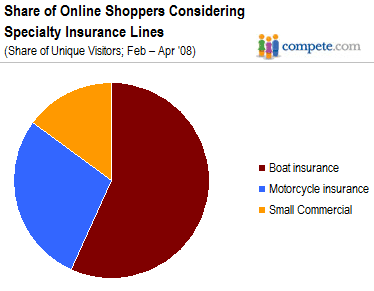 Above is the online share of prospects (consumers that shopped online) for each specialty line between February '08 and April '08. While boat insurance holds the largest share at 57% among these specialty lines, motorcycle insurance is experiencing the highest growth. Motorcycle insurance today has only half the share of boat insurance, but online prospects grew by 138% between February and April 2008 v. 35% growth for boat insurance. Over the same period, the online prospect market for small commercial auto insurance declined a modest 8%.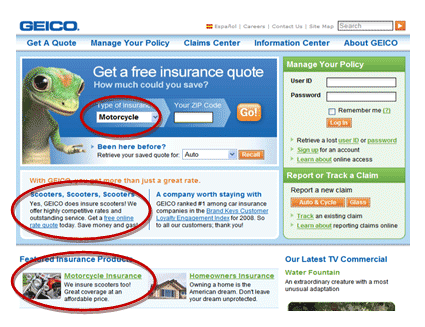 Major insurers are putting a stronger emphasis on motorcycle insurance on their websites and in advertising. GEICO's homepage (above) prominently displays motorcycle insurance. Allstate has also recently launched its motorcycle-specific, interactive Allstate Garage (below).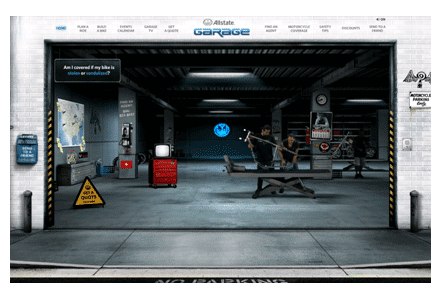 The table below shows top destinations from searches for the term "motorcycle insurance." In line with their prominent placement in search results, GEICO and Progressive dominate search referrals with more than double Allstate's third place showing.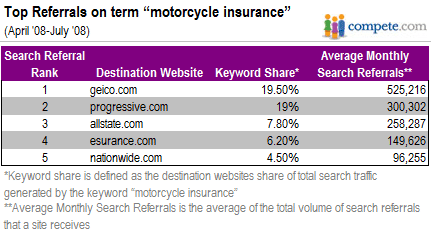 Motorcycle insurance still represents a small piece of the online insurance market. Compared to prospects for auto insurance between February and April 2008, motorcycle insurance represented less than 2% of total prospects combined. Even so, with gas prices up, more consumers are looking at motorcycles and scooters as a low-cost commuter option. Perhaps this is the reason that there is such a focus on motorcycle insurance these days. It should be interesting to see if it sustains recent growth.