While last week's pullback was sizeable, the big uptrend that's been in place since early June still hasn't been snapped yet. The dip did wave a red flag, though, and more weakness from here may convince more investors that stocks DIA (NYSEARCA:DIA), QQQ (NASDAQ:QQQ) and IWM (NYSEARCA:IWM) are just too risky to own right here, right now, with the current circumstances.
Details of that theory are offered below, right after we start with a top-down look at the economy.
Economic Calendar
Despite pockets of encouragement, by and large, last week's economic data showed more liabilities than assets. In fact, that may be the ideal way to break the numbers into groups… the good and the bad.
Good:
Despite the jeers and doubts, the housing market is recovering. (It may be a choppy and unpredictable rebound, but it's happening.) Home prices continue to modestly improve; the Case-Shiller Index was up 1.2% in July, and the FHFA Home Price Index grew by 0.2% in July. Though the data is two months old, it semi-jives with August's new-home sales rate of 373K (annually), and the MBA Mortgage Index rising by 2.8% for the previous week.
The jobs picture improved too. Initial claims made a surprising dip from 385K two weeks ago to 359K a week ago. Though ongoing claims remain relatively unchanged at 3.271 million, there's at least some stabilization here, and an effort to turn things around. Personal income and personal spending were up too, 0.1% and 0.5%, respectively.
Consumer confidence made a surprise jump too, from a score of 61.3 in August to 70.3 in September - that's almost back to the peak of 71.3 seen in February of this year, before things (across the board) started to deteriorate. The Michigan Sentiment Index also saw a big jump in September, moving from a reading of 74.3 in August to 78.3 now. Again, it shows a great deal of optimism that doesn't seem like it should exist, given the weak economic backdrop; is this a "do as I say and not as I do" situation?
Bad:
There's no doubting last week's most troubling economic data nugget; The United States' second-quarter GDP only grew by 1.3%, following prior estimates of 1.7%.
Almost as bad as a weak GDP for Q2, durable orders fell 13.2% for August. Granted, that was including auto orders, which are hyper-volatile. But, even without automobiles, durable orders slumped 1.6% . (And, considering the importance of automobiles to so many other industries in the country, it's not like there's no ripple effect from a weak car sector.)
Pending home sales were off by 2.6% in August, contrasting with the bigger idea of a recovery for the housing sector. It's just one month, and not a huge dip. But, it's little stumbles like that which prevent the housing market's rebound from fully taking hold.
Economic Calendar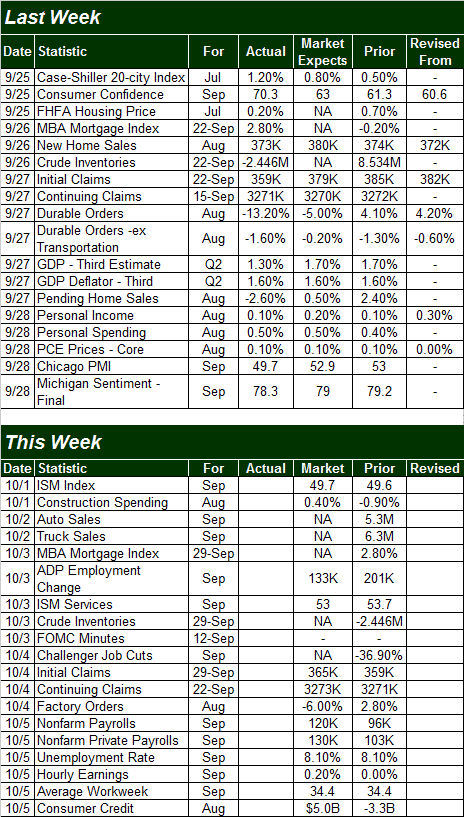 For the coming week, we're going to be keeping a close eye on Wednesday's ADP Employment Change numbers, which should be at least somewhat telling of what to expect on Friday when we get the official payroll-growth numbers from the government. The pros expect to see a net of 133K and 130K newly-created jobs, respectively. It's still not apt to move the unemployment rate's needle from 8.1%, however.
Stock Market
We're going to start our technical analysis this week with the weekly chart, as it better tells the key part of the story while also offering some needed perspective.
Why is that so important now? Take a look - you'll see it immediately.
SPX & VIX Weekly Chart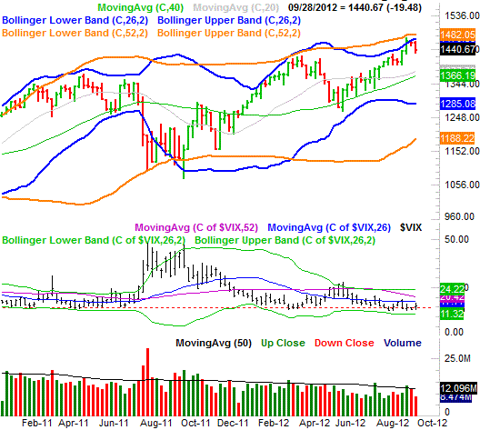 Last week's 1.33% dip for the S&P 500 (SPX) (NYSEARCA:SPY) was not only out of character for the market, it was the worst (biggest) weekly loss we'd seen over the course of the week since the one from late May that kick-started the rebound in early June. This one is radically different from that one, however. The 3.1% plunge in the last week of May was the tail-end of a bigger, nastier selloff, and was capitulatory. Last week's slide was the first real setback after seventeen weeks of largely-unfettered bullish effort. Translation: There's still plenty of room for stocks to keep falling now, unlike May, when there was no ground left to give up.
There's another detail adding to the bearish pressure now too - the recent brush of the upper 26-week Bollinger band, which has applied bearish pressure in the recent past.
Mostly, though, it's the size of last week's selloff that could be implying the rally has finally ended. A 1.3% dip isn't massive, but it sends a fairly strong message.
All that being said, it's not like the bulls don't have any supporting arguments of their own. One of them is the fact that the VIX isn't exactly trending higher yet. Until the CBOE Volatility Index (VIX) (NYSEARCA:VXX) actually starts to make meaningfully-higher highs (a move above its 26-week or 52-week moving average lines would be a good start), it's possible to simply chalk up last week's dip to lethargy, or listless drifting while traders think about things from the sidelines. After all, volume remains stunningly low.
So how does a closer look at the daily chart enhance the analysis? It doesn't change the bigger-picture theme, but we can see what stopped the market's bleeding - at least temporarily.
As of Friday's close, the S&P 500 ended the session right on the key 20-day moving average line after closing under it on Wednesday, and back above it on Thursday. Traders are simply on the fence here, waiting for a sign of what's on the horizon.
SPX & VIX Daily Chart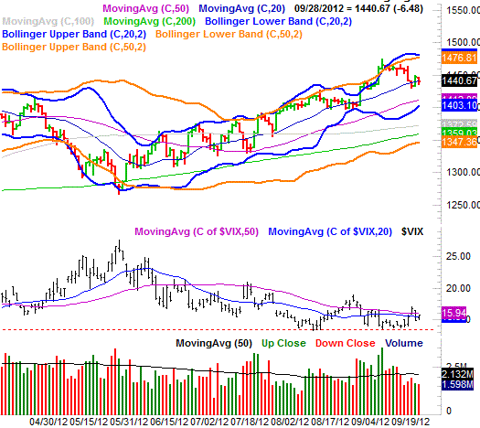 One thing we are seeing a stronger hint of with the daily chart is upward pressure on the CBOE Volatility Index. Though the VIX's uptrend isn't "well developed" yet, we can see it's stopped making lower lows [check out the dashed support line at 13.4], and is getting more and more comfortable above those key moving average lines. Notice how close the VIX's moving averages are getting to one another. That tide is getting close to turning all the way.
In the short run, the S&P 500 looks destined to retest the 1410 area, where the 50-day moving average and the 20-day Bollinger band are about to converge [see the daily chart]. Beyond that, the 1376/1380 area could be retested as a floor, where the 100-day and 200-day moving average lines are about to converge on the weekly chart.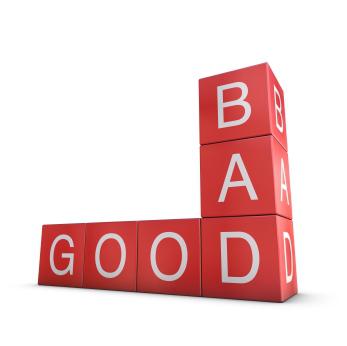 Disclosure: I have no positions in any stocks mentioned, and no plans to initiate any positions within the next 72 hours. I wrote this article myself, and it expresses my own opinions. I am not receiving compensation for it. I have no business relationship with any company whose stock is mentioned in this article.
Additional disclosure: BigTrends Rapid Options Income clients are in an SPY Condor Options Position