We are bullish on Rackspace Hosting Inc. (NYSE:RAX), as it has continued to show impressive top and bottom line growth, despite the tough competition in the cloud hosting industry. Earnings are expected to grow by 45% over the next year, whereas the company's five-year earnings growth rate is 34%, well above the industry average. Rapidly changing technology, and the demand for cloud hosting as an attractive and more cost efficient option for various businesses, continues to be the growth driver for the company, which is also reflected in the company's share price. The stock is up 50% on a YTD basis, and since the earnings release in August, it has gained 35%. However, it is currently trading at high valuations. We believe the company has sound financials, and investors seeking to take a long position should wait for a better entry point.
RAX, with a market cap of $9 billion, is a major player in the cloud computing industry. It offers a wide range of cloud computing services that include dedicated cloud hosting and public cloud hosting to customers that include small and medium sized businesses. As of the quarter ended June, 2012, the company had over 190,000 business customers, deploying almost 85,000 servers to cater to its customer needs in more than 120 countries. Its shares are listed on the New York Stock Exchange, currently trading near $66.
As mentioned previously, the company mainly provides cloud hosting services. The company provides IT-related services on servers that are dedicated to a particular client, thus freeing the customer from managing the data center or hardware. It also provides public hosting services, where it manages a pool of resources to deliver computing resources to its clients utilizing various virtualization and other cloud technologies. The majority of the company's revenues come from the U.S., with RAX having an international presence as well. As of the second quarter ended, the company's local operations accounted for almost 75% of its total revenues.
The company is a growth story, as can be seen in its latest filed results. Sales rose to $319 million, beating analyst expectations of $317 million; since the earnings release in August, the stock has gained over 35%. RAX has been generating double digit revenue growth for a number of quarters. In Q22012, this trend was repeated, with a revenue growth of almost 30% over the same quarter of the previous year. The company has been seeing an increased demand for its services from business customers, and that has reflected positively in its revenue growth and profitability. If we take a look at the company's key business metrics, an improvement across all metrics is fairly visible.
Key Metrics

Q22011

Q32011

Q42011

Q12012

Q22012

No. of customers

152,578

161,422

172,510

180,866

190,958

No. of servers

74,000

79,000

80,000

82,000

85,000

Average monthly revenue per server

$1,141

$1,155

$1,191

$1,238

$1,270

Average monthly churn

0

0

0

0

0
Rackspace is also on track to expand its international footprint. The company recently launched its first data center in Australia, and through the data center, it will provide dedicated hosting and virtualization solutions to business customers. Since entering the Australian and New Zealand markets in 2009, RAX has experienced a healthy increase in its customer numbers, which is reflected in its annual and quarterly filings. The company's rapid growth can be attributed to its hallmark customer service called "fanatical support," which is available to its customers round the clock throughout the year. It is because of its customer tailored service that the company has seen its customer base expand so rapidly over the years.
As mentioned previously, the company is a growth story, not only in terms of data center expansion, but also in terms of financials. Revenues have grown at a 4-year CAGR of almost 30%, which has also tricked down to its operating margins and earnings growth.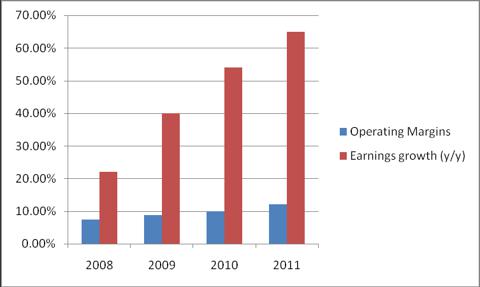 The company has an insignificant amount of debt on its balance sheet, with a debt-to-equity ratio of 20% as of the most recent quarter, and an interest coverage ratio of 11x. RAX is expecting to incur capital expenditures in the range of $335 million-to-$405 million for data center infrastructure costs, as well as office build outs. It seems unlikely that the company will not be able to cover its CAPEX requirements through its cash flows and available credit facility. Operating cash flows have stayed on an upward trend over the years, and in FY2011, operating cash flows rose by over 40% to $345 million.
Key Risk: The stock looks overvalued based on almost all multiples as compared to the industry average, as well as its rival Equinix (NASDAQ:EQIX). However, we believe that for such a high growth story, these high valuations are not a big concern. The valuations would normalize as analysts revise up the future earnings.
EQIX

RAX

P/E (NYSE:TTM)

102x

98x

Forward P/E

53x

60x

P/S

5.6x

7.6x

EV/EBITDA

15x

25x
Disclosure: I have no positions in any stocks mentioned, and no plans to initiate any positions within the next 72 hours.
Business relationship disclosure: The article has been written by Qineqt's Technology Analyst. Qineqt is not receiving compensation for it (other than from Seeking Alpha). Qineqt has no business relationship with any company whose stock is mentioned in this article.