When management with a reputation for brilliance tackles a business with a reputation for poor fundamental economics, it's the reputation of the business that remains intact.
- Warren Buffett
Eddie Lampert has a simple strategy when it comes to investing: Buy a large portion of stock in a particular company in which he can influence the management, cut expenses at the company and use the money to buy back stocks. He has been successful so far. Autozone (NYSE:AZO) is a great example.
However, his last major investment in Sears Holdings (NASDAQ:SHLD) may prove to be a fatal mistake. Sears Holdings owns Sears and K-Mart. The bulls's argument in Sears was this: Eddie is the next Warren Buffett. Eddie can sell out many Sears properties and use the proceeds from the sale to invest in other businesses where he can produce a better return than he can in retail. I think that argument may be flawed for two reasons:
1. Buffett actually said investing in Berkshire Hathaway (NYSE:BRK.A) was one of biggest mistakes he ever made. Buffett made money by investing in great businesses, not in bad businesses that he tried to turn around.
2. It's the economy, stupid. We are in a recession, sales and profit margin are falling year over year at Sears. Commercial real estate values are falling. Eddie wil unlikely sell any property at an attractive price anytime soon. In recent years, under the leadership of Eddie Lampert, Sears cut marketing expenses to the bone.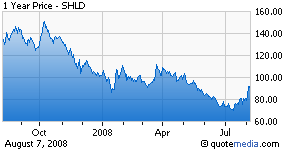 There's nothing left to cut. In its latest quarter ended May 3, 2008, the company posted a pretax loss of $64 million vs. pretax income of $381 million in the same period last year. As the economy gets tough for some extended period and the housing bust continues to get worse, departement stores like Sears will lose more business to the discount retailers. It will be increasingly more diffcult to turn a profit at Sears and K-Mart.
Sears Holding has bought back $2.96 billion dollars worth of stock in 2007, and that leaves Sears with very little or no money on hand to endure an economic downturn. That stress has clearly shown up in its latest quarter, as it had to borrow $646 million dollars in short term commercial paper to cover some cash flow issues.
I have a hard time believing that Sears will turn a profit this year, with almost $10 billion dollars in total current liability, and only $13 billion dollars in current assets, mainly comprised of $10.3 billion in inventory.
Disclosure: None