The ISM (Institute of Supply Management) index of purchasing managers (executives and managers who buy raw materials, parts and sub-assemblies) rose to 51.5 from a 3-year-low of 49.6 in August. There was wild dancing and fandangoing on Wall Street as they ballyhooed this news far and wide.
After all, Wall Street knows the investing public has a short memory. Let's see… today is Monday. How long ago must it have been that the same ISM reported that the Chicago Purchasing Manager Index fell to 49.7, its lowest level in three years? Oh, that's right! It was Friday. As in the previous business day. But then we had a whole weekend of other sound-bite news items between now and then so we can be forgiven as Wall Street endeavors to play puppet-master to the rest of us.
That's right, on Friday the Chicago PMI, considered an early warning business barometer for the nation, saw the category of New Orders fall below 50 (the balancing point between barely scraping by and barely failing to scrape by,) and Order Backlogs contracted for the fourth of the past five months. Prices Paid showed the biggest gain in nearly two years, not exactly a good sign for manufacturing. "There are no encouraging signs in this report," said Thomas Simons, an economist with Jefferies, in a note to clients.
So manufacturing activity in the Chicago region contracted for the first time in three years in September, according to the report released Friday. But on Monday the ISM compiled the rest of the nation and found that, in the aggregate, maybe we are barely doing barely better than barely scraping by.
Recognizing that some investors may find this juxtaposition disquieting at best, however, the financial press pointed out that we were doing much better than the rest of the world in this race. Marketwatch.com noted "the modest improvement in U.S. manufacturing suggests companies are weathering a global economic slowdown better than their counterparts in other nations. Gauges for the biggest economies in Europe and Asia show that the manufacturers in those regions are still undergoing contraction."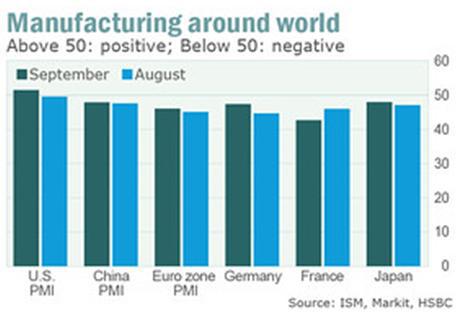 Well, isn't that special.
Writing this as I am between Sunday Night Football and Monday Night Football, perhaps a couple sports analogies may help bring home how ridiculous this constant up-and-down and paint-it-pretty news cycle is getting to be.
Looking at the chart above, I don't see Norway, Sweden, Canada, Australia, or any of the Asian Tigers, New or Old. Is that because, in this race, they are in front of the 6 regions/nations listed above? Is there one pack of cyclists or runners in a different pack and a pack consisting of the 6 listed above bringing up the rear? If so, saying "U.S. manufacturing suggests companies are weathering a global economic slowdown better than their counterparts in other nations" is like chanting "We're Number 1! We're Number 1!" when in fact we are only running barely ahead of the rest of the out-of-shape kids bringing up the rear.
Indeed, Chicago isn't the only region surveyed. There are 18. It would be awful if all 18 showed a contraction and great if all 18 showed expansion. In fact, 11 of the 18 U.S. manufacturing industries surveyed by ISM reported growth in September. One was right at 50 and 6 showed a contraction.
Sticking with sports analogies, a won-lost-tied record of 11-6-1 is a lot better than 9-9 or 6-11-1. But we have to concede that it looks as if all 11 were won by a field goal in overtime with replacement refs making the reception/interception calls. Given that this is an election year and we definitely are not playoff bound, we need to each pretend we're the owner of this team and decide if a coach that for 3 years can't do better than 11-6-1 deserves a renewal on his contract or not.
As one reads if they are patient to the end of the articles extolling this victory, we find the real meat of the numbers. Again from Marketwatch.com, "In any case, most economists don't expect a sustained improvement in manufacturing until next year. For one thing, the global economy is still soft, hurting U.S. exports. The ISM's September export index, for example, remained under 50 for the fourth straight month."
No kidding. Who will our manufacturers export to? Third quarter manufacturing was Europe's worst in three years, and I don't see a lot of reason to believe that will improve anytime soon. Typically, if they can't even sell what they make in their own countries, it's unlikely they are going to need our finished products to cover any overage.
And in China a survey compiled by HSBC, which might not be completely accurate but is likely to be more accurate than the Chinese government's numbers, remained under the 50 tipping point for the 11th straight month.
My faith in the American people is unshakeable. With the right coach and right team I believe we can go 18-0. If we are currently far back in the pack, I believe we can still pull away and surpass all other contenders to break the tape or wear the yellow jersey.
I just don't believe cheerleading for a flash in the pan is the way to do it. Now, if we were to slash wasteful government spending, change our immigration laws to attract entrepreneurs, and burn the current red tape and bureaucratic featherbedding that holds back American businesses, then I could say, even along the way, "We're Number One."
We are still long, but we've increased the degree to which one leg is stretched toward the exit sign. So how to profit? We are cautiously long but are buying, for instance, the PowerShares S&P 500 Low Volatility (NYSEARCA:SPLV) rather than the Spider S&P 500 (NYSEARCA:SPY)/ We've also, on up days like today, purchased Jan 2013 calls on some inverse ETFs like RWM, SH and VXX for less than a dollar.
Transparency & Governance Disclosure: As Registered Investment Advisors, we see it as our responsibility to advise the following: we do not know your personal financial situation, so the information contained in this communiqué represents the opinions of the staff of Stanford Wealth Management, and should not be construed as personalized investment advice.
Past performance is no guarantee of future results, rather an obvious statement but clearly too often unheeded judging by the number of investors who buy the current #1 mutual fund only to watch it plummet next month.
We encourage you to do your own research on individual issues we recommend for your analysis to see if they might be of value in your own investing. We take our responsibility to proffer intelligent commentary seriously, but it should not be assumed that investing in any securities we are investing in will always be profitable. We do our best to get it right, and we "eat our own cooking," but we could be wrong, hence our full disclosure as to whether we own or are buying the investments we write about.
Disclosure: I am long SPLV, RWM, SH, VXX. I wrote this article myself, and it expresses my own opinions. I am not receiving compensation for it. I have no business relationship with any company whose stock is mentioned in this article.