Warren Buffett once famously said, "price is what you pay, value is what you get." At the time of this writing, both Sears (NASDAQ:SHLD) and Best Buy (NYSE:BBY) have the same price (if measured in terms of market capitalization) but which the better value?
Sears and Best Buy: Remarkably Similar Statistically
Sears has for a long time, at least since its purchase by Eddie Lampert's Kmart in 2004, been considered a traditional value play - an underperforming business, perhaps, but one with high sales relative to its value, as well as undervalued retail properties.
Best Buy has not been considered quite in the same vein as Sears - perhaps because it lacks the cache associated with a venerable, big-name investor with a mythos like Lampert (aside from its founder Schulze of course). However, what initially prompted me to write this article is my notice of the almost identical market capitalizations of the two companies. As of the time of writing, Best Buy has a market capitalization of $5.79 billion, while Sears has a market capitalization of $5.91 billion.
The almost eerie similarities do not end there, however. Without actually looking up the numbers, one would probably expect Sears to have far higher sales than Best Buy, Sears being a hidden value after all. However, in their last fiscal years, Sears had sales of $41.6 billion, while Best Buy had sales of $50.7 billion - so Best Buy actually had almost $9 billion, or about 25%, more sales than Sears. The numbers seem surprising because Sears has long touted its leadership position in home appliances, especially (Sears actually sells about $20 billion worth of "hardlines" - electronics, appliances, etc.) a year. Quite surprising that Sears, the deep value play, actually has a higher price to sales ratio than Best Buy!
Next moving on to the balance sheet, again the similarities are remarkable. As of the end of the last quarter, Best Buy had a book value of $3.5 billion, and a tangible book value of $1.82 billion. Sears had a book value of $4.5 billion and a tangible book value of $0.748 billion. The numbers are not very far apart.
True, Best Buy has about half the stores in the United States of Sears (Best Buy has about 1,400 U.S. stores). On the other hand, Best Buy is far more profitable than Sears, as Sears earned virtually no EBITDA in its last fiscal year while Best Buy had EBITDA of about $2.2 billion.
So Which Is the Better Value Play?
It seems that Sears' value as an operating business has weakened substantially since the onset of horrendous economic conditions that began in 2008. Sears' EBITDA has collapsed from more than $1.5 billion in 2009 to essentially zero in its last fiscal year.
As a result, Sears investors - big and small - have totally shifted their focus from Sears (the retailer) to Sears (the asset story). Bruce Berkowitz, manager of the Fairholme Funds and a long-time Sears shareholder, recently published a presentation on his website comparing Sears' properties to that of REITs like Simon Property Group, comparing Sears' gross square footage of 256 million to Simon's $245 million. Best Buy pales in this respect, with only about 42 million square feet domestically, about one-sixth of that of Sears. Here is a snapshot from page 8 of Berkowitz's Sears Presentation found on Fairholme's website: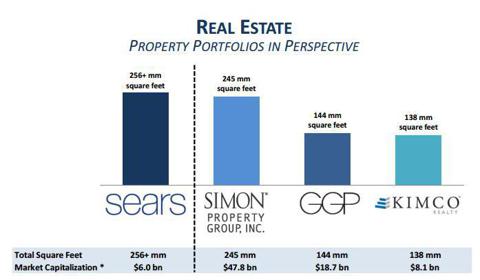 Conversely, Best Buy's core business has - fingers crossed - so far held up remarkably well despite dire predictions from the press and even the company's founder, Dick Schulze. This article does not attempt to predict whether these trends will change in the future. It merely points out the statistical record of the past. Unlike Sears, which as mentioned has seen its EBITDA decline, Best Buy's EBITDA over the last three years has held steady at about $2.2 to $2.4 billion per year.
Stated differently, while these companies have eerily similar market valuations, as measured by market capitalization, those market values seem to be based on entirely different factors in these two companies. The first company's value is based predominantly, if not solely, on the promise of its asset portfolio, while the latter company's value is based predominantly, if not solely, on its operating performance.
In my opinion, Best Buy is the better investment because of its much stronger operating performance. Investors can be more certain of the timing of the cash flows that they will receive (based on Best Buy's profits from operations); whereas Sears investors must hope, not only that actual gains from asset sales will be realized (which is not necessarily a sure thing given the wide range of valuations attributed to Sears' real estate portfolio), but also that they will come soon.
Disclosure: I am long BBY. I wrote this article myself, and it expresses my own opinions. I am not receiving compensation for it (other than from Seeking Alpha). I have no business relationship with any company whose stock is mentioned in this article.