In October 2011, Fusion-io (FIO) announced the next evolution of its ioMemory platform, the io Drive 2. The ioDrive 2 leads the industry in enterprise performance and reliability. The below chart looks at the gross margin impact of this transition: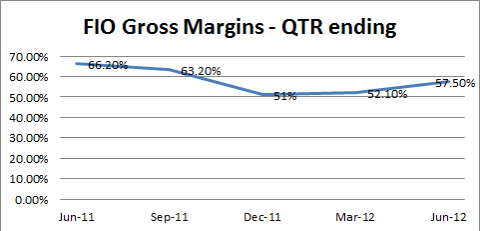 The December 2011 quarter saw gross margins come down sharply from 63.20% to 51% sequentially as a result of this product transition, and have since ticked up to the current levels of 57.50%. The rationale for the drop is as follows:
FIO relies on multiple suppliers for its NAND flash and needs to reach volume on the new NAND flash to realise margin benefits.
OEM partners HP, Dell, IBM and Cisco are required to qualify and integrate ioDrive 2 before enterprise shipments begin.
Web 2.0 and direct customers were early adopters not requiring OEM qualification.
Importantly these factors are now behind FIO, as volume sales are being achieved and all server OEM's have qualified ioDrive 2.
Looking ahead
Looking ahead to the September 2012 quarter gross margins are looking even better, with management forecasting gross margins of 56-58%. I believe gross margins will be on the upper end of guidance for the following reasons:
- FIO continues to work through old inventory as they complete the transition to ioDrive 2 and have fully qualified all suppliers and OEMs.
- The CFO mentioned during an investor conference on the 12th September the business is leaning to enterprise for the quarter. History tells us enterprise has higher margins than Web 2.0.
The net result should see 150bps expansion and 59% gross margins, well above their 56-58% guidance. The transition to ioDrive 2 was painful, the transition is now over and strong gross margins lie ahead.
Upside risk to Gross Margins
I have excluded any upside from the software business including ION and IO turbine. FIO software defined storage provides a differentiated solution and going forward the software sales are expected to be a larger part of their business and support higher margins. Investors will have minimal insight into the software business as FIO sells the software as a system sale and isn't breaking out software margins.
Downside risk to Gross Margins
In the short to medium term gross margins appear stable and rising as outlined above. Longer term risks include:
Competition from VM Ware, EMC or other vendors.
Future ioDrive Product introductions.
Software sales don't meet expectations.
Competitive Landscape
The chart below highlights the Gross Margins of FIO main competitors. As expected consumer grade providers (NASDAQ:STEC) and (NASDAQ:OCZ) have the lowest margins in the group at 37% and 25% respectively. STEC and OCZ don't have the products or distribution footprint to compete in the enterprise segment.
Enterprise providers (EMC) and Fusion-IO have much healthier margins at 64% and 57% respectively.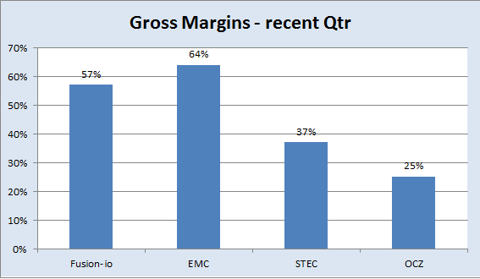 Summary
FIO share price has been somewhat hamstrung for most of the year on the back of weak gross margins. FIO transition to ioDrive 2 is now behind them and margins are on the way up. I'd expect FIO to exceed their stated guidance of 56-58% for the September 2012 quarter.
Software revenues from ION and IO Turbine are expected to be accretive to gross margins in the near term and risks to gross margins appear on the upside. The only thing that could derail margins is either competition or the rollout of the next ioMemory platform, neither of which should be of concern in the short to medium term.
Disclosure: I am long FIO. I wrote this article myself, and it expresses my own opinions. I am not receiving compensation for it (other than from Seeking Alpha). I have no business relationship with any company whose stock is mentioned in this article.