Cisco (NASDAQ:CSCO), Intel (NASDAQ:INTC), and Microsoft (NASDAQ:MSFT) have all followed a similar path: founded in the '70s and '80s; expanding to unbelievable size and influence throughout the '90s; settling back somewhat as the technology-Internet bubble popped; and then finally recovering to become huge, mega-cap, and mega-profitable enterprises with stable, increasing dividends. While Hewlett-Packard (NYSE:HPQ) -- founded in 1939, and a public company since 1957 -- comes from a different era, the spin-off in 1999 of its non-computer businesses to become Agilent Technologies (NYSE:A), with all computer-related businesses being retained by the parent, essentially meant that the new Hewlett Packard was, for better or worse, solely a computer company from that point onward.
Prices have declined recently for all of these firms, as there is a perception that they have missed out on the latest technologies, or have become less agile competitors. Intel, Microsoft, and Hewlett-Packard are behind the curve in tablet computing and smartphones, and Cisco has experienced limits to growth, along with tough new competition, at least at the low end of the product line.
With the decline in their stock prices, yields for these firms are now at or above 3%. That opens the possibility that these stocks may be attractive value plays. In this article, I will provide some basic introductory data for each firm, then I will present some recent financial data and ratios for comparison. I will then come to a conclusion as to which, if any, might be attractive as dividend-paying value stock investments.
Overview: Four Major Technology Firms
Cisco Systems was founded in 1984 and went public in 1990. John Chambers became the CEO in 1995, a position he still holds. In March 1990, Cisco was briefly the world's most valuable company with a market capitalization of $569 billion. Currently, Cisco has a market capitalization of $98 billion, with around 66,000 employees. Cisco only recently began paying a dividend -- in March 2011. A significant increase was just announced, effective with the next payout, with an ex-dividend date of 10/2/2012. With the increase, the quarterly payout is now $0.14, generating a yield of 2.93%, based on the quarter-end stock price of $19.09.
Intel was founded in 1968 and went public in 1971. The growth of Intel has been synonymous with the PC revolution ever since the introduction of the IBM PC in 1981, which was powered by the Intel 8088 chip. Intel currently has a market capitalization of $115 billion, with around 100,000 employees. The company has paid a dividend since 1992, with the most recent increase effective 8/3/2012. The current quarterly payout is $0.225. Based on the quarter-end stock price of $22.65, Intel offers the highest yield of the four tech stocks being reviewed, at 3.97%.
Microsoft was founded in 1975 by Bill Gates and Paul Allen, with their initial task being to develop a Basic interpreter for the Altair 8000, the first microcomputer. Landing a contract with IBM in 1980 to develop an operating system for the new IBM PC, which became MS-DOS, was the breakthrough the fledgling firm needed. Microsoft went public in 1986, and today has a market capitalization of $253 billion, and around 94,000 employees. Microsoft began paying a dividend in 2003. The dividend has just been increased to a quarterly payout of $0.23, to be effective on the next ex-dividend date, 11/13/2012. Based on the quarter-end stock price of $29.76, the yield is now up to 3.09%.
Last, and as will be seen, least, there is Hewlett-Packard. Hewlett-Packard was famously started in David Packard's garage in 1939, and went public in 1957. Initially an electronic testing equipment manufacturer, the company was in the thick of things as the electronic computer came of age, expanding into calculators, mini-computers, printers, and imaging technology. In 1999, all computer-related businesses were retained, and all other businesses were spun off into a new firm, Agilent Technologies, which still exists today. Hewlett-Packard's management turnover and board dissension over the past several years has greatly damaged this once-proud franchise. The current market capitalization is down to only $33 billion. Hewlett-Packard has around 350,000 employees, although job cuts are ongoing as a consequence of the firm's troubles. The company has paid a dividend for over 20 years, with a current quarterly payout of $0.132. Based on the quarter-end stock price of $17.06, the yield is now up to 3.09%, the highest yield Hewlett-Packard has ever seen. The troubles notwithstanding, the firm increased its dividend recently, effective with the ex-dividend date of 6/11/2012.
Recent Data On Earnings, Financial Condition, Valuation, And Sentiment
A comparison of earnings results for the most recent five quarters for the four firms is shown in the table below: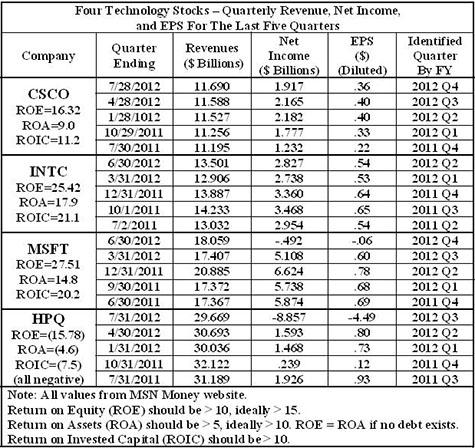 Interestingly, both Microsoft and Hewlett-Packard reported a loss for the most recent quarter. It was the first quarterly loss ever for Microsoft. Impairment of goodwill accounted for most of the losses in both cases. Hewlett-Packard also had some restructuring charges. Impairment of goodwill usually means a firm overpaid for an acquisition that failed to deliver the expected benefits. In the case of Microsoft, at least, the firm can afford the loss. Even after absorbing the loss for the final quarter of Microsoft's fiscal year ended 6/30/2012, the firm still reported positive results for 2012. By contrast, Hewlett-Packard's loss for the most recent quarter ended 7/31/2012 -- which was the third quarter for the firm's fiscal year 2012 -- was of such gargantuan proportions that it caused the trailing 12 month P/E to be negative. Barring a miracle in the current quarter ending 10/31/2012, Hewlett-Packard will experience a loss for the complete fiscal year 2012 when it is reported a couple of months from now.
When evaluating a value stock, or any stock for that matter, the condition of the balance sheet is critical. A comparison of some of the more relevant values is shown in the following table. Additionally, current valuation ratios are shown: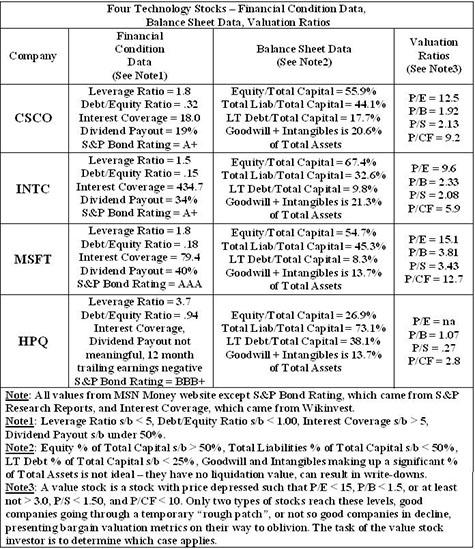 As can be seen, Cisco, Intel, and Microsoft are in pretty good shape, while Hewlett-Packard's financial condition leaves much to be desired. As for valuation, Intel represents the best value of the three relatively healthy stocks, while Cisco is next, then Microsoft. Ignoring P/E, Hewlett-Packard represents an extreme value considering the other valuation ratios, as would be expected for a stock under severe duress like Hewlett-Packard.
Finally, I reviewed some of my favorite research report providers to see what they had to say about these firms and how they were rated. Results are shown in the table below: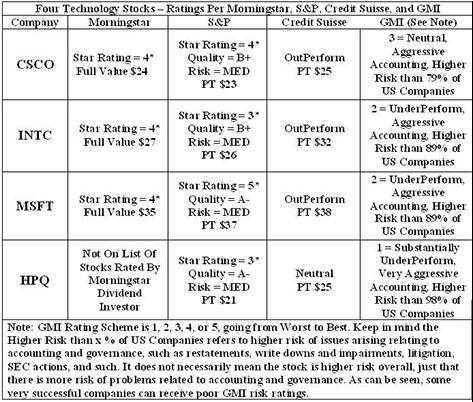 As you can see, Cisco, Intel, and Microsoft are all well-regarded by Morningstar, S&P, and Credit Suisse, while Hewlett-Packard is down the scale somewhat, although still not as far down as I would have thought. Interestingly, all of the firms are rated poorly by Government Metrics International (GMI), a corporate governance and accounting risk ratings firm. Cisco has the best rating from GMI, Intel and Microsoft are next, while Hewlett-Packard has the worst rating possible. If nothing else, the Hewlett-Packard rating shores up my faith in GMI -- the GMI ratings system recognizes problems when they exist. Companies are negatively affected, as far as GMI ratings are concerned, by acquisitions, restructurings, perceived litigation risk, high levels of goodwill / intangibles on the balance sheet, and management/board turmoil, to name a few conditions that raise concern.
Conclusions
Before I conclude, in the interest of full disclosure, I want to note that I am not a financial professional, nor am I certified in any way as a financial advisor. I am an independent, individual investor, focusing on dividend-paying stocks exclusively.
Cisco Systems
Cisco embarked on a major turnaround plan a couple of years ago, as long-time CEO John Chambers felt the pressure from disappointing results that had been going on for far too long. The firm also succumbed to the new reality that the go-go days were over, and it was time to pay a dividend. While it took some time for the changes to unfold, the most recent quarterly earnings release -- just this past August -- showed a 56% increase in profit, with sales growth in the U.S. at least partially offsetting difficult conditions in Europe and a slowdown in China. Cisco "doubled down" on the dividend approach to enhancing shareholder value, announcing a whopping 75% dividend increase, to be effected with the next quarterly payout. With a tough business environment being predicted for the near-term, Cisco appears more capable than most firms of being able to weather the storm. Of the four firms reviewed, I believe Cisco is the most compelling as an investment. In fact, the opportunity may be slipping away, as the yield has just recently slipped under 3% due to stock price appreciation in just the last few days.
Intel Corporation
Intel came out with a revenue/earnings warning just three weeks ago, blaming sluggish demand for new PCs from both the enterprise segment (i.e., corporations) and emerging markets. A significant percentage of the decline is perceived (by analysts) to be caused by both businesses and consumers switching from PCs and laptops to tablets and smartphones, as these less expensive machines can perform many tasks that formerly required a computer. The warning, and the belief that the causes are structural -- not temporary -- has resulted in a precipitous price drop in Intel stock since the announcement. The yield has risen correspondingly, and is now nearly 4% -- a return not seen since the financial crisis in 2008 -- when Intel was just a few cents above $12 a share.
While there is no doubt that the new devices are displacing PCs to some extent, the end-user PC is not going away anytime soon, not to mention all the servers needed to support ever-increasing network traffic. With tremendous R&D resources to bring to bear, Intel is belatedly entering the tablet/smartphone fray. A new Windows 8 tablet from Hewlett-Packard powered by Intel's new "Atom" chip was recently announced, as was a new smartphone powered by an Intel chip, the Motorola Mobility from Google.
I believe that Intel is facing up to the reality that the "Wintel" monopoly that Intel and Microsoft have enjoyed for so many years is slowly fading, and that the firm has the resources and the acumen to respond. I will concede that a return to glory is not guaranteed, and even if it occurs, it won't be soon. The stock could certainly fall further. Yet, with a 4% yield, and considering the financial strength of the firm, I believe Intel is a buy at today's levels. I would advise starting a position cautiously -- maybe starting out with only a third to a half of the number of shares desired -- and adding more upon further declines. If September marks a bottom for Intel and the stock starts moving back up, you could abandon the pullback strategy and pay a bit more than the recent price to complete a position without over-paying by much.
Microsoft Corporation
Microsoft is in a somewhat unique position, due to its overwhelming success with Windows and Office. Just about any change in the status quo is disruptive to what has possibly been the greatest business model of all time. Further, duplicating that past success will be well-nigh impossible.
Still, with abundant resources -- including a cash hoard that boggles the mind, and a profit stream from Windows and Office that won't be shutting off any time soon -- "The Empire" (nickname for Microsoft, taken from "Star Wars") will be a major player in computing for many years to come. While continuing to invest in the legacy products and cloud computing, Microsoft has released its own tablet entry -- the Surface -- and is trying to break into the smartphone market by partnering with Nokia to offer a smartphone with Windows 8 software.
Additionally, the Xbox has emerged as a rare product success that came after Windows/Office, which shows that it is possible for Microsoft to evolve successfully outside of the computing arena. Considering the resources that Microsoft possesses, anything can happen, and with a yield in excess of 3%, an investor can afford to wait for this software giant to find its way forward. The stock is off recent highs reached in mid-September, and now might be a good time to start a position. Still, it is not undervalued based on the standard valuation parameters, so I would suggest starting small and adding shares upon a decline.
Hewlett-Packard
Hewlett-Packard was historically known for innovation and quality, and transitioned successfully from electronics to computing throughout the '70s and beyond. Following the merger with Compaq in 2002, Hewlett-Packard became the world leader in PC and related hardware sales, such as printers. Since then, it has been all downhill, with management turnover and board conflicts, a short-lived entry and exit from tablets and smartphones, a number of acquisitions that have failed to live up to expectations, and most importantly for investors, a collapse of the stock price since 2010 from the $50s to below $20, dropping as low as $16.23 on 9/26/2012. See this recent MarketWatch article by Paul La Monica for an excellent synopsis of the firm's recent woes. With layoffs, restructuring expenses, further goodwill impairments, and more bad news beyond my imagination possibly to come, Hewlett-Packard represents "the ultimate value trap" -- a sentiment expressed by noted short seller Jim Chanos here on 7/18/2012. Chanos, who achieved distinction as a noted short seller of Enron before it imploded, stated in the interview that he is short Hewlett-Packard.
A purchase of Hewlett-Packard at today's levels is certainly better than having bought it at any point in the preceding five years. That is about the best that can be said for buying now. The chances of a turnaround soon are not good. Thus, the stock should only be bought as a speculation. Still, the existing cash cow PC and printing businesses, while declining, still generate enough sustenance that the firm should be able to stay afloat for quite a while, and a recovery of some sort could happen. But until some improvement is seen, the stock will likely continue to decline. Still, I don't see an Enron- or WorldCom- type implosion happening anytime soon, but rather a slow "death by a thousand cuts" if the situation does not improve.
So, to quickly summarize: I favor Cisco right now; Intel has merits as a value play, but has more risk; Microsoft also has merits, but is not really a terrific value right now; and Hewlett-Packard is very high risk, but could be high reward if an unexpected turnaround occurs in the next year or two.
Disclosure: I am long CSCO, INTC, HPQ. I wrote this article myself, and it expresses my own opinions. I am not receiving compensation for it (other than from Seeking Alpha). I have no business relationship with any company whose stock is mentioned in this article.
Additional disclosure: I recently sold MSFT at recent highs. I will buy it back if it declines sufficiently.