Between 7/15 and 7/23 the S&P 500 financial sector rallied 30% over 8 days and marked the beginning of a new bull market after its 54% decline from 2/20/07 to 7/15/08.  Birinyi Associates defines bull and bear markets based on the traditional definition of a 20% gain or loss from peak to trough. 
The following table highlights the current cycle for the DJIA, S&P 500 and its ten sectors as well as the historical average (since 1962) for each.  The sectors are traditionally more volatile than the markets; financials for example have had 20 bull and bear market cycles since 1962 compared to the S&P's eight rallies and nine declines.
click to enlarge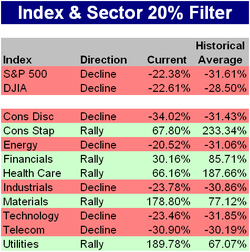 Please note that the utilities and materials sectors peaked on 12/10/07 and 5/16/08 but have not yet declined 20% from those peaks and have therefore not yet entered a new cycle.  The average bear market for utilities is -32.26% and the average bear market for materials is -29.02%.