MLP securities have one of the best track records for any investment group. The Alerian MLP Index (AMZ) began at the start of 1996. Since then it quadrupled, from 100 to 404. Very few indices or securities can match that performance. The chart for the index had only one major setback (in late 2008) but otherwise has had an impressive rise for 17 years. More importantly, the comparable index which includes reinvested dividends, has risen to 1266, for a 16.1% compounded annual growth rate.
Alerian MLP Index -- 1996-2012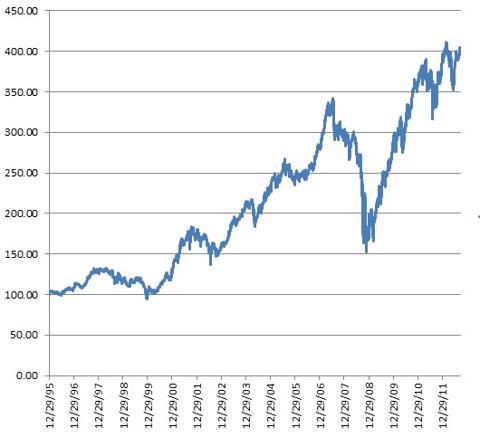 MLPs supply infrastructure for the energy industry (largely gas and oil) in the US and Canada. In recent years, new technology is used to extract gas and oil from what had been formerly considered marginal energy properties. As a result, North Dakota is becoming the #2 state for oil production in the US (Texas is in first place) this year.
For new investors, it is important to understand that MLPs are different than corporations with shares of stock. MLPs are limited partnerships with units that generally disburse distributions quarterly. Typically more than 80% of the distributions are not currently taxed, but tax deferral brings tax hassle. But 2 of the largest MLPs, Enbridge Energy and Kinder Morgan, have companion corporations to attract investors who want to avoid tax hassle. Each share of stock is backed by one unit in the partnership. Shares track unit prices and stock dividends are based on distributions. No 1099s for stock dividends are sent out for taxable accounts.
| | | | |
| --- | --- | --- | --- |
| | Price | Dividend | Yield |
| Enbridge Energy Partners (NYSE:EEP) | $29.44 | $2.17 | 7.4% |
| Enbridge Energy Mgmt (NYSE:EEQ) | $31.66 | $2.17 | 6.9% |
| Kinder Morgan, Inc (NYSE:KMI) | $35.52 | $1.40 | 3.9% |
| Kinder Morgan Partners (NYSE:KMP) | $82.50 | $4.92 | 6.0% |
| Kinder Morgan Mgmt (NYSE:KMR) | $76.40 | $4.92 | 6.4% |
Enbridge Energy Partners operates natural gas midstream businesses in the Mid-Continent and Gulf Coast regions of the US. It also owns the US portion of the world's longest liquid petroleum pipeline, transporting crude oil and natural gas liquids primarily from western Canada to refining centers in the Midwest and Ontario, Canada. Enbridge Energy Management is the companion business to EEP and generally sells at a modest premium to the comparable units.
Kinder Morgan is the largest MLP and last year complicated its structure when Kinder Morgan Inc , the parent of MLP Kinder Morgan Energy Partners, had an IPO. KMI has become the largest pipeline operator with 75,000 miles of pipelines reaching from coast to coast, after purchasing El Paso Corp this year. Kinder Morgan Management is the companion business to KMP and generally sells at a roughly 10% discount to the comparable units.
MLPs have ambitious expansion plans, between traditional energy investments and new shale related projects. There is plenty of investor money ready to finance this expansion. Last month EEP sold more than 16 million units for $461 million. Both MLPs have substantial market values. EEP and EEQ are worth $10 billion, and KMP and KMR have a market value of $36 billion. KMI's market value is another $36 billion.
MLPs are primarily thought of as yield securities. The MLP index yields 6.1% and distribution increases by MLPs are common. The distribution for KMP is up 5 fold since 1997. EEP has raised distributions more cautiously, but there have been no reductions since the first distribution in 1992. EEP is guiding annual distribution increases of 2-5% while KMP has generally guided for annual increases around 10%.
For investors who do not need current income and are bothered by K-1 tax forms sent out from MLPs, the 2 corporations are excellent alternatives to owning units. But times are changing. America is approaching the fiscal cliff on January 1 which will likely bring changes in taxes and there is talk about taxing stock dividends. Stock dividends have not been taxed because money was not earned to pay taxes. If stock dividends are taxed, KMR and EEQ will experience selling. However, their implied yields, over 6%, are very high which should limit selling.
The bigger picture for MLPs is that there is virtually unlimited demand for more pipelines and storage facilities by energy companies. This will bring higher revenue for MLPs and increased earnings for more distribution hikes. Units from KMP and EEP provide high income with tax advantages that is growing. KMR and EEQ provide similar high yields without taxes, at least presently. But even if stock dividends are taxed, growing shares and higher stock prices result in growing investment value.
Disclosure: I am long EEQ. I wrote this article myself, and it expresses my own opinions. I am not receiving compensation for it (other than from Seeking Alpha). I have no business relationship with any company whose stock is mentioned in this article.