An investor usually sells a put if his or her outlook on the underlying security is bullish. The best time to sell put is when the stock is trading in the oversold ranges as the chances of the stock dropping significantly lower are limited. The other occasion to sell a put is when the stock is trading in the overbought ranges and you like the company, but you want to get in at a lower price. Selling puts is similar to putting in a limit order and getting paid while you wait for that order to be filled. However, unlike a limit order, there is no guarantee that the shares will be assigned to your account if the stock trades below the strike price. The stock we are going to look at today is Linn Energy, LLC (LINE).
It is a pretty stable stock that has almost quadrupled in value from its Dec 5, 2008 low of $10.81. Despite a few strong pullbacks along the way the stock has progressively trended higher, and every strong pull back has proved to be an excellent buying opportunity. The drop from $41 to $31 in August 2011 and from $37-$31 in September 2011 are examples of such buying opportunities.
The company sports a handsome yield of 7.00% and has increased its distribution payments by more than 70% since going public. Distribution payments have been increased for the past four quarters, and it has a payout ratio of 59%, which still leaves it plenty of room to increase future distributions. It sports a top notch management, which increased production in 2011 by 30% and has set a target of increasing production by another 40% for 2012. They also have a very good commodity hedging program in place and management wants to double natural gas production to over 800 million cubic feet of gas equivalent per day.
With natural gas prices slowly starting to trend higher, its two purchases from BP Plc (NYSE:BP) appear to be good long term investments. It signed a 1.2 billion agreement with BP in February to purchase its stake in the Hugoton gas filed. In June it reached another agreement with BP to acquire its natural-gas liquid assets located in southwest Wyoming for over $1.03 billion. Management expects this deal to immediately add to cash flow.
Chief Executive Mark Ellis told Reuters that Linn would spend up to $2 billion on acquisitions every year. "Linn has grown by acquiring producing assets," said Eliecer Palacios, an energy sector specialist at investment bank Maxim Group."Their interest is in generating cash flow from these assets and distributing it back to shareholders," he said.
Momentum has slowed down a bit for the past 11 months. Since Nov 2011, it has been trending sideways and only just recently managed to close above $41.00. Long term channel formations are generally bullish developments, and in this stock should be trending considerably higher in the years to come. Over the short term time frames, the markets are in a volatile phase, and as a result we expect the action in the stock to remain volatile too. Any strong pullback should be viewed as a buying opportunity.
Charts and data of interest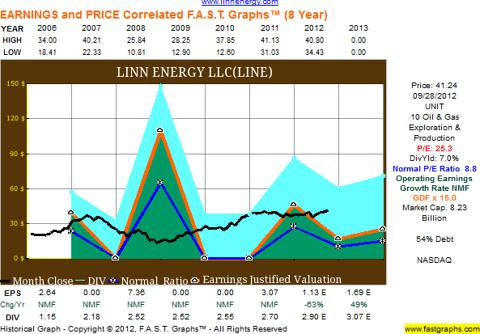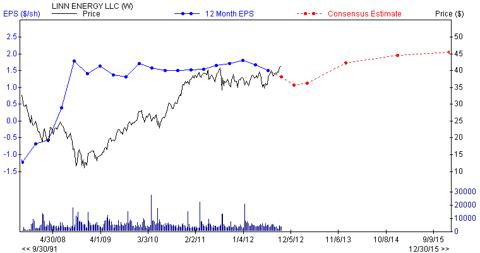 Generally, when the price is trading above the EPS line the stock tends to trend higher and vice versa. The stock has just managed to trade past the EPS consensus line.
A look at the competition
Linn Energy versus Anadarko Petroleum Corporation (NYSE:APC), Forest Oil Corporation (NYSE:FST) and Pioneer Natural Resources (NYSE:PXD):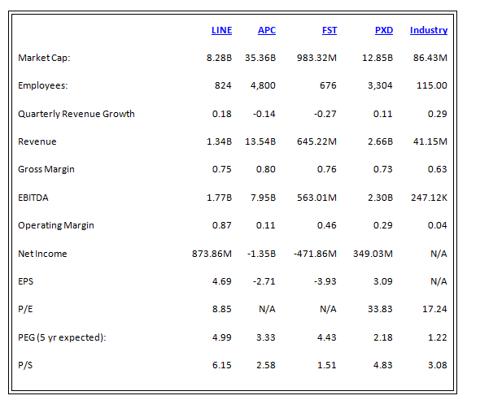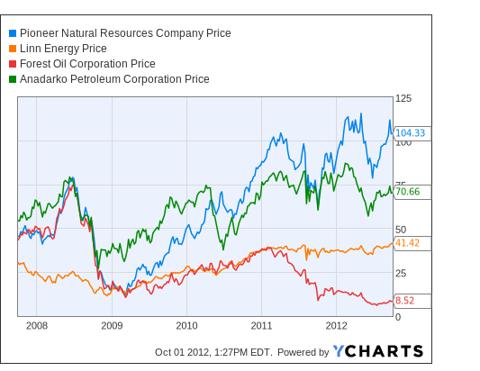 Benefits associated with selling naked puts
An investor usually sells a put option if his/her outlook on the underlying security is bullish.
In essence, you get paid for entering a "limit order" for a stock or stocks you would not mind owning.
It allows one to generate income in a neutral or rising market.
Acquiring stocks via short puts is a widely used strategy by many retail traders and is considered to be one of the most conservative option strategies. This strategy is very similar to the covered call strategy.
The safest option is to make sure the put is "cash secured." This simply means that you have enough cash in the account to purchase that specific stock if it trades below the strike price. Your final price would be a tad bit lower when you add the premium you were paid up front into the equation.
Every day you profit via time decay as long as the stock price does not drop significantly. In the event it does drop below the strike you sold the put at,

you

get to buy a stock you like at the price you wanted. Time decay is the greatest in the front month.
Suggested Strategy
The stock has had a hard time holding above $41 for a prolonged period of time. If it fails to close above $42 soon, the chances are pretty strong that it will at least trade down to the $39.50-$40.00 ranges before moving higher. We would wait for a test of the $40 ranges before selling any puts.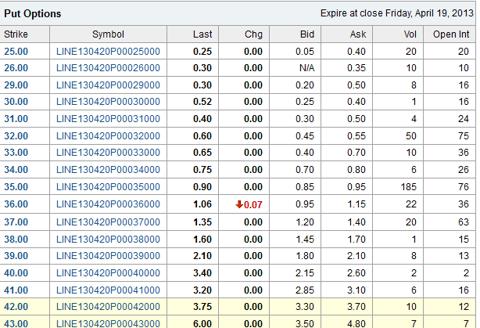 The April 2013, 39 puts are trading in the $1.80-$2.10 ranges. A pull back to the stated ranges should push these puts to trade in the $2.30-$2.60 ranges. We will assume that the puts can be sold for $2.30 or better. If the stock trades below the strike price the shares could be assigned to your account. If the shares are assigned to your account, your final price when the premium is factored in will work out to $36.70. If the shares are not assigned to your account, you walk away with an extra 6.30% in roughly seven months.
If, for some reason, you change your mind and feel that the stock is going to trade significantly lower, you can always roll the put. Buy back the puts you sold and sell new slightly out of the money puts with more time on them.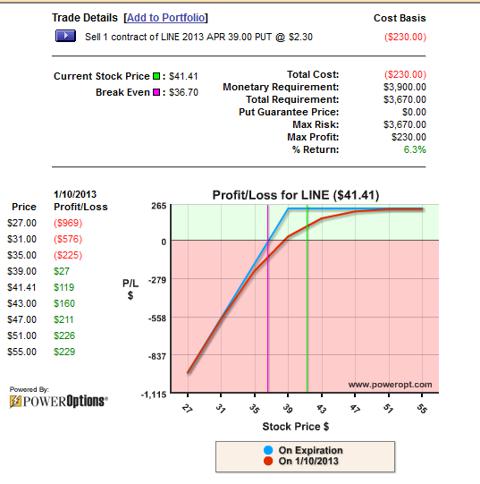 Conclusion
Only implement this strategy if your outlook on the stock is bullish as the shares could be assigned to your account. The stock has a great distribution rate of 7.00%, a five year distribution average of 9.9% and a five-year distribution growth rate of 5.6%. If the shares are not assigned to your account, you at least get compensated with a 6.3% rate of return in roughly seven months for your efforts.
Options tables sourced from yahoofinance.com. Profit loss graph sourced from poweropt.com. EPS charts obtained from zacks.com.
Disclaimer
It is imperative that you do your due diligence and then determine if the above strategy meets with your risk tolerance levels. The Latin maxim caveat emptor applies - let the buyer beware.
Disclosure: I have no positions in any stocks mentioned, and no plans to initiate any positions within the next 72 hours.
Business relationship disclosure: This article was prepared for Tactical Investor by one of our analysts. We have not received any compensation for expressing the recommendations in this article. We have no business relationships with any of the companies mentioned in this article.