Three months ago, Europe's never-ending drama and China's economic slowdown were collectively crushing Asia Pacific exporters. Single-country ETFs representing places like Australia, South Korea and Taiwan had relative strength factors below 50, meaning that half or more of the entire ETF universe was beating them.
Then came the bailout dialogues.
In late July, the president of the European Central Bank (ECB), Mario Draghi, exclaimed that they would do "whatever it takes" to protect the euro. Similarly, the chairman of the U.S. Federal Reserve, Ben Bernanke, strongly hinted that a third round of quantitative easing would be unleashed to bolster U.S. economic prospects. And by September, both central banks made good on their promises to purchase toxic debts to alleviate global financial concerns.
Granted, the promise of worldwide QE3 activity has been propping up stock and commodity prices. Yet that alone does not explain why Asia Pacific ETFs have catapulted into the 70th and 90th percentile of relative strength factor scores. In truth, the probability of China participating in the "stimulus games" is driving Asia Pacific ETFs higher.
Asia Pacific Relative Strength Factor Scores Surge Over The Last 3 Months
RSF 7/6/12
RSF 10/1/12
iShares New Zealand (NYSEARCA:ENZL)
53.6
93.4
iShares Pacific ex Japan (NYSEARCA:EPP)
50.0
87.7
iShares MSCI Australia (NYSEARCA:EWA)
43.4
83.3
iShares Asia 50 Index (NYSEARCA:AIA)
38.9
79.2
iShares MSCI All-Country Asia excl Japan (NASDAQ:AAXJ)
38.4
70.3
iShares MSCI Taiwan (NYSEARCA:EWT)
31.3
71.7
iShares MSCI South Korea (NYSEARCA:EWY)
26.5
82.1
For instance, China reduced bank reserve ratios as well as approved infrastructure projects over the summertime. Also, the People's Bank of China (PBOC) added a record $46 billion U.S. ($290 billion yuan) to its financial system last week. And while China's most recent manufacturing index showed signs of economic contraction, the PMI measure improved from 49.2% in August to 49.8% in September. (Note: 50% is the mark for expansion.)
Even with domestic data in Taiwan showing contraction… even with South Korean trade to the European Union on the decline… corresponding ETFs have rocketed ahead. In my estimation, that can only be a function of optimism that China's economy is finally firming.
In the case of iShares MSCI Taiwan, the current price is above both its 50-day and its 200-day moving average. Moreover, the 50-day recently crossed above and over the 200-day — a bullish sign for stock ETF enthusiasts.
(click image to enlarge)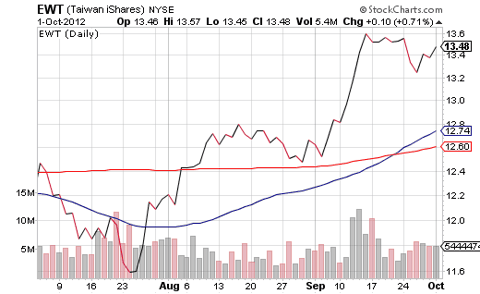 Click here for Gary's latest podcast.
Disclosure: ETF Expert is a web log ("blog") that makes the world of ETFs easier to understand. Gary Gordon, MS, CFP is the president of Pacific Park Financial, Inc., a Registered Investment Adviser with the SEC. Gary Gordon, Pacific Park Financial, Inc, and/or its clients may hold positions in the ETFs, mutual funds, and/or any investment asset mentioned above. The commentary does not constitute individualized investment advice. The opinions offered herein are not personalized recommendations to buy, sell or hold securities. At times, issuers of exchange-traded products compensate Pacific Park Financial, Inc. or its subsidiaries for advertising at the ETF Expert web site. ETF Expert content is created independently of any advertising relationships.