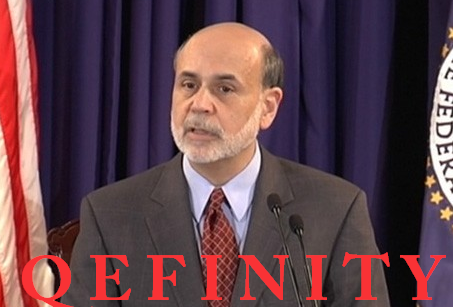 In the eurozone Monday, it was revealed that €59 billion was less than €62 billion expected and needed from the Spanish bank stress tests. Further, unemployment in the eurozone soared to a record 11.4%, and corporate earnings estimates were lowered by 52%. All this was seen as bullish, prompting innovative spin such as that from Nicholas Spiro, managing director of Spiro Sovereign Strategy in London, who asserted: "Although the political and economic situation in Spain is extremely precarious, and manufacturing and labor market conditions across Europe remain bleak, investors are taking comfort from the fact that things could be worse." So when a reporter calls you for a comment, and clients may be aware, try some nonsense to dazzle them.
There was some good news from the ISM Mfg Survey (51.5 vs. 49.7 expected, and prior 49.6), which was the first increase in months. The PMI Mfg Index was more sobering (51.1 vs. 51.5 previous) and Construction Spending was weaker (-.6% vs. .6% expected, and prior revised to -.4%). The ISM is one of the more important indicators and bulls ran with it, recanting the previous theme, "bad news is good, good news is better." So there's better data, they think, and QE3 provides the safety put bulls love.
Bernanke was speaking today, and touted the Fed's QE3 program as a good strategy to cure high unemployment. This is hard to understand, since all previous QE attempts have failed to budge unemployment much. He also stated the inflation would remain low for a long period. This also doesn't square with what most folks are paying for food, energy and healthcare. But perhaps he and Mrs. Bernanke don't need to shop for food, have the government limo to escort them about and most nights out for food are taxpayer funded. Surprisingly, Bernanke also stated that stimulus (QE) would be kept in place even after the economy gains strength. He argued that Milton Friedman would be approving of what the Fed was doing. This definitely does not agree with Anna Schwartz, who co-wrote with Friedman the famous "A Monetary History of the United States". She criticized Bernanke & Co.'s policies before passing away this June. "It's like the only lesson the Federal Reserve took from the Great Depression was to flood the market with liquidity," she told an interviewer in 2008. "Well, it isn't working." And as to bailing out banks, she called them "rogue operations."
So stocks rallied sharply out of the gate and were turbo-charged after the ISM data at 10 a.m. Early gains were led by materials (NYSEARCA:XLB) and the industrial (NYSEARCA:XLI) sectors. As the day wore on enthusiasm waned, led primarily by tech (NYSEARCA:XLK), which never really joined much of the rally. Gold (NYSEARCA:GLD) hit new 2012 highs intraday, but also saw gains fade late. The dollar (NYSEARCA:UUP) was flat, as were commodities overall. Bonds (NYSEARCA:TLT) were stronger.
Volume was modest and breadth per the WSJ was positive.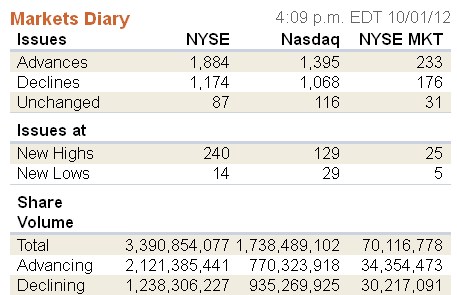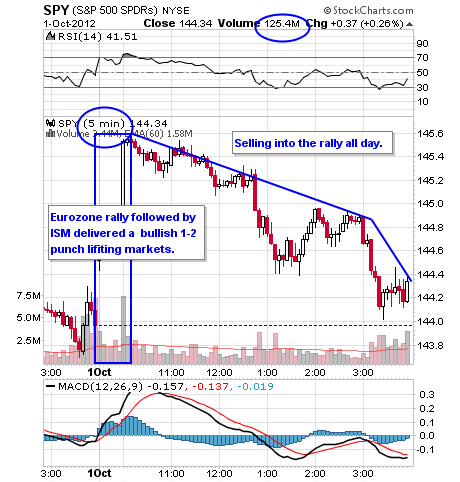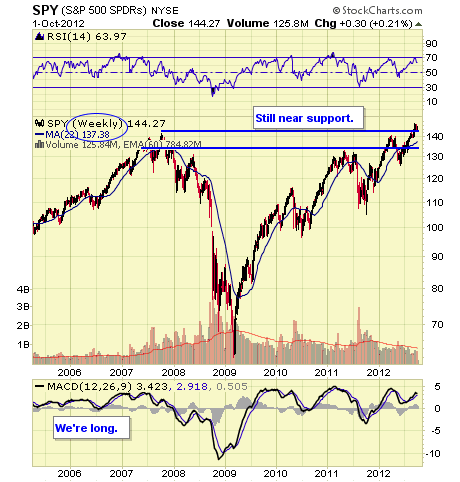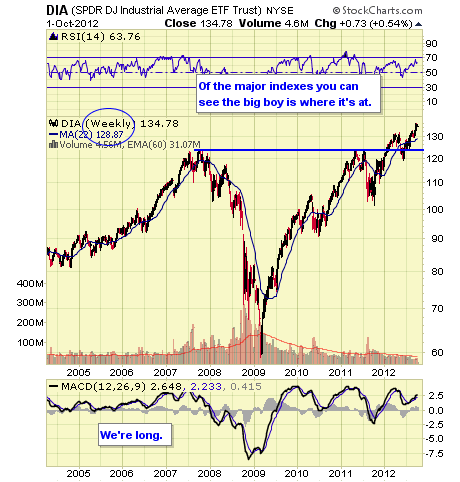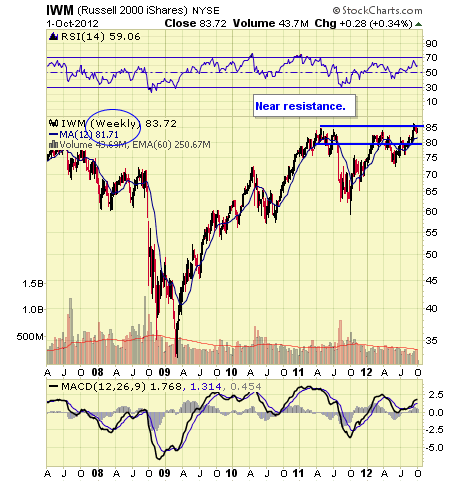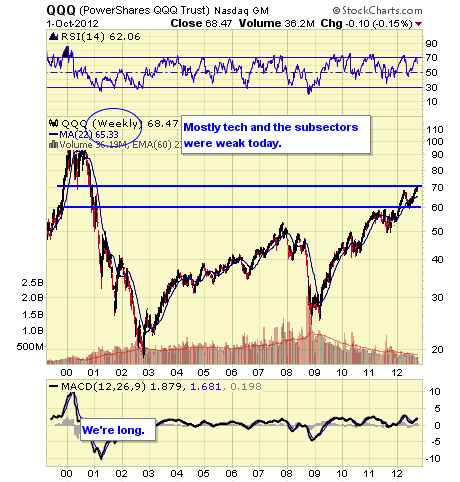 Continue to U.S. Sector, Stocks & Bond ETFs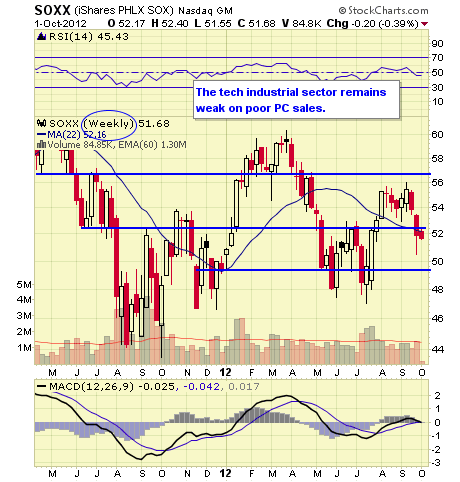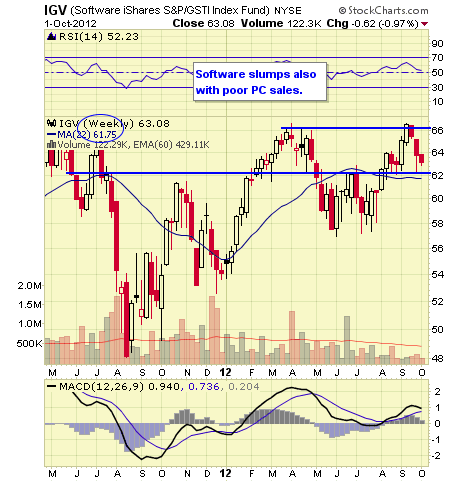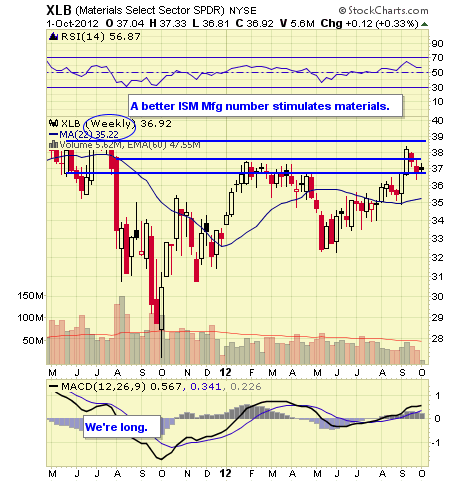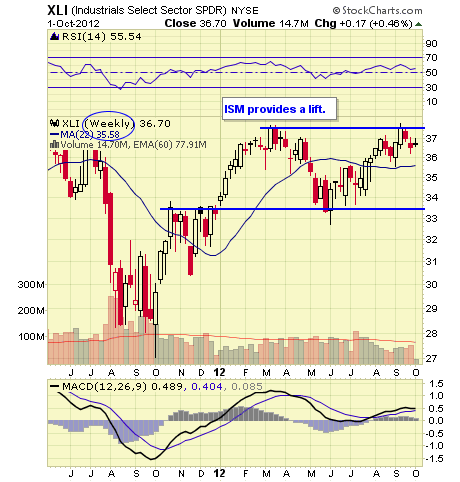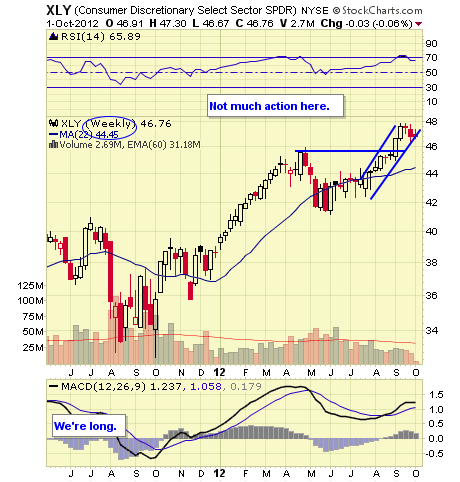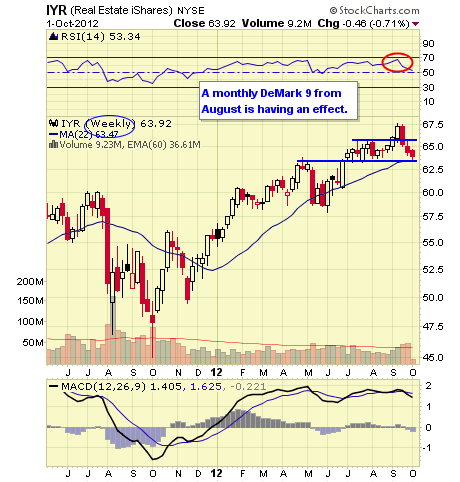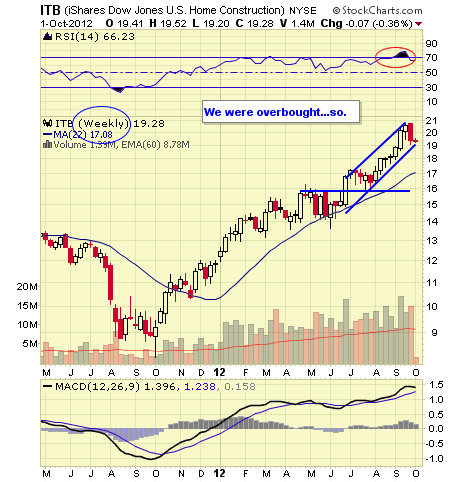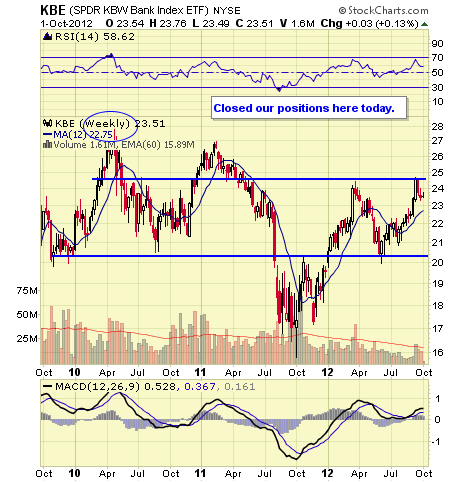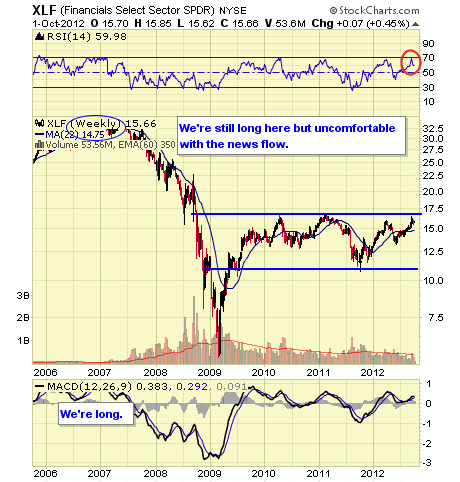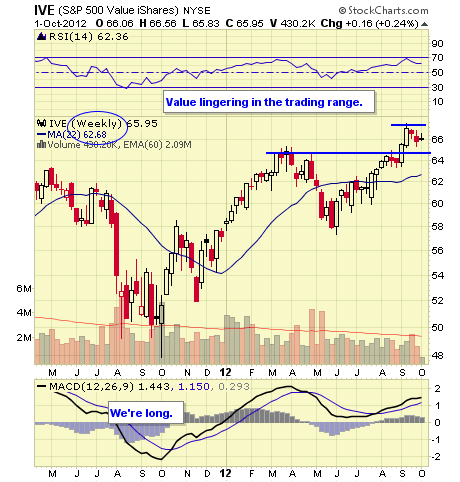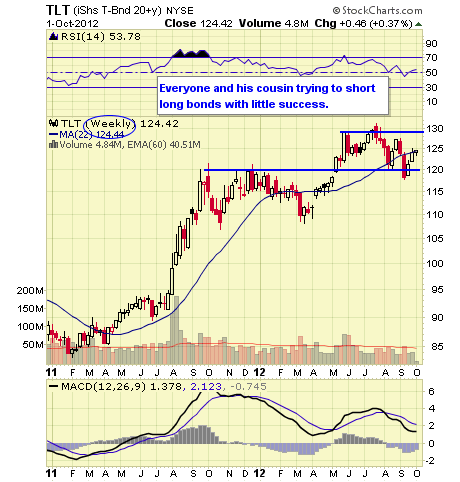 Continue to Currency & Commodity Market ETFs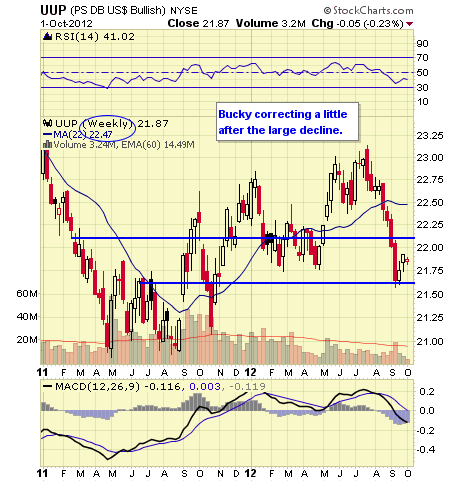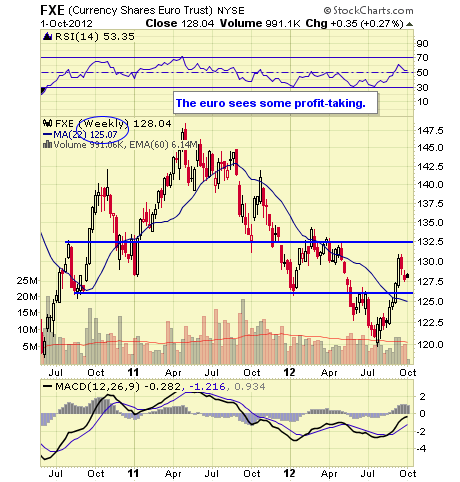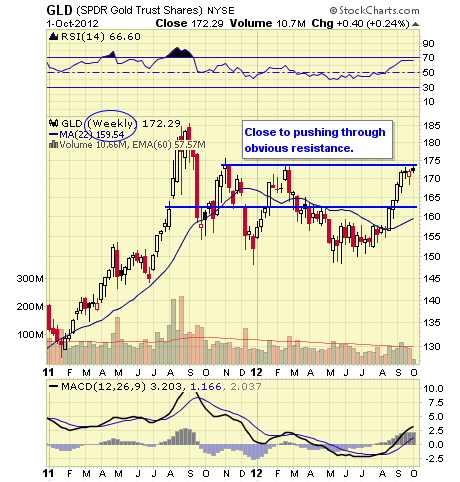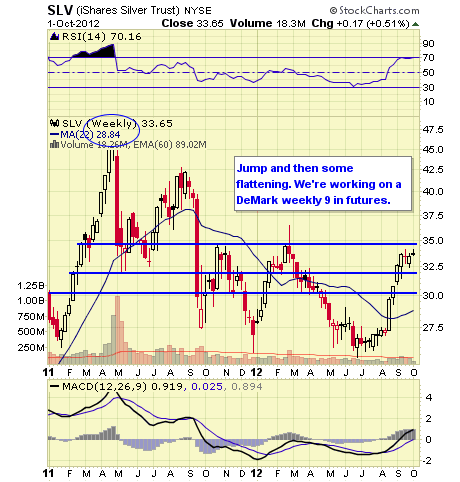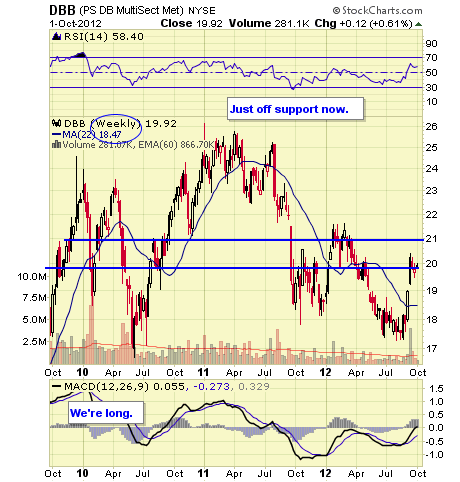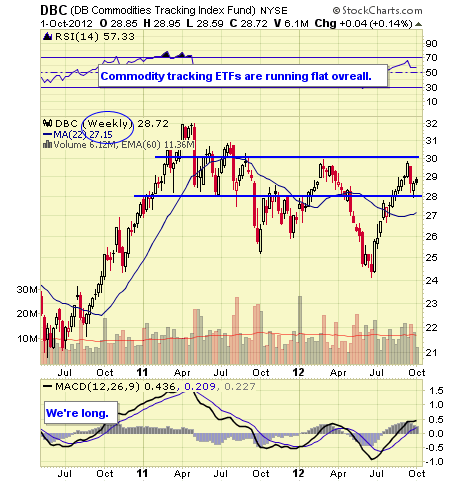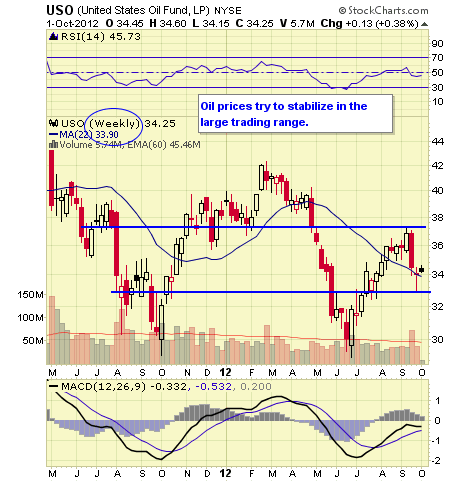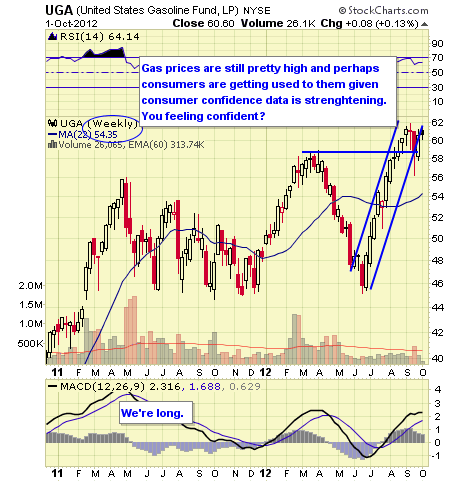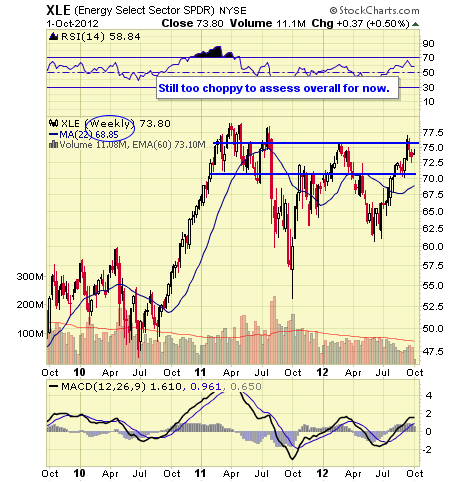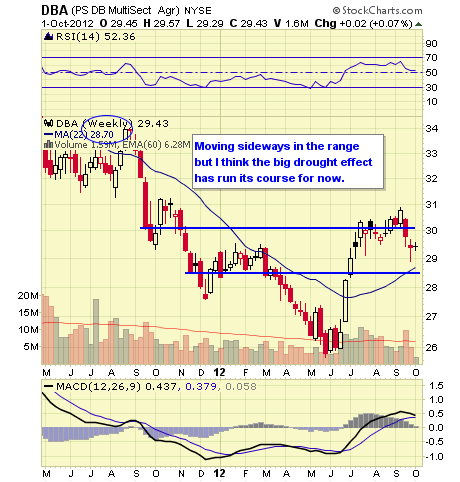 Continue to Overseas Sectors & ETFs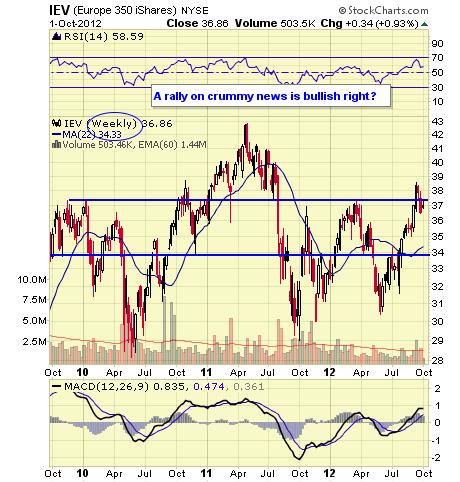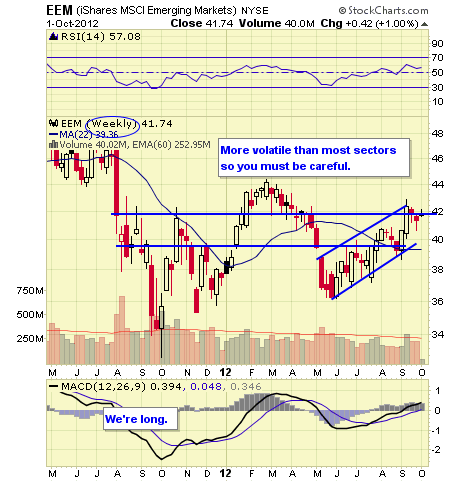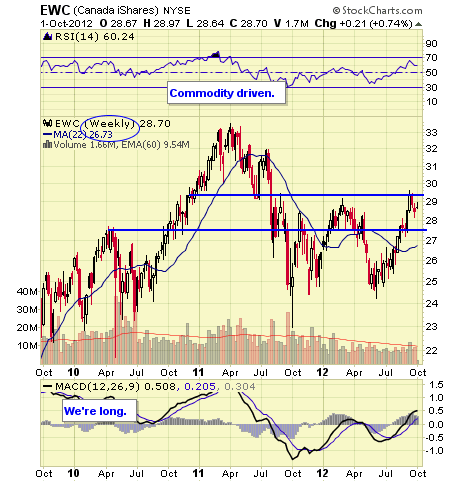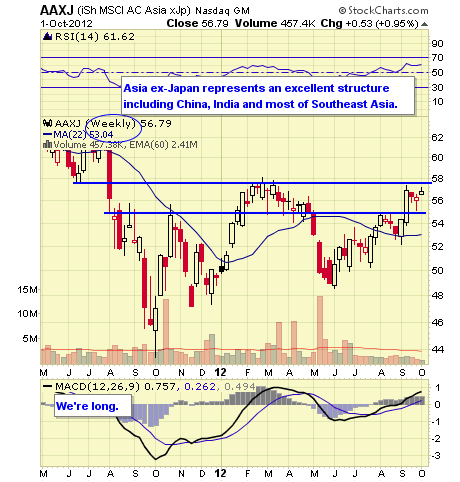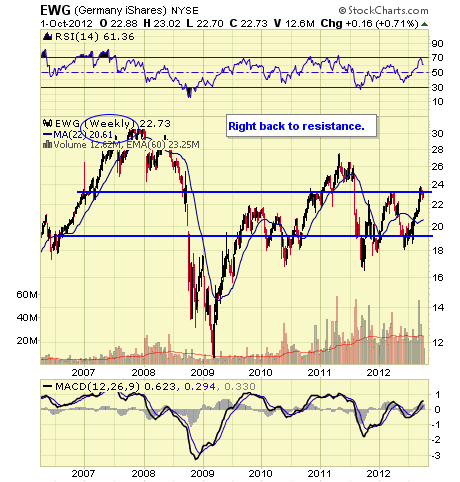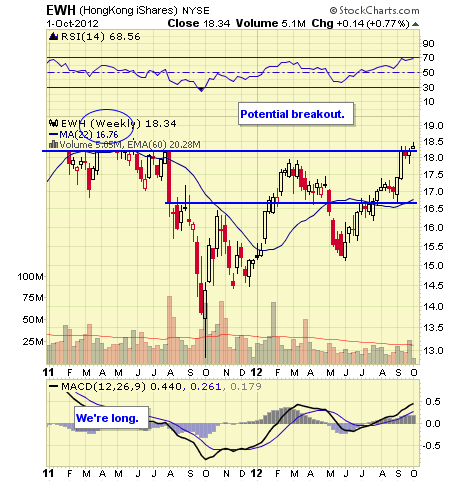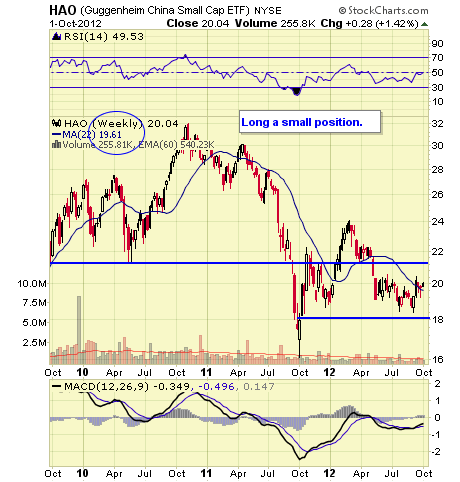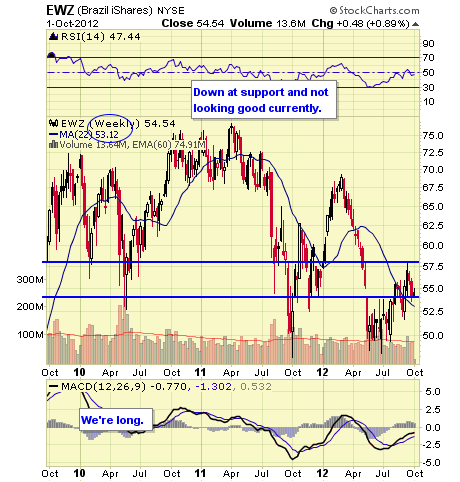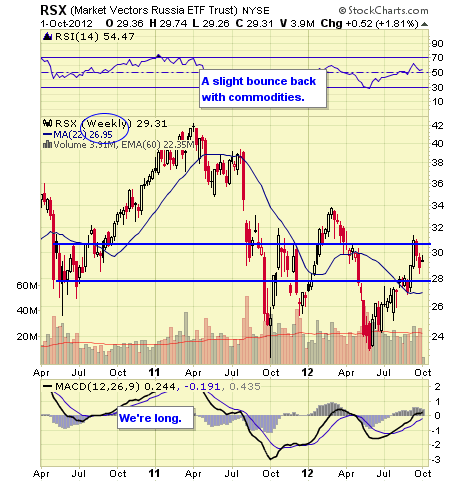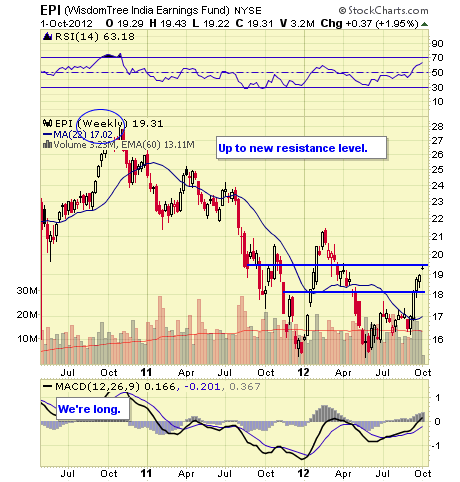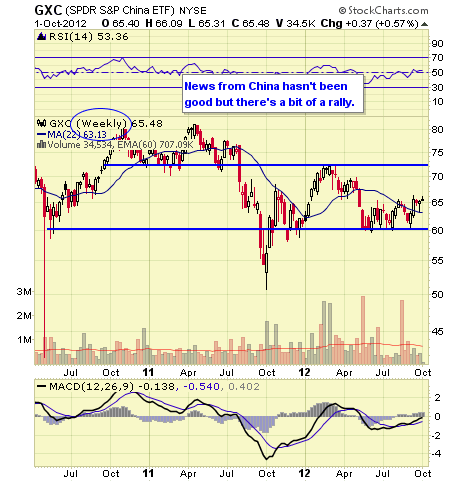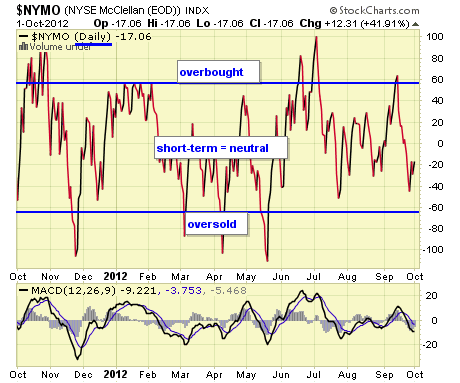 The NYMO is a market breadth indicator that is based on the difference between the number of advancing and declining issues on the NYSE. When readings are +60/-60, markets are extended short-term.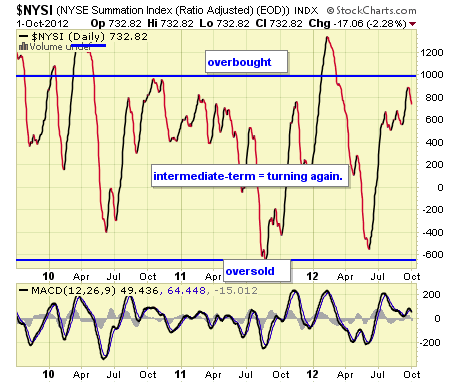 The McClellan Summation Index is a long-term version of the McClellan Oscillator. It is a market breadth indicator, and interpretation is similar to that of the McClellan Oscillator, except that it is more suited to major trends. I believe readings of +1000/-1000 reveal markets as much extended.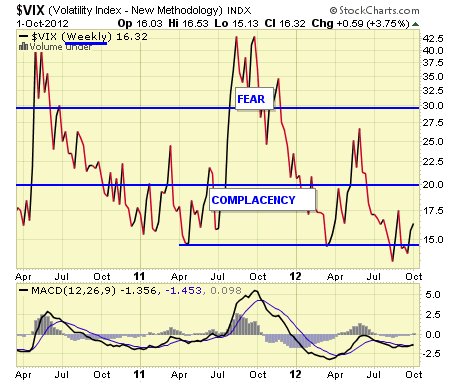 The VIX is a widely used measure of market risk, and is often referred to as the "investor fear gauge." Our own interpretation is highlighted in the chart above. The VIX measures the level of put option activity over a 30-day period. Greater buying of put options (protection) causes the index to rise.
The bottom line overall is investors were selling into it. That's my take anyway. Just remember, since we're trend-followers, we must be long overall. That doesn't mean we like what's going on, but it's our job to be systematic.
The calendar is rich with economic data this week. It also includes the first presidential debate on Wednesday, which might be clarifying. Friday is the all-important October employment report. The following week then provides earnings season, with many analysts having already reduced expectations.
Disclaimer: The ETF Digest maintains an active ETF trading portfolio and a wide selection of ETFs away from portfolios in an independent listing. Current "trading" positions in active portfolios, if any, are embedded within charts: Lazy & Hedged Lazy Portfolios maintain the follow positions: VT, MGV, BND, BSV, VGT, VWO, VNO, IAU, DJCI, DJP, VMBS, VIG, ILF, EWA, IEV, EWC, EWJ, EWG, & EWU.
The charts and comments are only the author's view of market activity and aren't recommendations to buy or sell any security. Market sectors and related ETFs are selected based on his opinion as to their importance in providing the viewer a comprehensive summary of market conditions for the featured period. Chart annotations aren't predictive of any future market action, rather they only demonstrate the author's opinion as to a range of possibilities going forward.
Disclosure: I have no positions in any stocks mentioned, and no plans to initiate any positions within the next 72 hours. I wrote this article myself, and it expresses my own opinions. I am not receiving compensation for it. I have no business relationship with any company whose stock is mentioned in this article.