Shares of Johnson Controls, Inc. (NYSE:JCI) have recently recovered 18.3% from their 52-week low of $23.37 reached late July. However, the stock has only appreciated 4.85% over the past 12 months. JCI has been one of the popular dividend stocks, given its decent dividend yield of 2.6% and solid market position in the cyclical automotive parts sector, which will likely outperform amid the economic recovery. Nevertheless, I remain neutral on the stock based on the following reasons:
1. At $27.64 per share, JCI's LTM P/E and LTM EV/EBITDA multiples are trading very close to their 3-year lows (see charts below). Over the past year, JCI's NTM P/E multiple has been trending in line but below the S&P 500 P/E ratio (see chart below). As such, the historical stock performance has suggested a low valuation relative to the historical level. However, I believe JCI's valuations remain unattractive when accounting for the company's relative financial performance to a peer group consisting of JCI's competitors such as BorgWarner (NYSE:BWA) and TRW Automotive (NYSE:TRW).
Click to enlarge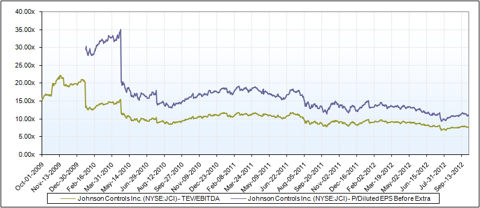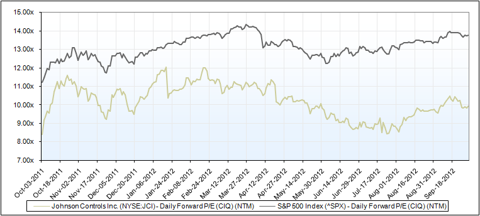 Analysts on average predict JCI's revenue, EBITDA, and EPS to rise by solid 2-year CAGRs of 4.7%, 15.8%, and 11.3% over the current and next fiscal years (see table below). The growth estimates are significantly better than the average rates of 3.4%, 7.3%, and 10.6% for the peer group. In addition, JCI's EBITDA margin is expected to expand by 1.5% in 2 years, compared to the peer average of just 0.6%.
However, JCI has a low profitability. Except for the firm's LTM gross margin, which is only slightly higher than the average, all of JCI's margin and investment capital return measures are below the peer averages. JCI also assumes a relatively higher leverage as reflected by the firm's higher debt to capitalization and debt to EBITDA ratios.
In terms of liquidity, JCI is the only firm that has a negative LTM free cash flow margin. Its low profitability coupled with a high leverage have resulted in a below-average interest coverage ratio. Both JCI's current and quick ratios are also below the group averages, suggesting a mediocre balance sheet.

Despite the higher growth prospects, JCI should trade roughly in line with the peer group, given the firm's profitability and liquidity weakness. Nonetheless, the current valuations at 7.6x LTM EV/EBITDA and 11.0x LTM P/E represent an average valuation premium of 50% over the peer-average EV/EBITDA and P/E trading multiples (see table above), suggesting that the stock is likely somewhat overvalued.
2. Although the company has a strong commitment to its dividend policy, which is reflected by a solid 10-year dividend per share CAGR of 12% over the last decade (see chart below), the current dividend level appears to be fragile, as JCI has not been able to generate positive free cash flow since 2011 (see chart below). On an LTM basis, the company's free cash flow had seen further deterioration in 2012, attributable to a mediocre operating cash flow performance and a significant increase in capital expenditure.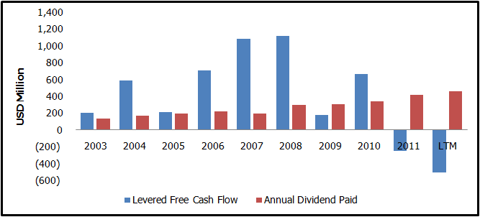 3. From a technical perspective, the stock's 200-day simple moving average has been limiting the upside since mid-2011 (see chart below), and it appears that JCI remains under pressure to surpass that level after a few tests in 2012.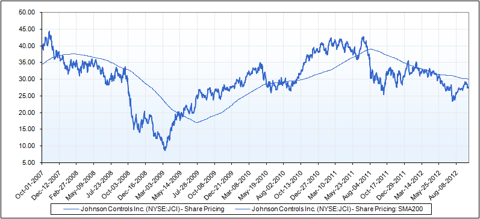 Despite all the aforementioned negativity, the investment still has its merits:
1. JCI has significant market position in both the developed and emerging markets, and it also has one of the strongest growth prospects. As such, the company is well positioned to benefit from the auto market's recovery in the developed countries and rapid growth in the emerging markets.
2. Accounting for JCI's earnings growth potential, the stock actually trades at a relatively low PEG of 0.6x, significantly below the 1.0x benchmark and 29% below the peer average at 0.8x.
3. Street analysts are generally bullish on the stock. Of the 30 ratings according to Capital IQ, there are 11 strong buys, 6 outperforms, and 13 holds. The average target price of $33.42 is 21% above the current market price.
Bottom line, given the current stretched valuation and cash flow weakness, I do not recommend acquiring the shares until the price drop by 10%-15% and there is a visibility of potential cash flow improvement.
Comparable analysis table is created by author, all other charts are sourced from Capital IQ, and all financial data is sourced from Morningstar and Capital IQ.
Disclosure: I have no positions in any stocks mentioned, and no plans to initiate any positions within the next 72 hours. I wrote this article myself, and it expresses my own opinions. I am not receiving compensation for it (other than from Seeking Alpha). I have no business relationship with any company whose stock is mentioned in this article.