While the market was generally disappointed by Red Hat, Inc.'s (NYSE:RHT) fiscal Q2 2013, we think it was a solid quarter that was masked by challenging currency headwinds. The stock's hefty valuation of 31x our 2013 EPS (excluding cash) warranted a minor sell-off, but we are hanging on tight to our long position, given the company's exposure to several favorable secular trends - cloud, virtualization, storage, and open source.
Key metrics remain healthy
We love to track key metrics outlined by management because if these are the metrics it's using to define success and determine business strategy, then there is tremendous value in the data.
The first key metric we follow is the renewal rate for the largest 25 deals in the quarter, which is normally in the 120%-130% range. Results in this quarter were within this band and suggest that customers are finding value in Red Hat's products.
Click to enlarge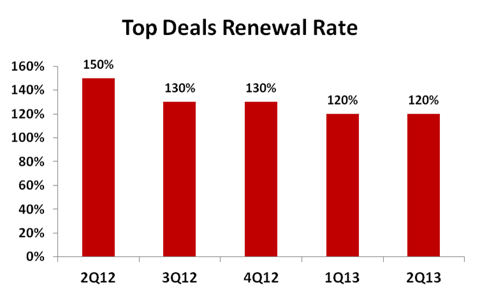 The second key metric we follow is the size and quantity of large deals. Specifically, management announces how many deals in the quarter were larger than $1M and $5M. For the quarter, Red Hat booked 27 deals over $1M, inline with recent trends, and booked 4 deals over $5M, at the high end of recent trends.
Importantly, management indicated that it won two deals worth more than $10M each, the first time ever it has won deals of that size. This implies that Red Hat is taking a larger "wallet share" from its customers as its product offerings expand. We expect this trend to continue if the company builds out its storage business and enhances its middleware offering.
Revenue growth disappointed, but core was strong
The company posted +15% yoy revenue growth, a deceleration from +19% last quarter and +28% last year. However, it's important to note that Red Hat is facing major currency headwinds, as 25% of revenue comes from Europe.
Below is a chart that shows the difference in "As Reported" and "Constant Currency" revenue growth. Under this lens, which is more accurate in assessing the strength of the core business in our opinion, the company illustrates +20% yoy growth. We think that a $1bn company growing at 20% yoy is impressive and deserving of a premium valuation.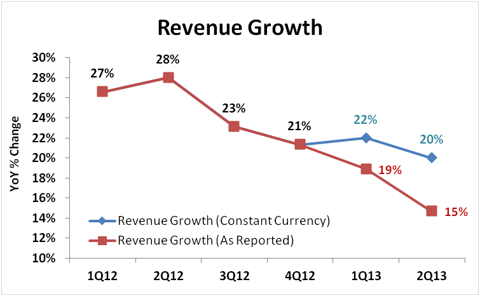 The subscription nature of the business model generates a nice recurring revenue base, and this is nicely illustrated by the steady march higher over the past eight quarters.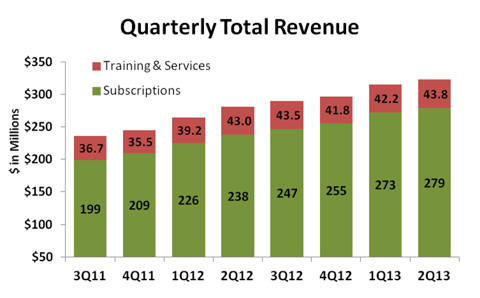 Deferred revenue suggests solid growth ahead
It's important to note that Deferred Revenue is growing at a healthy +16% yoy clip against record-setting growth last year. Also, deferred revenue is negatively impacted by the falling euro as well, so the "core" growth rate is closer to +20% yoy. On a related note, Bookings increased +19% yoy in constant currency, further suggesting solid demand for the company's core products.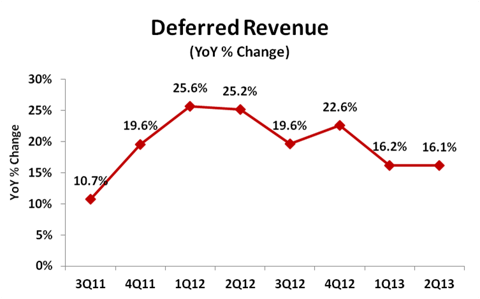 Robust cash flow highlights powerful business model
Cash From Operations increased +35% yoy and Free Cash Flow increased 27% yoy as the business model: (1) generates very high margins due to the high-value / low-cost nature of their software, and (2) uses minimal capex, as Red Hat relies on the open source community for the majority of R&D. We expect this combination to remain in place for the next five years, enabling the company to generate meaningful cash flow to reinvest in the business or buy back stock.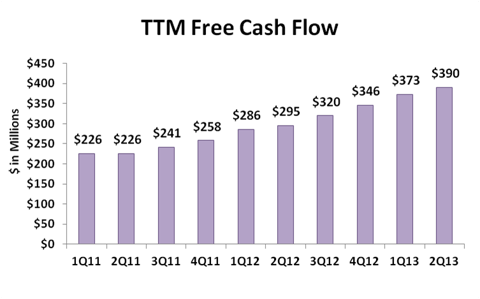 Return on Capital improving as business matures
Correlated to the company's robust free cash flow is an impressive and increasing Return on Invested Capital (ROIC). Red Hat generates such a superb ROIC because it's products help enterprises operate more efficiently (save money) and stay ahead of the technology curve (utilizing the open source community) - allowing Red Hat to charge high prices, yet invest minimal amounts in R&D.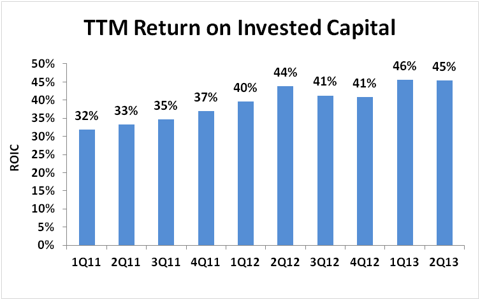 Price target: $61
All in, we think the story is much intact at Red Hat. The stock likely needs to take a breather due to it's premium valuation and decelerating revenue growth, but the market will eventually respond favorably to continued strength in the core business over the next several quarters.
We think Red Hat deserves to trade at $61, or 35x or 2013 EPS (excluding $7 in cash per share). Our bet is that revenue growth will accelerate in fiscal 2014 as the impact of currency diminishes (or reverses) and its storage business gains traction.
Risks to the thesis
Red Hat competes in a competitive space, so there can be market share shifts over a few quarters that depress bookings and revenue growth. For example, Red Hat competes with Rackspace (RAX) and Amazon (AMZN) in the cloud business; Oracle (ORCL) and IBM (IBM) in the server and middleware industry; VMware (VMW) and Microsoft (MSFT) in virtualization; and EMC (EMC) in the storage space. None of these competitors will make life easy for Red Hat, so the company needs to continue innovating at a rapid pace - and execute perfectly.
If the company stumbles, or the market sells off, we think there is 18% downside to $46, or 25x our 2013 EPS (excluding $7 of cash per share).
Disclosure: I am long RHT, RAX. I wrote this article myself, and it expresses my own opinions. I am not receiving compensation for it (other than from Seeking Alpha). I have no business relationship with any company whose stock is mentioned in this article.