Activision Blizzard, Inc. (NASDAQ:ATVI) beat the Zacks Consensus Estimate by 63.6% in the second quarter of 2012, continuing its impressive record of outperforming expectations. In the past four quarters, this leading provider of online and console games surprised by nearly 218% on average. ATVI also raised its fiscal 2012 guidance.
Moreover, this Zacks #2 Rank (Buy) has a forward price-to-book ratio of 1.19, which is lower than the industry average and attractive for value investors.
Activision Tops 2Q Estimates
Activision reported second quarter results on August 2, with earnings of 18 cents surpassing the Zacks Consensus Estimate by 7 cents. Revenue of $1.05 billion surged 50.8% from last year and was well above the Zacks Consensus Estimate, due to strength in Retail and Digital Online revenues, improved productivity and solid contribution across geographies.
Activision raised its fiscal 2012 guidance based on major product launches, strength in retail and digital sales, production efficiencies and cost reduction measures. Activision now expects to earn 99 cents (up from 95 cents) on total revenues of $4.63 billion (up from $4.53 billion) for the full year.
Earnings Estimates Moving Up
The Zacks Consensus Estimate for 2012 is up 3.3% in the last 60 days to 95 cents per share, representing year-over-year earnings growth of 10.2%. For 2013, the Zacks Consensus Estimate of $1.08 reflects 13.7% earnings growth year-over-year.
Valuation Continues to Impress
In addition to the low P/B, the stock looks attractive with respect to a price-to-earnings (P/E) multiple of 12.9. A P/B less than 3.0 and a P/E below 15.0 generally suggest a value stock. Moreover, Activision's PEG ratio of just 0.7 indicates that the stock is reasonably valued given the expected growth of 16.5%, which is higher than industry average of 14.6%.
Historically, share prices have shown a positive correlation to earnings growth. Therefore, the current estimate trends indicate that they are headed upward.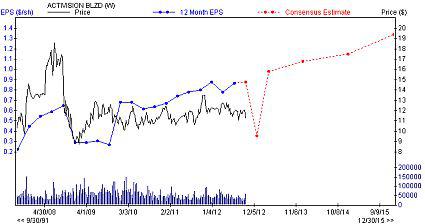 Activision is a renowned online and console game development company. It has leading positions across all categories of the video game industry. Activision Blizzard's portfolio includes popular video games such as Call of Duty and Tony Hawk, as well as Spider-Man, X-Men, Shrek, James Bond and TRANSFORMERS. The company has operations in the U.S., Canada, the United Kingdom, France, Germany, Ireland, Italy, Sweden, Spain, Norway, Denmark, the Netherlands, Australia, India, China, South Korea and Taiwan.