Over a year ago (on September 13th), I wrote an article on American Realty Capital Properties (ARCP) and the title of the article had the words: NOT a Sleep Well at Night REIT. As I wrote then:
The new free-standing equity REIT, American Realty Capital Properties began trading on September 7th (2011) on the NASDAQ capital markets platform. The New York based REIT sold a total of 5,580,000 shares, capitalizing the portfolio with 63 assets with a weighted lease term of 9.6 years.
The primary issue that I had with the IPO was that the ARCP properties were highly concentrated with just two tenants - Citizens Financial Group and Home Depot (NYSE:HD) - and one of the two tenants (Citizens Financial Group) being a "troubled bank with minimum lease term remaining."
On June 15th (2012), I wrote a follow-up article on ARCP in which I detailed the performance of the REIT since the IPO:
ARCP has reduced its exposure with Citizen's Bank from 75 percent to 37 percent. In addition, ARCP has diversified its revenue by adding eight new credit tenants. Furthermore, ARCP has greatly improved its industry diversification from two sectors (retail banking and home repair) to six new categories. This strategic growth strategy has further reduced ARCP's exposure to retail banking from 75 percent to 37 percent. Also the portfolio is of the highest quality as 99 percent of rents are derived from investment grade rated tenants. In fact, Tractor Supply is the only non-rated tenant and the company does not carry enough debt on its balance sheet to be rated. (effectively meaning an investment grade shadow rating would result in a portfolio that is 100 percent investment grade rated credit).
What a Difference a Year Makes
So now, just over a year since the IPO, American Realty Capital Properties is just two properties away from doubling its property count. In addition, the once highly concentrated bank landlord (with 62 bank branches) has grown into a $235.7 million REIT ($139 million market cap) with 124 properties.
Some of the company's more recent acquisitions include three CVS drugstores, one Iron Mountain facility, one French Mustard facility, two Family Dollar stores, and a Mrs. Baird's facility. The weighted cap rate for these properties is around 9.5 percent and the average remaining lease term is around 5.5 years.

Buying older and shorter-term leased properties is nothing new and, in fact, there are literally thousands of short and medium-term leased properties scattered across the globe. However, since older (mature) properties trade higher up the risk curve, there is not as much demand and therefore cap rates are generally 200 basis points higher than the newer, longer-leased properties (generally 15 to 20 years).
For example, American Realty Capital Trust (NASDAQ:ARCT-OLD) - somewhat related to ARCP with similar ownership - is under agreement to sell its 501 properties to Realty Income (NYSE:O) for $12.21 per share, or $2.95 billion total asset value. As I wrote on the proposed ARCT deal,
The actual cap rate using current NOI figures is approximately 5.9 percent. Given that the 501 property portfolio has considerable investment grade composition (approximately 75 percent) and the properties were acquired very recently, I believe that the purchase price is in-line with the current single tenant net lease valuations - especially given the mere size of the portfolio and the fact that the transaction costs are significantly reduced given the economies of scale for facilitating over 500 transactions. Also, in reviewing the overall portfolio, many of American Realty Capital Trust's tenants have contractual rental increases that will add value along the way.
So clearly you can see that the "premium" triple-net properties (and a bulk portfolio) sale trade for a near 6 percent cap rate today and a "not so premium" or shall we say, "used car" trades for around 9.5 percent (cap rate). That difference, or risk premium, of around 350 basis points is also the value proposition for ARCP.
Moving On Up the Risk Curve
As a kid, one of my favorite TV shows was The Jeffersons. I'm sure you remember the lyrics:
Well we're movin on up,
To the east side.
To a deluxe apartment in the sky.
Movin on up,
To the east side.
We finally got a piece of the pie.
Well, with a dividend yield of 7.13 percent you should be able to afford a piece of the pie. In fact, if you had purchased ARCP back in June (15th) when I recommended the company, you would have returned 27.45 percent (total return). ARCP closed today at $12.49 per share and the all-time high was $12.58 on September 14th.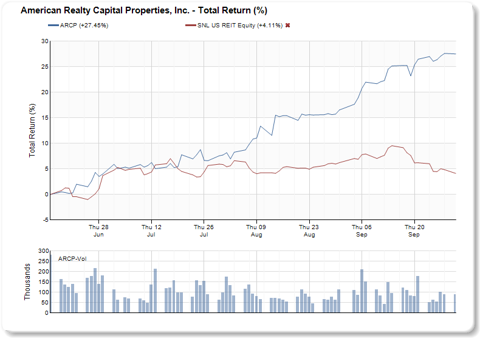 Last week (Sept. 28), ARCP announced that it had increased its aggregate commitments under its existing senior secured revolving credit facility with RBS Citizens NA to $110.0 million. The company noted in a Form 8-K filed Oct. 1 that it may increase the total commitments up to $150 million through an accordion feature. The credit facility is secured by 95 of the company's properties.
Upon review of the company's latest quarter results, the total assets were $201,166 million with secured debt of $74,893 million and mortgage debt of $30,260 million. The debt to market cap was 45.48 percent and debt to assets was 53.44 percent.
ARCP also recently announced (on September 30th) that its board of directors authorized and the company declared its fourth consecutive quarterly increase to the company's annual dividend. The company will increase its annual distribution per share by $0.005, from $0.890 to $0.895 per annum. The new annual distribution rate will accrue commencing on November 9, 2012. Nicholas S. Schorsch, Chairman and Chief Executive Officer of ARCP explained,
We are very pleased to announce that we have grown earnings sufficiently in the third quarter of 2012 which warrants our fourth consecutive quarterly increase to our annual dividend. Each quarter, we plan to review our distribution level with the board of directors to assess whether further increases in our dividend can be sustained. The $25.7 million worth of acquisitions made in the third quarter of 2012 represent our dedication to deploying capital in order to build a robust portfolio that follows our investment objectives of purchasing properties that are net leased to investment grade and other credit tenants.
ARCP Made It to The Big Leagues
ARCP, this is the big leagues baby! I feel like I'm sitting in center left and I just caught a home run ball. George (Jefferson) would agree:
Now we're up in the big leagues,
Gettin' our turn at bat.
As long as we live, it's you and me baby,
There ain't nothin wrong with that.
The good news is that in REIT-land, an investor can decide whether he or she wants to hit home runs or simply stay closer to the bond-like singles (i.e. Realty Income). ARCP certainly has "yield appeal" and there is worthy temptation to capitalize on the intoxicating yields. However, the shorter and medium-term leases become a more risky proposition - especially when there is less than a year remaining - and the true value (or the alpha) for ARCP will be its ability to manage risk and retain tenants over time.
For now, I'm getting more comfortable with the diversification and I applaud the REIT for sourcing more accretive deals that should further enhance portfolio returns. Keeping in mind, ARCP has an inherent risk premium and I will be more inclined to "sleep well at night" with a few more seasons under the belt. Welcome to the big leagues baby!
Other Triple-Net REITs mentioned are (NYSE:NNN), (NYSE:LXP), (NYSE:WPC), (NYSE:ADC)
Source: SNL Financial
Disclosure: I have no positions in any stocks mentioned, and no plans to initiate any positions within the next 72 hours. I wrote this article myself, and it expresses my own opinions. I am not receiving compensation for it (other than from Seeking Alpha). I have no business relationship with any company whose stock is mentioned in this article.