The durability of a company is often measured against its capacity to consistently return value to its investors through distributions. Likewise, the strength of a dividend is often measured by its historical endurance over the course of the company's lifetime. It is an encouraging indication when companies annually raise their dividend rates as an expression of their financial well-being. Better yet, it remains an impressive and uncommon feat when such companies have managed to do so for multiple decades.
The following companies have consecutively raised their dividend rates annually for 20 years or more. They are businesses that have managed to embed themselves into the very fabric of the economy. For investors, they have come to symbolize the reliable income investments that can serve as the foundation for practically any dividend portfolio. The following five companies have raised their dividends for more than two decades and currently offer a yield in excess of 3% annually. They were chosen because of their expertise in unique industries that offer the protection of diversification when taken altogether. All values were believed to be accurate as of October 1, 2012.
Chevron (CVX) has major oil and natural gas operations in many of the world's most abundantly rich regions when it comes to natural resources. The company is a leading conglomerate in a broad range of petrochemical services ranging from exploration, refining, distribution, and marketing. The company currently supports a $230 billion market capitalization and yet trades with a forward price-to-earnings ratio of 9.37. Having consecutively raised its dividend yield since 1988, Chevron trades with a 3.1% annual dividend and offers a quarterly rate of $0.90 per share.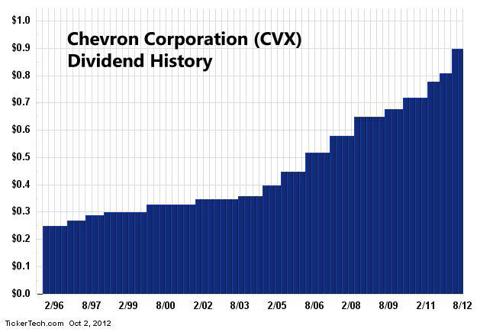 As one of the world's leading providers of IP-based communications services to businesses, AT&T (T) dates back more than a century. Now serving as the nation's largest 4G network, covering 275 million people in more than 2,000 cities and towns, AT&T operates as a lasting giant in the fundamental telecom space. The company currently trades with a large market capitalization of $218 billion. As a well-known company operating essentially as a high-yielding utility company, AT&T currently supports a forward price-to-earnings ratio of 14.63. Having consecutively raised its dividend yield every year since 1985, AT&T trades with a 4.7% annual dividend with a quarterly rate of $0.44 per share.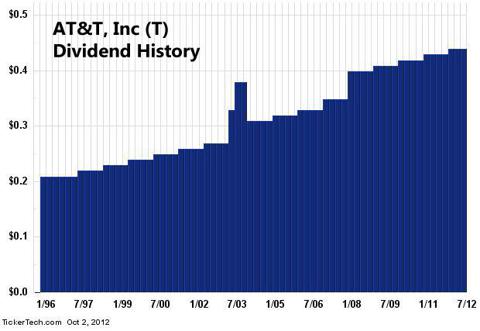 Mercury General (MCY), together with its subsidiaries, operates as an automobile insurer with a 50-year history. The company was founded in 1960 in Los Angeles, and operates through a network of independent agents writing personal automobile insurance products through several states. The company supports a respectable $2.12 billion market capitalization and carries a forward price-to-earnings ratio of 15.95. The company has raised its dividend yield annually since 1987 and currently offers an impressive 6.3%. The company pays a quarterly rate of $0.61 per share.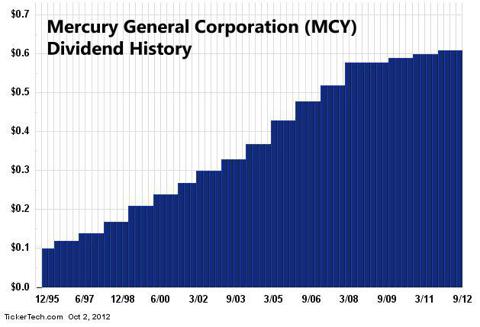 Air Products and Chemicals (APD) is a company that specializes in the sales of atmospheric gases, equipment, materials, and services around the world. The company has over 20,000 employees and operations in more than 50 countries. Customers across a wide spectrum of industries including energy, health care, transportation, and food all use products derived from Air Products. The company trades with a respectable market capitalization of $17.5 billion and trades with a forward price-to-earnings ratio of 13.43. Having increased its dividend consecutively since 1983, the company currently offers a respectable 3.1% yield with a quarterly payment of $0.64 per share.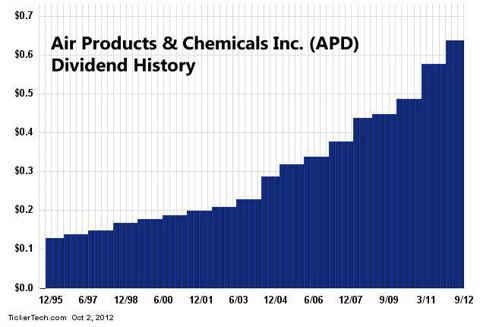 General Dynamics (GD) is a large aerospace and defense company whose expertise largely addresses the armed forces. The company designs and manufactures combat vehicles, weapon systems, and munitions. General Dynamics has also developed into being a leader in commercial aviation, marine systems, and information technology as its origins date back to 1952. The company carries a market capitalization of $23.8 billion and a forward price-to-earnings ratio of 9.06. General Dynamics has increased its dividend since 1992 and the company now supports an annual yield of 3.1% with a quarterly rate of $0.51 per share.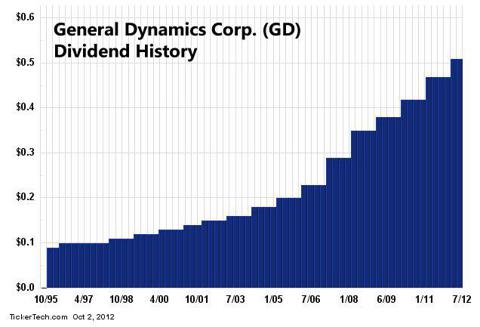 Disclosure: I have no positions in any stocks mentioned, and no plans to initiate any positions within the next 72 hours. I wrote this article myself, and it expresses my own opinions. I am not receiving compensation for it (other than from Seeking Alpha). I have no business relationship with any company whose stock is mentioned in this article.