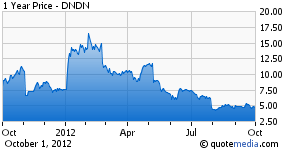 Dendreon (DNDN) has reacted surprisingly well in the last month to news about an FDA approval of Medivation's (MDVN) competing prostate cancer treatment Xtandi (enzalutamide).
The headlines were out on August 31, 2012 (which was much earlier than the originally expected PDUFA decision of November 21, 2012), and they brought the impetus needed to bring MDVN to a new 52-week high in the following trading sessions. At this point, Medivation worth over $4 billion.
Although Medivation is also pursuing a breast cancer development program for enzalutamide, the market is basing all the hype on the significant size of the prostate cancer drug market (around $1 billion according to Credit Suisse) and its capacity to grow rapidly with the aging U.S. male population.
There are also widely held expectations that Xtandi (enzalutamide) will be able to surpass Zytiga's sales, which brings Johnson & Johnson (JNJ) roughly $800 million in revenue each year. Analysts at Wedbush confirmed this notion with a MDVN outperform rating on September 4, 2012.
I looked at the stock myself back in July (23% ago), where MDVN takeover speculation was extremely hot. I figured that this, in addition to the anticipation of an FDA approval, would be enough to send shares significantly higher. At this point, we've roughly priced in a Zytiga for Medivation. There's little doubt now that the drug will be successful - so what does this mean for competitors like Dendreon?
To quickly recap the financial distress that I summarized in an older article, Dendreon is operating at a quarterly loss of approximately $100 million/quarter because of Provenge sales revenue of ~$80 million/quarter, that is more than offset by ~$160 million in total expenses each quarter, plus ~$13 million in interest expense.
The Provenge manufacturing profit margin that I last calculated was 22.8%, which reflects the huge costs associated with the complicated process of making and distributing sipuleucel-t.
The CEO intends to bring overall profit margins over 50% by closing one of their Provenge facilities, with direct cost reductions of ~$37.5 in the near future. In order to enter profitability on 50% margins and quarterly expenses of $125 million, Provenge probably needs to generate at least $150 million each quarter ($600 million each year). Dendreon estimates a more attainable $100 million.
The prostate cancer drug market is going to expand in the new few years, but it won't be fast enough to accommodate Zytiga, Provenge, and Xtandi when it enters the market.
Theodore Cohen, in his recent article (among others) is one of few that provides a very good counter argument to the impending doom of Dendreon. Provenge sales can be expanded very significantly if the therapy were FDA approved for early treatment of prostate cancer. Dendreon is running clinical trials in pursuit of this goal.
Still, Dendreon is a scary place to be. Even if Provenge gets marketed for early-stage treatment, there is an NDA for Zytiga in the treatment of pre-chemo prostate cancer patients (which are less advanced cases). Medivation is also hitting the ground running with clinical trials that would allow Xtandi to be used in earlier stages of chemo as well (its recent approval was for use after docetaxel - a chemotherapeutic agent.) "The Medivation Invasion" (a term which I will have to copyright) will be frightening indeed.
If you're going to bet against the odds and go long Dendreon anyway, at least wait for the share dilution and/or reverse split that is bound to happen within the next year. Dendreon is holding about $432 million in cash, but time is limited when a company is operating at a steep loss.
Disclosure: I have no positions in any stocks mentioned, and no plans to initiate any positions within the next 72 hours. I wrote this article myself, and it expresses my own opinions. I am not receiving compensation for it (other than from Seeking Alpha). I have no business relationship with any company whose stock is mentioned in this article.