Every sector is affected by the cyclicality of supply and demand, but in the most recent cycle, the office sector got hit extra hard. Three large factors contributed to its recent troubles: Unemployment, workspace consolidation, and technological efficiencies.
Unemployment: less jobs means less demand for office space.
Workspace consolidation: Along with high unemployment comes a shift of power in favor of the employer. With less bargaining power employees are being shoved into tiny cubicles for positions which used to have a corner office.
Technology: Ten years ago we may have seen 15 staff accountants in 15 cubicles with calculators performing the necessary tasks for a company. Today, they have been replaced by a single accountant with his well-designed Excel spreadsheet. So, instead of needing 15 cubicles, the company only needs 1 or perhaps 0 as wireless technology affords working remotely. This may be a gross exaggeration, but it is undeniable that the enhanced efficiency resulting from technological advances has undermined the demand for office properties.
I referred to the cyclicality of the sector fundamentals, but this is only partially true as only the workspace allocated per job and the economic related number of jobs are cyclical. Technology will continue to plague office REITs as the efficiencies obsolete many former office jobs.
The fall in performance of the office sector was met with a comparable drop in office REIT share prices. As such, it remains a viable place for investment on a value basis. A particularly interesting office REIT is Mack-Cali Realty (NYSE:CLI).
Generally I refrain from using data from company presentations due to the inherent bias, but the information presented in Mack-Cali's July 2012 presentation is extremely informative. We will be using some screenshots of the data presented within this presentation as a basis for analysis of the company's outlook. First its revenues: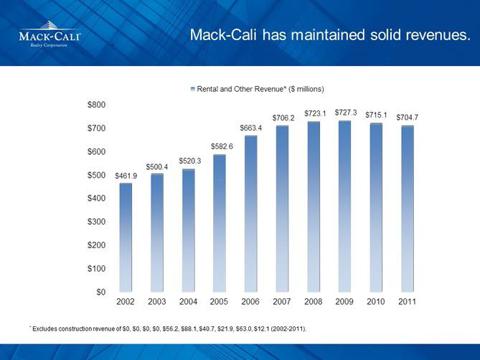 And its occupancy: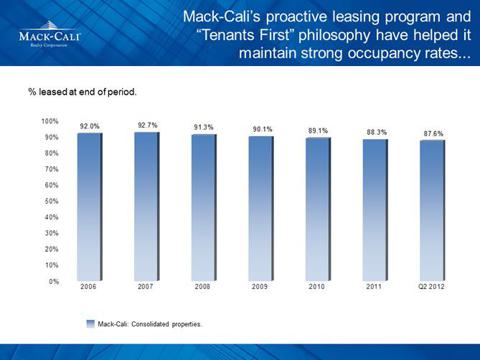 Both revenue and occupancy are declining steadily over the past few years. This downward trend may seem bad, but let us take a look at what is happening for the entire sector (graph by REIS National Market Data).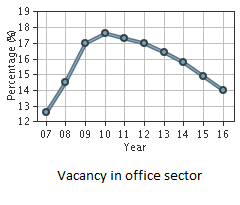 The sector as a whole sustained a much more severe crash in revenues and occupancy, so what was it that allowed Mack-Cali to smooth out the fall? Well, CLI uses fairly long-term leases with tenants of high credit rating. As such, vacancies could only increase in the spaces in which leases were coming due. In some ways, this is a double edged sword since its vacancies may continue to increase as more leases associated with above market occupancy rates come due. The aforementioned office sector fundamentals give tremendous bargaining power to the tenants so we may see rent roll-downs and/or continued decreases in occupancy in the coming quarters. Below, is its lease expiry schedule: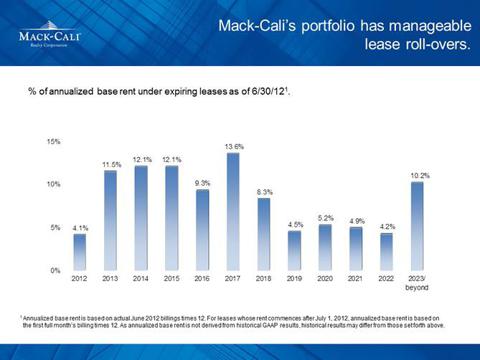 CLI has excellent potential once the economy strengthens as it commands large amounts of free land throughout the northeastern US, particularly in New Jersey. It has already begun to use some of its land for build-to-suit development and announced intent to continue new developments on any terms in which it can receive locked-in long term leases prior to construction.
CLI as an investment
| | | | |
| --- | --- | --- | --- |
| Company (ticker) | Recent Market Price $ | Price/est. FFO | Yield at Recent Price % |
| Alexandria RE (NYSE:ARE) | $73.52 | 16.9 | 2.88% |
| BioMed Realty (NYSE:BMR) | $18.72 | 15.2 | 4.59% |
| Boston Properties (NYSE:BXP) | $110.61 | 22.6 | 1.99% |
| Brandywine Realty (NYSE:BDN) | $12.19 | 9.1 | 4.92% |
| CommonWealth REIT (NYSE:CWH) | $14.56 | 4.3 | 13.74% |
| Corp. Office Properties (NYSE:OFC) | $23.97 | 11.7 | 4.59% |
| Douglas Emmett Inc. (NYSE:DEI) | $23.07 | 16.8 | 2.60% |
| First Potomac (NYSE:FPO) | $12.88 | 13.5 | 6.21% |
| Franklin St. Properties (NYSEMKT:FSP) | $11.07 | 11.9 | 6.87% |
| Gvt. Ppts. Income Trust (NYSE:GOV) | $23.40 | 10.9 | 7.18% |
| Highwood Ppts. Inc. (NYSE:HIW) | $32.62 | 12.1 | 5.21% |
| Hudson Pacific (NYSE:HPP) | $18.50 | 22.0 | 2.70% |
| Kilroy Realty (NYSE:KRC) | $44.78 | 20.0 | 3.13% |
| Mack-Cali Realty | $26.60 | 10.2 | 6.77% |
| Mission West Ppts. (NASDAQ:MSW) | $8.70 | 17.1 | 5.98% |
| MPG Office Trust (NYSE:MPG-OLD) | $3.35 | 10.2 | 0.00% |
| Parkway Properties (NYSE:PKY) | $13.37 | 10.5 | 3.37% |
| Piedmont Office Trust (NYSE:PDM) | $17.34 | 12.3 | 4.61% |
| SL Green Realty (NYSE:SLG) | $80.07 | 15.2 | 1.25 |
While Mack-Cali is one of the best values in the office sector with an FFO multiple of only 10.2 and an excellent yield of 6.77%, I think the recent earnings declines will keep the stock price low for a while. If the stock remains cheap as the economy strengthens, it could be a great option to gain exposure to the office sector as it revitalizes.
Disclosure: 2nd Market Capital and its affiliated accounts are long CWH. This article is for informational purposes only. It is not a recommendation to buy or sell any security and is strictly the opinion of the writer.
Disclosure: I am long CWH. I wrote this article myself, and it expresses my own opinions. I am not receiving compensation for it (other than from Seeking Alpha). I have no business relationship with any company whose stock is mentioned in this article.