It was almost a year ago that I first wrote about Middleby (NASDAQ:MIDD), when I described the company as "one of the most exciting companies that no one has ever heard of."  As of the close Thursday, the stock has declined about 20% from 62+ to about 50. 
Over the same time-frame, the Russell 2000 fell about 17% and the S&P 500 fell approximately 19%, so the stock has been a modest disappointment (and quite volatile, making an all-time high just shy of 79 in December before plunging to a low of about 39 in July).  Well, on Friday, things are going to most likely change.  Actually, they did in the after-hours Thursday, with several trades at 55, up about 10% from the close.  I think we could see 62 again, perhaps on Friday.
Before I tell you why this stock could end up about 25% on the day, let me share some background for those not familiar with the story.  As I mentioned in the article a year ago, the company sells cooking equipment to restaurants.  A lot of it is mundane, but some is exciting - energy savings, efficiency improvement, trans fat reduction. 
The company has been run for several years by an extremely dynamic and visionary CEO.  It has been very aggressive on the acquisition front, and international growth has been very strong off of an increasingly larger base.  The company's valuation has been signficantly lower than historical norms.  Shorts have been all over this one - 5.6mm shares short as of mid-July.  There is no convertible debt or equity-financed acquisitions pending, so this is a real short.  A huge short - the stock trades like 300k per day and has just 17mm shares outstanding. 
While I think the shorts are quite wrong, I have to admit to being afraid as a long investor myself (as well as having the stock as a member of my Top 20 Model Portfolio).  Here are some of the reasons I believe the shorts have crowded into this one:
Macro environment challenging for their clients (restaurants, a lot QSR)
Organic growth weak
Capital spending can be deferred
Stainless Steel prices clobbering the company
Estimates coming down sharply
Company has heightened integration risks due to large number of deals closed over the past year
Balance sheet has deteriorated following acquisitions (and share repurchases)
CEO sold a lot of stock at higher prices last year
It looks like the shorts may be wrong on this one.  The company reported a large beat on the top-line, which led to a massive EPS beat:  1.01 compared to .88 consensus.  Integrations seem to be going quite well.  The call is tomorrow, but the tone of the press release was very favorable.
Here are the reasons I expect a stampede:
Shorts could cover - if only 20% do, that is over 3X daily volume
Longs on the sideline scared by macro environment could get involved now
The stock is very inexpensive
The chart below details several valuation metrics: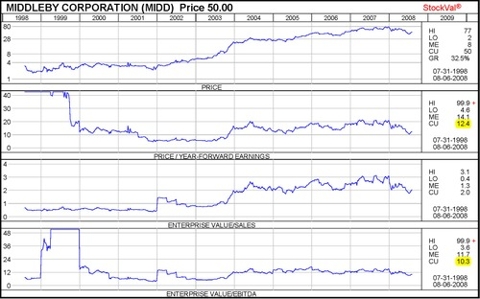 The 12.4 PE is at a 5-year low.  EV/EBITDA is the lowest it has been in some time and reflects perhaps growth concerns.  Even before today, analysts were looking for 20% EPS growth next year.
Disclosure:  Long MIDD