Auto manufacturers are currently going through a deplorable phase, as they struggle to control increasing losses in Europe after 11 consecutive months of declining sales. One of the most affected auto manufacturers is General Motors Company (NYSE:GM), which has lost nearly $16 billion in the last 12 years in its European operations.
The issue made it to the headlines when, at the start of September, a Morgan Stanley (NYSE:MS) analyst recommended that GM should sell out its Opel plant. However, GM, under its CEO Dan Akerson, Vice President Stephen Girsky and interim European chief Thomas Sedran, remained committed to Opel.
It will be interesting to see how things shape up, as GM tries to turn around its operations in Europe by introducing newer products, cutting labor costs, and realigning operations. GM aims to benefit from synergies and alliances with other auto manufacturers like Peugeot (OTCPK:PEUGY).
Europe and Auto Manufacturers
The European Automobile Manufacturers Association (ACEA) reported a YoY decline of 8.9% in passenger car registration in August. Even the strongest European economy, Germany, showed a decline of 4.7% YoY. France and Italy showed double-digit declines. Recently, Moody's cut its forecast for the global auto sales growth rate from 4.5% to 2.9% for 2013, given the bleak economic situation in Europe.
Volkswagen (OTCPK:VLKAY), the leading European auto manufacturer, said that some of its competitors are at risk of going bankrupt without the state's assistance. At the Paris Show last week, Peugeot Citroen's CEO remarked that 2015 would not be much different from 2012, signifying that the problems in Europe are not going away any time soon.
To add to the woes, labor unions and the government's stringent laws have not allowed auto manufacturers to adjust their operating capabilities accordingly. That is probably why 30 of the 98 European auto-assembly plants are running below 70% of their capacities. The following table shows the details for August sales for the European region: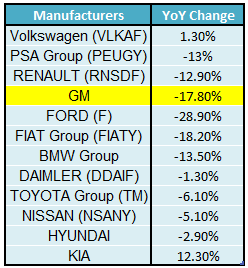 Only Volkswagen and Kia witnessed positive growth.
GME and Its Problems
There is no doubt that GM's European operations (GME) have been a drag on the company's overall results. In the most recent quarter, GME reported a loss of $361 million, which was in contrast to GM's overall operating profit of $1.87 billion.
GME is running at a mere 56% operating capacity. GM's CEO has predicted that it will take at least five more years to make profits from GME. The current estimate is that GME will make a loss of $1-$1.4 million this year.
GME contributes 17% to the company's overall revenues. The market share for GM is also on a decline due to tough competition from rivals like VLKAF and Japanese manufacturers like Nissan and Toyota (NYSE:TM). Korean auto manufacturers are also reducing GM's market share.
The following are the market shares of different OEMs in Europe and their respective YoY changes in market shares for the month of August: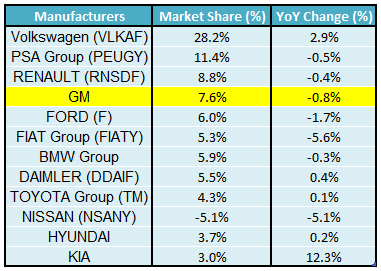 Expectations on Opel Unit
The market does not seem to be optimistic about GME. Morgan Stanley believes that Opel will lose another $12.3 billion from 2012 to 2021. Also, it recommended that GM is better off having a 3% market share generating a profit, rather than an 8% market share making a loss.
Exiting the Opel unit will cost GM $7-$13 billion. This includes $3-$7 billion in cash that GM will have to pay in order to sell the business. Also included, is the amount of $1-$2 billion that GM will have to spend to restructure its operations, in order to prove that it is trying to bring operations near the breakeven point. An amount of $3-$4 billion is needed as well to fund pension liabilities.
The Opel unit was nearly sold to auto-part manufacturer Magna International (NYSE:MGA) in 2009. The market compared GM's Opel unit to Daimler's Chrysler unit, when the latter sold the loss-making unit to Cereberus. Metzler Bank's analyst also commented that GM should get rid of the Opel unit, as it lacks export opportunities and European demand is not enough to convert the unit into a profitable one.
Opel's registration fell by 15% YoY in the first eight months of the year, as it underperformed the market, which fell by 6.6%.
GM on GME
Akerson has been selected to inspire a change in the Opel unit. He recently ousted Karl Friedrich, the former chief of the Opel unit, when Karl said that GME was $100 million short of its 2016 savings plan. The revamped team under Sedran is planning to launch newer compact models, reduce cost by forming alliances with suppliers, and optimizing fixed costs. The plan named "Drive Opel 2022" is intended to tap into new markets, according to the interim Opel chief.
GM has also formed an alliance with Peugeot Citroen to save costs in the field of product development, vehicle supply and power train supplies. However, the efforts to deepen the alliance have become slower due to the weak economy. Both companies missed the June 30 deadline on a parts-buying plan. Peugeot, which has also been losing $257 million in cash every month since the last year, believes that the joint purchasing agreement is expected to get the green signal from regulators in November.
Labor unions have played an important part in the restructuring of European operations for auto manufacturers. Earlier last month, GM shortened working hours at its Russelsheim (Opel's biggest plant) and Kaiserslautern plants. It is also considering closing its Bochum plant, which employs around 3,100 workers.
GM is also frustrated by the bulky discounts that other manufacturers have been offering in order to attract new customers. Fiat and Peugeot are giving discounts of up to 30% off the sticker price. In Germany, the average discount was calculated to be 12.1%. Most of the dealers are practicing self-registration, meaning registering vehicles on their own names and then selling them off to the end customer as used vehicles on discounted prices.
GM is pinning its hopes on the newly introduced ADAM small-car and Mokka, which is compact SUV, to attract new customers.
Conclusion
The ACEA has forecasted that sales for this year will be the lowest since 1995. Western European SAAR is expected to be 15.1 million for this year, and is expected to fall to 14.3 million for the next year. Peugeot is also expecting an 8% contraction in demand for this year. In this situation, GM has to carefully analyze whether it has the sufficient ability and resources to turn around the Opel operations, or whether it should get rid of what seems to be its 'Achilles Heel'.
GM is currently trading at a cheap multiple of 6x. Not a single analyst has a sell rating for the stock. However, 4% of the analysts have underweight ratings, primarily because of the company's loss-making European operations. Many investors hope that the recent restructuring plan under Akerson will bring a change in European operations as well.
Let us not forget, a turnaround in the European operations will bring about a massive change in the stock's valuations, and there are chances that the stock might push to near the $53 mark - the breakeven price at which the U.S. Treasury will be willing to sell its shareholding of 26.5%, which will lead to another jump in the stock.
Disclosure: I have no positions in any stocks mentioned, and no plans to initiate any positions within the next 72 hours.
Business relationship disclosure: The article has been written by Qineqt's Industrials Analyst. Qineqt is not receiving compensation for it (other than from Seeking Alpha). Qineqt has no business relationship with any company whose stock is mentioned in this article.