What do competitors Lucent (ALU) and Nortel (NT), Dell (NASDAQ:DELL) and HP (NYSE:HPQ), Motorola (MOT) and Sony Ericsson have in common? All these companies including Cisco (NASDAQ:CSCO) and IBM (NYSE:IBM) use Singapore based contract electronics manufacturer Flextronics (FL to manufacture components for their products or in some cases the entire product. If you are using a laptop, watching an LCD TV or using an ATM machine, there is a good chance it was manufactured by Flextronics or the company was involved in some stage of the supply chain.
Last June, Flextronics acquired its biggest competitor and industry leader Solectron for $3.6 billion resulting in massive dilution of Flextronics stock. While revenue in the second quarter of 2008 jumped to $8.35 billion from $5.16 in the second quarter of 2007, earnings have been under pressure due to the integration of the two companies. The company posted losses in the December 2007 and March 2008 quarters but during the fiscal first quarter (June 2008) earnings conference call on July 24th, Flextronics reported that all Solectron related losses have now been absorbed and the company posted earnings of $130.3 million or 16 cents per share, up 22% from the year ago period.
The stock is down 15% over a five year period and declined almost 20% over the last 12 months, giving it one of the lowest P/E ratios in the Nasdaq 100. Even with the Solectron losses out of the way, the stock has shown no signs of life. Investors may have given up on Flextronics as dead money or the stock may still be depressed due to its exposure to the macroeconomic environment as a global slowdown tends to weigh heavily on contract electronics manufacturers. Oddly enough the company believes that this challenging environment will be to its benefit as manufacturers rethink their supply chains and consider using the expertise and global scale provided by a company like Flextronics that operates in 30 countries on four continents.
The Numbers:
Gross margins and operating margins are tiny at 6.1% and 3.4% respectively but 3.4% of $8.35 billion in quarterly revenue still works out to an impressive $280 million in quarterly operating profit. Flextronics sells below its book value and has a Price/Book ratio of 0.92. However with over $6 billion in Goodwill on the balance sheet, the Price/Book value in itself does not point to a bargain. The Price/Sales is 0.25 and this may once again appear to be very low until but is actually consistent with companies that have slim operating margins. The forward P/E of 6.29 and a PEG ratio of 0.36 do make the company look attractive at these levels. Did I mention that the company expects to generate $800 million in free cash flow this fiscal year ending March 2009?
The Good:
For a company that operates on very slim margins, both gross margins and operating margins improved 40 basis points or 0.4% year-over-year in the fiscal first quarter that ended on June 30, 2008. The company may find it hard to improve margins further because of commodity prices, energy prices and foreign exchange rates.
Acquisition related charge offs are finally coming to an end.
The company expects to generate close to $800 million in free cash flow this year and since Flextronics already has a full product portfolio through acquisitions, it is considering buying back 10% of its outstanding shares.
Flextronics expects to grow organic revenue by $2 to $3 billion this year without including the impact of recent acquisitions.
The Bad:
Flextronics derived 55% of its revenue from its top 10 customers and Sony Ericsson is their only customer that accounts for more than 10% of revenue. Sony (NYSE:SNE) came out with bad results last week and the stock is now trading at levels last seen in December 2005.
Inventory has been steadily rising and Flextronics now has $4.456 billion in inventory on its balance sheet. The company has more than $3 billion in long-term debt but also has enough cash on hand to cover notes that come due in 2009 and 2010.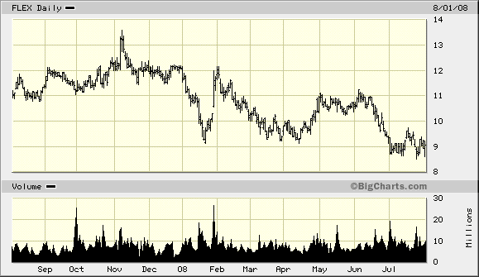 Conclusion:
It remains to be seen if a slowdown in demand for electronics and other consumer discretionary items has an adverse impact on Flextronics or if the company will benefit from increased outsourcing. While the company is attractive at these levels, general market conditions do not warrant any additional purchases on the long side. Hence I plan to add Flextronics to our watch list and may start a position in case the stock drops further due to general market weakness.