On Friday September 14th, Armour Residential REIT Inc (NYSE:ARR) announced that it was cutting its monthly dividend 10% from $.10/share to $.09 per share and this will take effect in October. Despite this unfortunate event, Armour is still yielding 14.1%. We have been invested in the mREIT sector since 2008 and we are aware of the risks between agency-issued MBS securities and non-agency MBS dreck. We like the fact that Armour Residential has seen rapid growth in its assets from $127M in 2009 to $13.9B in H1 2012. We like the high dividend yield from Armour and the fact that it only incurred a 10% dividend cut for its most recent scheduled distributions to shareholders. The one concern we have with regards to investing in Armour Residential REIT is that its external mREIT manager Armour Residential Management LLC is run by Jeffrey Zimmer and Mark Gruber. Mark Gruber serves as Head of Portfolio Management of ARM LLC and Jeffrey Zimmer is the Co-CEO of Armour Residential REIT Inc and ARM LLC. This is a concern for us because Gruber and Zimmer were at Bimini Capital Management (OTCQB:BMNM) and Bimini racked up a $300M loss from 2006 to 2007.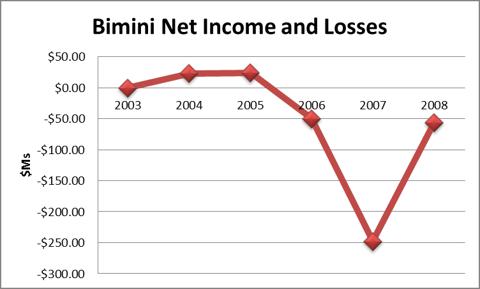 Source: Morningstar Direct
To allay our initial concerns about Gruber and Zimmer's stay at Bimini, we poured through all of the company's 10-K reports and we found that Bimini was initially a solid performing mREIT, but its fortunes took a tumble when it diworsified out of the mREIT business and acquired Opteum Financial Services LLC, a privately held mortgage lender. We think that Bimini acquired this company in order to use the loans issued by Opteum as raw material for MBS securities that Bimini could acquire on the cheap. So how did that work out for Bimini? It did not work very well at all! The transaction took place as the yield curve was narrowing, which reduced net interest income margin. The transaction also boosted annual non-interest expenses and even the mREIT operations suffered the indignity of $82.5M in realized and unrealized losses in 2006 and 2007. However, we can see that Opteum Financial Services lost $191M in 2006 and 2007 and contributed to the bulk of the losses suffered by Bimini.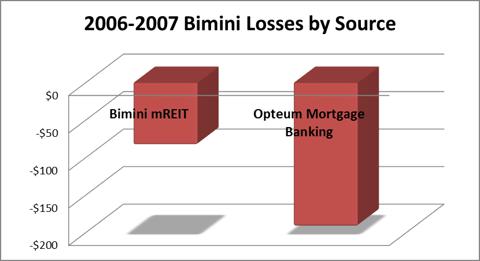 Source: Bimini's 2007 Annual Report
Now that our concern about the competence about Gruber and Zimmer has been allayed, we can focus on analyzing Armour Residential. We can see that the company has enjoyed rapid growth since 2009, as the company's assets have grown from $127M in Q4 2009 to $13.9B in Q2 2012. This represents a 62% compounded average quarterly growth rate over the last 10 quarters and has enabled the company to generate the necessarily scale to compete against the industry's big boys like Annaly (NYSE:NLY), American Capital Agency (NASDAQ:AGNC) and American Capital Mortgage (NASDAQ:MTGE). ARMOUR Residential Management, LLC has even recently filed an S-11 form with the SEC to establish Javelin Mortgage, another mREIT organization. Javelin intends to purchase agency mortgage-backed securities, non-agency mortgage-backed securities and other mortgage-related investments, either in initial offerings or on the secondary market.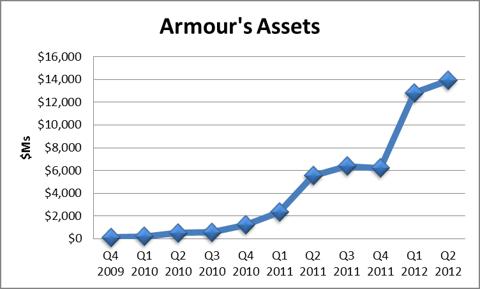 Source: Morningstar Direct
Right now, Armour Residental's MBS portfolio is invested in agency MBS Securities from Fannie Mae, Freddie Mac and Ginnie Mae. We were pleased to see that ARR was able to shift its portfolio allocation to fixed rate securities in 2012 versus 2011. In 2011, less than 50% of ARR's portfolio was in fixed rate securities and in Q1 2012 the company was able to increase this to 78.2% and it increased it another 40bp in Q2 2012. Because the amount of ARR's Adjustable Rate and Hybrid ARM securities remained at around $2.7B over the last five quarters, we could see that ARR has been reducing the weight of its variable rate securities in its portfolio by directing its entire new asset buys to fixed rate agency securities. The company was able to increase its Weighted Average Months to Maturity by nearly 30 months during the year and after seeing its Constant Prepayment Rate increase from 9.3% in Q2 2012 to 19.3% in Q4 2012, ARR saw the CPR decline to 11.4% in Q1 2012 and 9.1% in Q2 2012.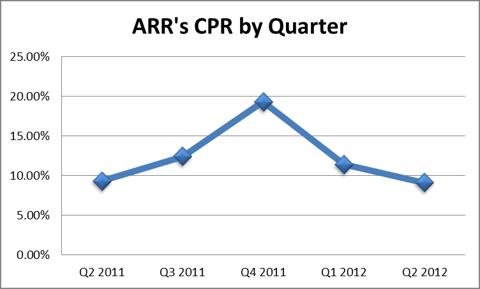 Source: Armour's Q2 2012 10-Q
ARR's metrics are comparable to Annaly, American Capital Agency and American Capital Mortgage. We can see that ARR's CPR in Q2 2012 was 9.1% and although MTGE's actual Q2 2012 CPR was much lower at 4.7%, AGNC's CPR was slightly higher at 10%. Annaly's Q1 2012 CPR of 11% was comparable to ARR's Q1 2012 CPR of 11.4%, ARR's CPR declined to 9.1% in Q2 2012 while NLY's CPR jumped to 19% in Q2 2012. While ARR's Q3 2012 CPR has jumped to 13%, it is still lower than NLY's Q2 2012 CPR. ARR's premium to book value of 3.79% is slightly lower than Annaly's 3.82, and significantly lower than AGNC's 16.44% and MTGE's 12.53%.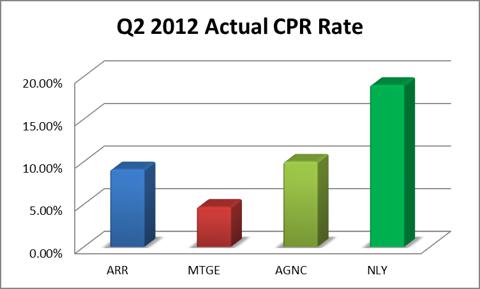 Source: Most Recent Quarterly Reports for ARR, MTGE, AGNC and NLY
In conclusion, our concerns about Gruber and Zimmer have been mollified. While we take it seriously when we see investment executives with organizations that have racked up severe losses for shareholders and that Gruber and Zimmer were not blameless in Bimini's losses, we can see that Bimini's losses were primarily due to its diworsification acquisition of Opteum Financial Services LLC, a privately held mortgage lender. This acquisition resulted in Bimini taking direct credit exposure to mortgage loan assets and the losses associated with this business resulted in Bimini shutting down the mortgage banking operations in 2007 through the sale of the remaining assets. We can see that Gruber and Zimmer left Bimini not long after the shutdown of the Opteum mortgage-banking operation and established Armour in 2008. We can see that its mortgage portfolio is 100% in agency MBS securities from Fannie Mae, Freddie Mac and Ginnie Mae. We also like the fact that its CPR ratio in the most recent quarter was actually better than that of Gary Kain's mREITs (MTGE and AGNC). The last thing we like about it is that its premium to book value is cheaper than American Capital Mortgage and American Capital Agency.

Sources: Armour's Q2, Armour's Secondary Filings and Our Estimates
Disclosure: I am long MTGE. I wrote this article myself, and it expresses my own opinions. I am not receiving compensation for it (other than from Seeking Alpha). I have no business relationship with any company whose stock is mentioned in this article.
Additional disclosure: This article was written by an analyst at Saibus Research. Saibus Research has not received compensation directly or indirectly for expressing the recommendation in this article. We have no business relationship with any company whose stock is mentioned in this article. Under no circumstances must this report be considered an offer to buy, sell, subscribe for or trade securities or other instruments.