Citigroup (NYSE:C) currently pays an abysmal dividend. The current yield is 0.12% on a share price of $32.76, a quarterly payment of just a penny per share. This yield compares poorly to JP Morgan's (NYSE:JMP) 2.9% dividend or to Wells Fargo's (NYSE:WFC) 2.5% dividend. But if you already own shares of Citigroup, there's a way to increase your effective dividend substantially, achieving an effective yield much higher than that of competing banks.
Selling Call Options
Let's say you own 100 shares of Citigroup. You can produce an income stream from these shares by selling call options. By selling a call option you are selling someone the right, but not the obligation, to buy your shares on or before the expiration date at the strike price. You receive a premium for selling this right.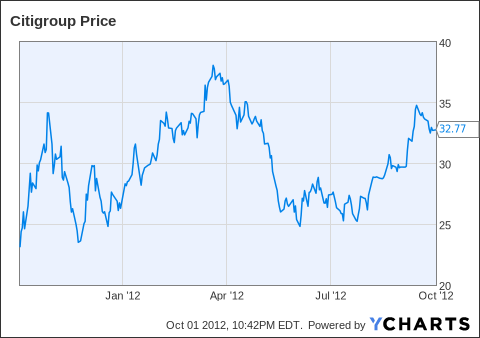 Citigroup has traded within the same range for the last year, currently trading at $32.76. To reduce the risk of being forced to sell your shares you should pick a strike price sufficiently higher than the current market price. A $38 strike price is about 16% higher than the current price. Let's take a look at call options with a $38 strike price.
| Expiration Date | Premium | Annualized Return (based on strike price) |
| --- | --- | --- |
| Nov 2012 (46 days) | $0.19 | 3.97% |
| Dec 2012 (81 days) | $0.47 | 5.57% |
| Jan 2013 (109 days) | $0.72 | 6.34% |
| Mar 2013 (165 days) | $1.34 | 7.80% |
| Jun 2013 (263 days) | $2.22 | 8.11% |
The premiums on Citigroup call options are pretty lush. Which option you choose depends on what you're looking to accomplish. If you simply want to generate income and would like to avoid selling your shares you should sell a shorter-term option, like the Dec 2012 contract. If you're looking to sell your shares and are happy getting $38 then you may as well collect the biggest premium and sell the Jun 2013 contract.
Let's say you sell the Dec 2012 call option. There are two possible outcomes
The market price never exceeds $38 per share and the option expires worthless at expiration. You can then sell another call option.
The market price rises above the strike price and your shares are called away from you. The premium raised the effective sale price to $38.47.
If scenario one occurs, the premium received represents a 5.57% annualized return, effectively creating a hefty Citigroup dividend. If scenario two occurs, you have a profit of $5.71 per share, including both the premium and the appreciation of the share price. If you sell the Jun 2013 contract instead and the shares are called away from you your profit will be $7.46 per share. This is a 17.4% and a 22.8% return based on the current share price, respectively.
Conclusion
There are two reasons to sell call options: to generate income or to sell your shares. If you're looking to generate income, the strike price should be chosen high enough to minimize the risk of having your shares called away. However, even if they do get called away you still record a substantial profit. Using this strategy on Citigroup allows you to effectively create a 5.57% dividend (or higher if you choose a longer expiration), supplementing the puny dividend which Citigroup currently pays.
Disclosure: I have no positions in any stocks mentioned, and no plans to initiate any positions within the next 72 hours. I wrote this article myself, and it expresses my own opinions. I am not receiving compensation for it (other than from Seeking Alpha). I have no business relationship with any company whose stock is mentioned in this article.