Monday was not a great day for shareholders of Sprint (NYSE:S). Shares fell 35 cents, a decline of more than 6.3%, after the company was downgraded from outperform to market perform at Raymond James. This downgrade was a surprise, as several other firms have either kept outperform ratings or even raised price targets on Sprint in the past few weeks.
Monday's decline was the largest in a number of months, and the decline adds to the weakness in shares at the end of last week. In a matter of days, Sprint shares have taken out a multi-week rally. When Sprint broke $5 in August, it raced all the way up to $5.49 before coming back down. Shares traded down from there until $4.71, but since that point, the stock has risen nicely. Anyone who took advantage under $5 got a 15% rally into last week's high.
Sprint shares have now declined by $0.59, or 10.24%, since their high of $5.76 last week. Other than the downgrade on Monday, there hasn't been a ton of news, so a move of this magnitude seems a little much to me. For those that were looking to enter this name or accumulate more of a position, the recent drop may provide the perfect opportunity. I'll examine some reasons why the rally could pick up steam again over the next couple of months.
First, let's discuss what everyone wants to talk about, Apple's (NASDAQ:AAPL) iPhone 5. We know that most Sprint stores sold out of the iPhone 5 quickly, although that could be due to a limited supply. Sprint sold 1.8 million iPhones in Q4 last year, sold slightly more than 1.5 million in Q1 of this year, and a little under 1.5 million in Q2. We can probably assume that Sprint sold less than that 1.5 million in Q3, before the launch of the iPhone 5, but I can tell you that Sprint tried to get rid of every last older version. Sprint offered multiple discounts and gift cards in an attempt to sell older iPhones, and especially to get new customers in the door.
So let's say Sprint sold a million iPhones before the launch of the new one, and then sold a million more before the quarter ended. 2 million iPhones would be a quarterly record for the company, and certainly would provide a nice revenue boost because it didn't sell any iPhones in Q3 last year. Analysts currently expect revenue to rise by 5.6% to $8.8 billion for the quarter. Thanks to switching more users to higher priced plans (smartphone data plans help), Sprint's postpaid average revenue per user was $63.38 in Q2, up more than $4 from the prior year's period. The ARPU figure should continue to rise, and it is possible if Sprint gets enough phone sales that it could hit $64 or $65 in this quarter.
Now we know that margins will probably take a hit, as Sprint will lose upfront on the phone before making the money back thanks to the monthly service fees. Selling lots of iPhones does have a negative impact on margins at first, a fact common to Verizon (NYSE:VZ) and AT&T (NYSE:T) as well. For the quarter, analysts are expecting Sprint to lose $0.43, a much larger loss than last year's $0.10 in Q3. Most of that loss will come from shutting down the old Nextel network, and upgrading the current network, as well as potential investment losses. We know that Sprint will lose a lot of money this year as it transitions its network, but the key is how much in costs can it cut? It expects a fair amount of margin expansion over the next year, so let's see how it does.
Sprint is probably 2-3 years away from being truly profitable, so we can't look at the company's valuation using traditional price to earnings numbers. But we can look at the price to sales figure, found in the table below. The market cap and sales numbers are in billions.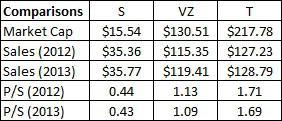 Now we all know Verizon and AT&T are both profitable, and both pay decent dividends. We also know that both are considered low-risk names, while Sprint is still somewhat of a speculative play. But even if you give Sprint half the average price to sales valuation of the other two (about a 0.7 average over both years), Sprint would be worth roughly $8.32, $3 more than where it is now. If Sprint were to reach a price to sales valuation of 0.7 by the end of 2012, given all of the improvements it is making, and sales come in exactly where they are expected now, Sprint shareholders would see a return of 61%.
Sprint is working to improve its network and cut its costs. It has become a serious player in the iPhone and smartphone market with its lower-price unlimited talk, text, and data plans. Sprint may even get the iPad eventually, if Apple chooses to go down that road. I've covered just a handful of the positives, so let me be objective and cover some of the negatives quickly before I wrap things up.
Sprint still has a large debt load, and if the company cannot cut sufficient costs or increase revenues as expected, it will be in financial trouble going forward. Sprint had over $21 billion in debt on the balance sheet at the end of last quarter, and made some net-neutral debt announcements during the quarter. On the flip side, Sprint had nearly $7 billion in cash and equivalents on the balance sheet, so it's not like the company is insolvent or going bankrupt tomorrow. However, this is a capital-intensive business, and Sprint apparently needs to have a lot of cash for daily and weekly operations. Otherwise, as I've mentioned recently, it would be a wise decision to pay back some of this debt, which would lower interest costs and net losses going forward.
Likewise, as I've already mentioned, Sprint is still losing a ton of money. Sprint has lost $14 billion over the past 18 quarters, and is expected to lose another $5.75 billion by the end of 2013, according to current estimates. Analysts are expecting financial improvement in 2013, but Sprint must hit its cost-cutting targets to do so. At this point, there is only a small chance for profitability in 2014, with 2015 looking more realistic. However, should cost-savings not materialize, profitability could be pushed back, or at the worst, case, never occur.
Monday's analyst downgrade of Sprint might provide an attractive entry opportunity for investors. Some profit taking has taken place, and I wouldn't blame anyone that sold above $5.50, especially if they bought Sprint in the $2s months ago. Just look at the chart below. We've seen several pullbacks like this since the rally started, yet Sprint has managed to hit new highs each time. Should Sprint report a great Q3, I think $6 could be in the cards before the end of the month.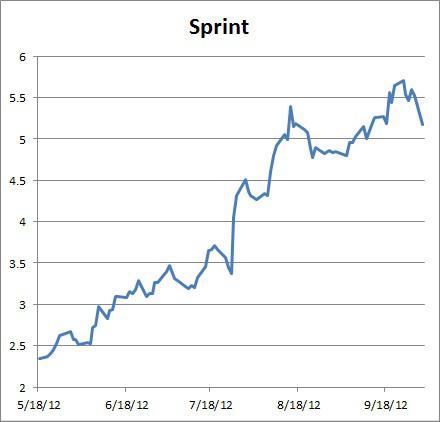 Disclosure: I have no positions in any stocks mentioned, but may initiate a long position in AAPL over the next 72 hours. I wrote this article myself, and it expresses my own opinions. I am not receiving compensation for it (other than from Seeking Alpha). I have no business relationship with any company whose stock is mentioned in this article.