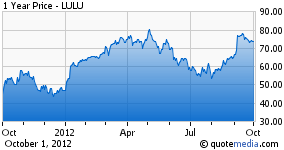 Lululemon (NASDAQ:LULU) climbed the retail circuit over the last 4 years and the stock has become another momentum or "mo-mo" stock that Wall Street has fallen in love with, and for good reason. The company has continued to show strong YOY comparisons as it has expanded to include 189 retail stores, 38 showrooms and 5 outlets. Looking forward, the company will continue to grow into the specialty retail space as it looks to achieve 350 stores in the coming years.
In 2012, the company is looking to expand its operations to include another 35 stores, 2 outlet stores and new showrooms in the UK and Hong Kong. With these expansion efforts fully underway, the company recently raised its full year earnings guidance and looks to grow revenues by 36% versus a year ago as outlined during the latest earnings results and conference call by the company's CFO, John E. Currie.
Lululemon has shown itself to be an inventive retailer, focusing on innovative and functional products as well as innovative business practices. Unlike most clothing retailers, Lululemon doesn't just go into a new market and open a retail store. The company first sets up a showroom in the market, goes out into the community, attends local yoga facilities and engages with the athletes in the community. The dedicated sales team for the hopeful market guides athletes and yoga enthusiasts toward the Lululemon website. Once it establishes a feel for the community, gains acceptance and sees follow through from on-line sales, it decides if the market is ready for a full scale retail store. The typical Lululemon store is roughly 2,500 square feet. Bigger stores might push 3,500 square feet.
The company continues to set lofty goals since the beginning of 2012. On May 17th, the company launched its e-commerce site for Australia and in June the company opened its first showroom in London and saw great results. The newly launched Australian e-commerce site allows the local stores to be more connected with the community. LULU is hoping that, just like in the U.S., sales and brand recognition will soar after launching the e-commerce site (U.S. e-commerce site debuted in 2009). Additionally, LULU also acquired the remaining 19.7% non-controlling interest in Lululemon Australia. This purchase should help margins in Australia in the future. Ivivva is also a Lululemon brand that the company will expand into the U.S. Most recently in Q2 2102 the company opened 5 Ivivva showrooms in the US. When asked about the progress of Ivivva on the last earnings conference call, the CEO had this to say:
We're seeing very strong sales per square foot in the concept. But for us, it's still let it perk and grow it. We're not quite ready to pull the trigger because we have some other things that we want to focus on first to grow it, but very, very pleased with where it's coming along. And guest demand is growing, e-commerce sales are growing. So everything is where it should be, and we feel great. The product is really great for fall, by the way, too.
So what makes Lululemon athletic wear so unique and why can it charge such "lofty" prices for, well, yoga pants or jogging apparel. It really is quite simple; the company puts a lot of effort into the form, fit and function of its products. LULU focuses on innovative materials that can blend into the fabric of life and provide the user with a multilayered and multifunctional garment. Much of the company's expenditures go right into the production of these highly sought after garments.
Scarcity is also a tool the company uses as it doesn't mass market its product line nor does the company offer a wide variety of lesser quality items. When testing new products LULU often offers the products in capsules or small runs; this is basically an industry definition of limited supply or quantities. Think of the capsules as testing sites in much the way showrooms are for eventual stores. The feedback through sales or direct consumer feedback is what is used by the company to go forward with the products as a full run. This system of capsule releases to the marketplace is very unique to Lululemon.
Lulu has typically been known for retailing woman's yoga apparel until more recently as the company has advanced and expanded its line to include accessories and even men's athletic apparel. In only a few short quarters, the men's line is showing double digit comparison sales results. In Q1, the men's line contributed to 12% of sales. While some may claim that they offer products that come with outrageous price tags, the business model has proven to be an effective one.
Since starting its grass roots efforts in 1998, the company has grown to include over 189 stores and showrooms and has an achievable goal of 350 stores. Additional efforts to secede new markets have been hinted toward by the CEO, Christine Day. In Q2 2012, Day commented that Hong Kong is ready to add stores just as soon as the team in place is ready. Day also indicated that there are additional markets the company is eyeing around the world, such as Germany, Switzerland, France and Latin America. These additional markets won't likely come on board until 2013 as the company remains focused on current efforts with regards to Hong Kong and the U.K. Here is what the company offered for 3rd Quarter Guidance:
• Open 11 new stores, 8 in the US and 3 in Australia
• Margins below target goal of 55% for fiscal 2012
• Higher SG&A
• Earnings between $.34 and $.36 a share
• Revenues between $300-$305 million
Lululemon reports revenues from three business segments and the results from Q2 2012
1. Corporate owned stores: $231 million, up 30% YOY
2. Direct To Consumer or DTC: $35.4 million, up 91% YOY
3. Other (showrooms, outlets warehouse sales): $15.9 million, up 2% YOY
Lululemon has afforded itself a pretty hefty premium in 2012 as the stock has risen for much of the year. The stock peaked in May at $81.09 a share and the 52 week low reached last November was $41.70 a share. The stock is up nearly 35% from a year ago and trades at nearly 50 times trailing earnings. LULU offers no dividend and is considered a high beta stock. The company expects to earn $1.76- $1.81 in 2012 after realizing a tax incentive that boosted earnings for the year. The effective tax rate dropped from roughly 36.5% to 29%. Everyone compares Lululemon's price to earnings multiple with Nike (NYSE:NKE) which trades at roughly 20 times trailing earnings. Is this really a fare comparison though? The short speculators seem to think it is as the short interest has risen by nearly 85% over the last four months. Many investors believe that in spite of better than $400 million in cash, no debt, and double digit comps for net income over the course of the last 4 years, the company is set-up perfectly to disappoint at some time in the near future; in other words, the stock is priced for perfection and profit taking may be in order.
I will be the first to admit that Lululemon's price to earnings multiple looks a bit rich at 50 times trailing earnings, but it could grow into that multiple in 2013 as earnings are expected to increase further. However, there are certainly headwinds that the company could face as luxury goods, which we would have to consider the pricey athletic wear offered by LULU, may not be bulletproof in a waning global economy. But this is not the biggest risk that investors have to face when they think of allocating capital to LULU.
Whenever you talk about a retail clothing company, material costs and suppliers of materials have to be taken into consideration. While material costs are only a minor factor to Lululemon at present, suppliers are always a headline issue for the company and its investors. Take a look at a paragraph from the company's 10-Q filing:
We do not manufacture our products or the raw materials for them and rely instead on third-party suppliers. Luon fabric, which is included in many of our products, is supplied to the mills we use by a single manufacturer in Taiwan, and the fibers used in manufacturing Luon fabric are supplied to our Taiwanese manufacturer by a single company. In fiscal 2011, approximately 67% of our products were produced by our top five manufacturing suppliers. We have no long term contracts with our suppliers or manufacturing sources, and we compete with other companies for fabrics, raw materials, production and import quota capacity. We may experience a significant disruption in the supply of fabrics or raw materials from current sources or, in the event of a disruption, we may be unable to locate alternative materials suppliers of comparable quality at an acceptable price, or at all. In addition, if we experience significant increased demand, or if we need to replace an existing supplier manufacturer, we may be unable to locate additional supplies of fabrics or raw materials or additional manufacturing capacity on terms that are acceptable to us, or at all, or we may be unable to locate any supplier or manufacturer with sufficient capacity to meet our requirements or to fill our orders in a timely manner. Even if we are able to expand existing or find new manufacturing or fabric sources, we may encounter delays in production and added costs as a result of the time it takes to train our suppliers and manufacturers in our methods, products and quality control standards. Delays related to supplier changes could also arise due to an increase in shipping times if new suppliers are located farther away from our markets or from other participants in our supply chain. Any delays, interruption or increased costs in the supply of fabric or manufacture of our products could have an adverse effect on our ability to meet customer demand for our products and our results in lower net revenue and income from operations both in the short and long term.
When the totality of your business is this highly leveraged to very few suppliers whom have very specialized materials, risks run high. Lululemon is not Adidas or Nike and therefore it does not command the same respect or priority with its suppliers that these major competitors in the marketplace carry. We've seen it before in the tech industry where hard drives became an issue and subsequently affected the makers of hard drives negatively. Are we going to wake up one day to hear a press release regarding supplier issues negatively impacting Lululemon's ability to bring products to market? I surely hope this never occurs, but it is definitely something to consider if one decides to allocate capital to shares of LULU.
We are closely monitoring the flow of institutional funds with regards to LULU. Our channel checks for retail stores in the US show 12.6% same store sales YOY as of September 20th. While this is slightly below our expectations, we lack the ability to gage the strength or weakness of e-commerce sales to date. Same store sales are a key metric for LULU investors as the company has shown some weakness in this metric in the most recent quarter ended. However, it should be noted that increased strength in e-commerce sales may be a function of this slowing of same store sales strength. Additionally, the company is focusing on building its e-commerce business as it sales from this channel should achieve higher margins and strengthen the company's expansion efforts for the future.
The sentiment is strong on the street and it says that LULU needs to execute its business plan flawlessly if it wishes to maintain its current valuation. Short speculators continue to position themselves ahead of the next earnings announcement. Will the 18 million plus shares held short get burned or will the longs have missed the opportunity to lock in profits? We will find out in only a few short months.
Disclosure: I have no positions in any stocks mentioned, and no plans to initiate any positions within the next 72 hours. I wrote this article myself, and it expresses my own opinions. I am not receiving compensation for it (other than from Seeking Alpha). I have no business relationship with any company whose stock is mentioned in this article.