Micron: Future Leader in the Solid State Industry
The Solid State industry should be considered as being comprised of two distinctly different entities: consumer SSDs and enterprise SSDs. Each have different target markets and usage requirements. In this article, we will cover the consumer side.
If you are an aspiring Solid-State Drive maker, you will need to utilize both NAND flash and a controller chip in order to make a SSD. Currently, many small companies, attracted to the explosive growth and low cost barriers to enter the market, are joining the SSD fray to see if they can carve out a piece of the market.
Some will develop novel technology or patents and, with a little luck, be acquired by bigger fish; others will file for bankruptcy or exit the market and have their assets acquired. A few will mutate into super-specialized companies that service niche markets.
The upcoming SSD war is going to look similar to the graphics card wars of the mid 1990s, when there were many small graphics card companies duking it out. In the end, Nvidia (covered here), AMD, and Intel (NASDAQ:INTC) survived and thrived. Another example of what the end game might look like would be the hard drive market. Many hard drive makers were fighting it out; but in the long run only a few survived, like Seagate (NASDAQ:STX) and Western Digital (NYSE:WDC).
Micron (NASDAQ:MU) will have a cost and supply advantage, as it produces its own NAND Flash. Micron is also working on controller chips for the solid-state drives. These factors could give Micron the edge it needs to become a leader in the SSD market.
But, a warning: all is not well in the Micron kingdom. The RAM business is experiencing some problems (covered by fellow SA writer Robert Broens) that Micron has to fix while growing its SSD business.
Consumer SSD
Consumer-grade SSD competition is heating up. Low barriers to entry mean that many small previously unknown companies are joining the fray. The companies that have controller chips, NAND flash production, or supply agreements for NAND will have a distinct price advantage over the competition that does not. That is not to say that a competitor will not be able to compete at a higher price point, as long as they are superior in one of these areas: performance, features, reliability, or software. Micron is not lacking in SSD sales.
(Note: All block quotes, unless noted, come from the Q4 2012 Transcript.)
Micron SSD revenue was up 33% in the quarter- with unit shipments up over 50%. We're seeing steady growth of our client SSDs at key OEM partners and continued growth of Crucial blended SSD drives in the channel. Where other channel competitors have struggled to generate a profit, Crucial continues to drive solid financial performance. We are now shipping client SSDs to 5 of the top OEMs in the world with plans to grow our share in the coming year. Client SSD revenue was up close to 30% in Q4. For fiscal year '12, unit shipments more than doubled.
Enterprise SSD
Enterprise SSD is a different beast. Currently Fusion-IO (NYSE:FIO) is the leader, but many companies like OCZ (NASDAQ:OCZ), STEC, EMC (EMC), and IBM (NYSE:IBM) (through its acquisition of Texas memory systems) are gunning for a slice of the enterprise pie. Custom software is one of the keys to smoking the competition.
In Q4, Enterprise SSD revenue was up over 50% - albeit off of a relatively low base. We're gearing up for some new products this fall; our enterprise grade SATA drive and our first SAS drive. Both drives are involved in casing- now with OEMs.

Unique features of these new products showcase our silicon to system strategy. The firmware and hardware management schemes are only available from a Micron-integrated SSD. The acquisition of Virtensys this fiscal year,exampling our growing system capability,has provided Micron with a virtualized appearance.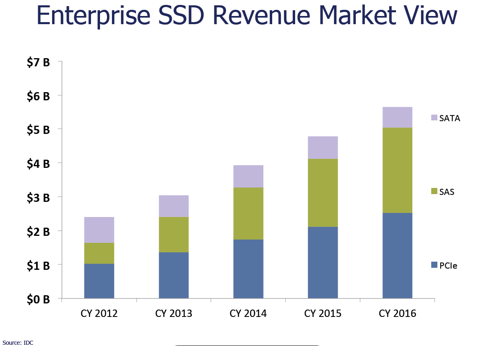 (Enterprise SSD Revenue according to Micron)
Micron Solid-State Controllers
An SSD Controller is the brain of any SSD. Currently, Sandforce from LSI (NYSE:LSI) is the leader in SSD controller chip licensing. However, OCZ will soon release and most likely license out its controller known as Barefoot 3. Many companies realize it is crucial to have an internally designed controller. This allows a cost advantage over any of the competition that licenses controller chips. It appears that Micron is making progress:
We've also made significant strides in the quarter and in the fiscal year with our internal controller development. Our controller strategy is really 2-pronged, using both internal and externally-designed controllers. We're focused at the high end of our system solution for our internally designed controllers. However, our approach is modularized and can be scaled down to the lower-end client systems over time.
NAND shortage easing up?
Recently the solid state manufacturers of consumer-grade solid-state drives such as OCZ Technology were hit with a NAND flash shortage due to Apple (NASDAQ:AAPL) buying NAND flash for use in the iPhone 5. This (combined with a drastic cut in the .25 nanometer NAND flash supply of 30% by Toshiba, 15% by Micron, and 10% by Samsung) has created the current shortage. The shortage has raised NAND flash prices while making it difficult from some companies to obtain the consumer grade NAND needed to produce Solid State Drives (SSDs).
Micron has stated that they do not see any massive disruptive increases in supply that would destroy NAND pricing.
NAND flash demand improved during the quarter. And this, coupled with muted industry supply."

"NAND market prices are currently up quarter-to-date, following the nice average selling price recovery over the summer and we don't see any disruptive supply coming online in the near future. We expect strong demand for SSDs and ultrathins in enterprise servers and storage, as well as the proliferation of smartphones and tablets to fuel significant NAND consumption."
However, it appears the supply situation is easing up a little.
Fusion-io stated at 4:08 in the September 12, 2012 conference call that since the shortage, "Toshiba -- expects 3rd Quarter to increase capacity which I think they did" and at 5:37 into the call "Micron and others have opened up additional supply (of NAND)". If this is occurring it would be good news for any company that is currently using consumer grade NAND such as OCZ or Apple.
Micron Ramping Up 20 Nanometer
We achieved increased manufacturing scale and performance as we completed our volume manufacturing ramp of our world-class flash memory facility in Singapore on both 25- and 20-nanometer technology.
As Micron transitions to 20 nanometer, this will result in more chips per wafer, which will lead to increased profits.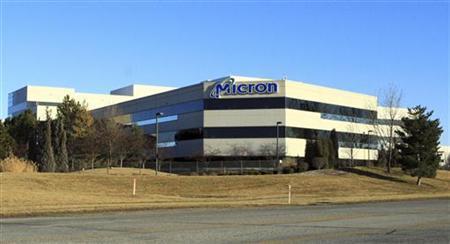 (Micron HQ in Boise, ID)
NAND Flash Outlook
Micron has stated the NAND supply (from Micron) will be flat for Q1'13 while costs to produce Micron NAND will be down a few percentage points and average selling prices up a few. Currently NAND makes up 44% of Micron revenues. Of course, this will change once the buyout of Elpida occurs.

Conclusion
Micron has currently five things going for it:
1. Micron owns NAND flash production facilities, which will give them a cost advantage over most of their competition as they can simply make the NAND they require.
2. Supply disruptions of NAND are less likely due to the NAND production facilities.
3. A Micron controller chip will also give them cost advantage over any company that has to license a controller chip.
4. Micron SSDs sold under the Crucial name have brand-awareness and inherent goodwill.
5. Micron can sell NAND to other SSD makers and increase its revenue stream.
SSDs are the future. Buying a small position in Micron might be a good bet for a long-term play SSD play.
Disclosure: I am long OCZ, STX, EMC. I wrote this article myself, and it expresses my own opinions. I am not receiving compensation for it (other than from Seeking Alpha). I have no business relationship with any company whose stock is mentioned in this article.