Is there anything more pressing on the minds of American's right now than the high cost of energy? What if I told you that there was a company that has successfully produced usable synthetic fuel right here in the United States, would anyone be interested? In a press release today, a small company named Rentech (NYSEMKT:RTK) has produced what it has termed "ultra clean" synthetic fuels at its Colorado facility. This has the potential to be an enormous breakthrough as a large portion of this fuel has been made from liquefied coal—which the United States has in great abundance. The technological implications are awesome and this is exactly the kind of innovation that high energy prices can spur.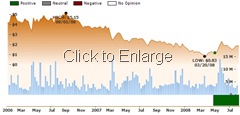 Rentech has scored a breakthrough for the U.S. energy crisis; its synthetic fuel is clean, homegrown, and in production now. The excerpt below is taken directly from a recent Business Wire release from RTK and describes for the layman the company's process for cleanly converting coal to synthetic fuels:
 

"The Rentech Process is a patented and proprietary technology that converts synthesis gas from carbon-bearing resources into hydrocarbons that can be processed and upgraded into ultra clean synthetic jet and diesel fuels. Entsch's Colorado facility provides a platform for the production of these products from a wide variety of resources, including waste materials, into fuels that could have a potentially carbon neutral or even carbon negative footprint. These fuels are also cleaner burning and more efficient than petroleum-derived fuels. The PDU is currently producing synthetic fuels from natural gas, and once gasification is added, it will also be capable of producing fuels from biomass and other fossil resources."

 
When this technology will be ready for consumers is not something I feel confident in speculating about, but RTK is on the bleeding edge of this in-demand technology. As you can see below, the company's valuation makes it at least worthy of a speculative buy. The potential for this fuel technology is huge and the company is also making a fairly steady stream of revenue through its nitrogen fertilizer production. Estimates have RTK's production facility in Illinois producing over 300,000 tons of fertilizer each year which generates revenue of nearly $200 million.
Ockham Research reiterates its Strong Buy on RTK from our report dated June 30, 2008, and we have had a Buy on them since we initiated coverage in May. Over the course of its history, the stock has traded between 6.1 and 18.63 times sales revenue. Currently, that measure is just above 2 times because of the upswing in fertilizer revenue. The potential contracts that the synthetic fuels innovation could bring in would be huge, which is presumptive but must be considered. The stock—after the 13% appreciation—today is still a small operation with just a $400 million market cap. There are concerns of course: RTK has yet to have positive annual per share earnings and its recent return-on-equity (ROE) has been abysmal. This stock has a speculative element to be sure, but because it appears to be a leader in the emerging field of synthetic fuels production, it is worthy of consideration for patient, value-oriented investors.