In 1978, the first IVF baby was born. Her name is Louis Joy Brown. She's 34 now. You can even go to YouTube and watch a video of her birth by c-section. I wonder how she feels about that. Unfortunately for healthcare investors back in 1978, IVF wasn't invented by any company, nor can any patent apply to it anyway. But the logic of IVF is pretty simple and elegant: The human body is designed and able to carry a baby to term. There's just something blocking the way, so let's build a detour.
Now the same logic is being applied to cancer treatments, with some tantalizing successes. Investment issues aside, this is just plain exciting. There are three companies at the forefront - two large-cap big pharma players, Pfizer (PFE) and Novartis (NVS) and one virtually unknown micro cap called Northwest Biotherapeutics, (NWBO.OTC)/NWBOD. It is worth to note, that this company recently went through a 16 for 1 reverse split. My guess is that it is limiting the float for a possible up list.
There have been 14 cancer treatment drugs approved by the FDA since the beginning of 2012, and with names like Afinitor, Bosulif, Marqibo and Xtandi, they all pretty much sound like names of various magical elves out of Lord of the Rings. But none of them claim to be cancer cures. What Pfizer, Novartis and NW Bio are working on have that potential.
Pfizer's is called CP-870,893, at least for now. (These things don't get their elvish names until they are brought to market.) You can read about it here. It is being researched as a possible cancer vaccine, in that it stimulates the immune system of the patient to fight the cancer on its own. There isn't much information on this outside of top academic journals, as it is still in the early stages of development.
Novartis is in the advanced stages of development of a blood cancer treatment that is strikingly similar to IVF. T-cells are taken from a cancer patient's immune system, reprogrammed in vitro, and reinjected. The new cells sniff out the cancer and eradicate it. This was actually tested on three leukemia patients who are now in remission.
But perhaps the most exciting of the IVF strategy revolution is what's happening with NW Bio. It is entering phase II clinical trials for DCVax®-Direct. Here's one excerpt of the press release.
When DCVax®-Direct was administered in pre-clinical animal studies, existing tumors regressed. Importantly, the tumors that regressed included not only tumors that were injected with DCVax®-Direct but also tumors on the opposite side of the animal's body, which were not injected, indicating a systemic immune response. Further, when the animals were subsequently challenged (i.e., injected) with cancer cells, the animals did not re-develop cancer, indicating immune memory. Notably, the company's proprietary activation step for the dendritic cells appeared to be essential for these results.
DCVax®-Direct, like the Novartis approach, takes out a patient's immune cells and reprograms them IVF style to attack cancer. The difference with DCVax®-Direct is that it reprograms dendritic cells instead of T-cells, and it can be used to treat any kind of tumor anywhere in the body.
On the investment front, the picture is as follows. FDA approvals usually don't affect large-cap stocks with high liquidity all that violently. For Pfizer investors, P/E ratios and quarterly statements are much more important, at least in the short to medium term. PFE is right at the edge of its 52 week high, so a pullback is likely before any sustained move up, and CP-870,893 has a ways to go before it starts effecting PFE's price. It's the same story for NVS. As exciting as Novartis' research is, it probably will not translate into any significant price moves in the near future. Of course, one should keep a very close eye on these developments in both companies and be ready to pounce.
As far as NWBOD is concerned, the effects of any success (or failure) with DCVax®-Direct would be far more pronounced. With only $212,000 in assets and a whopping $52 million in liabilities, the balance sheet looks like a war zone. But even an abject pauper armed with a potential cancer cure is going to get attention. The risk curve with this one looks binary. Either you'll hit a home run or you'll lose everything, so don't bet the farm.
Need I remind anyone of the potential moves successful cancer drugs have made for companies in the past? When Onyx Pharmaceuticals (ONXX) got the green light for its blood cancer treatment, it went up 43% in a day. One reason for the huge jump is that Pfizer is 34 times the size of Onyx in terms of market cap, so any approvals for the latter are magnified. ONXX is now up 90% since then. And that's just blood cancer.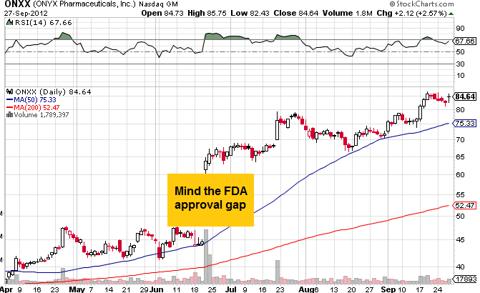 Disclosure: I have no positions in any stocks mentioned, and no plans to initiate any positions within the next 72 hours. I wrote this article myself, and it expresses my own opinions. I am not receiving compensation for it. I have no business relationship with any company whose stock is mentioned in this article.