Intel Corporation (NASDAQ:INTC) is attractively priced at a 9.8x price to earnings (P/E) ratio and a 4% dividend yield. The current valuation does not factor in new product offerings in the Ultrabooks and Microsoft Surface Tablet market. Intel is a buy today at current valuations. The dividend yield and P/E valuation provide an attractive entry price.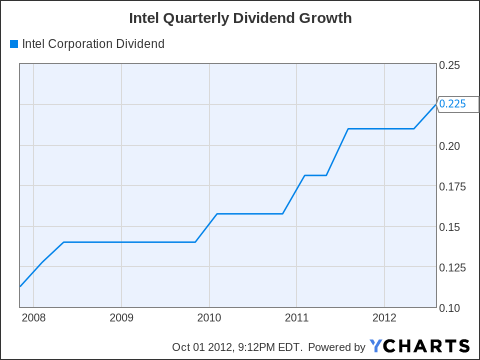 INTC Dividend data by YCharts
Dividends
Intel has consistently paid dividends since 1992. Intel's current quarterly dividend is 22.50 cents per share with the next record date set to November 7, 2012. The annual dividend has increased for 10 consecutive years.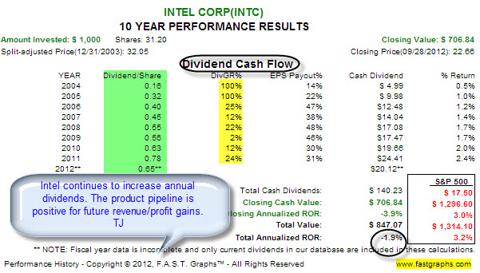 In the quarter, Intel spent $1.1 billion on dividends and an equal amount to buy back 41 million shares. With shares trading at about $22.75 as of October 1, 2012, Intel has a dividend yield of 4%. Intel is currently paying an annual 90 cents per share dividend.
New Products in the Pipeline
In the second quarter, Intel focused on new product introductions for smartphones and the Ultrabook range of laptops. Intel's PC Client Group contributed $8.7 billion (64.4%) of the quarter's total revenue of $13.5 billion, and $3.4 billion to operating income. Intel's Architecture Group lost $335 million in the quarter, substantially more than the year ago quarter loss of $33 million.
Intel, in recent years, has focused upon the Ultrabook segment. The company, via its entrance into the Surface tablet market, appears focused upon increasing tablet market acceptance into the growing tablet market.
Microsoft (NASDAQ:MSFT) Tablets
Intel is working on providing chips for the Microsoft tablets. The Intel Atom™ Processor Z2760 is built for the Microsoft Windows 8 Tablets. The Processor Z2760 was previously codenamed "Clover Trail".
Microsoft's tablet will go head to head against Apple's (NASDAQ:AAPL) iPad and Google's (NASDAQ:GOOG) Nexus 7.
Intel Capital
Intel aggressively invests in new product lines. Intel Capital has successfully cashed out on 3rd parties initial public offerings. Intel Capital retains investment positions in numerous technology entities. This focus is a fundamental corporate business strategy. Intel invest capital in new technological advancement opportunities.
Balance Sheet Strength
Intel ended the 2012 2nd quarter with cash and investments of $9.2 billion, long term debt of $7.1 billion, and shareholders' equity of $48.8 billion, up 4%. In the quarter, Intel generated $4.7 billion in cash from operations.
Industry Leadership Role
Revenues
For the second quarter ended June 30, 2012, Intel reported revenues of $13.5 billion, up 4% from $13 billion in the year ago quarter. Geographically, Asia accounted for 58% of revenue, Americas for 21%, Europe for 12% and Japan for 9%.
Operating Income and Net Income
For the second quarter ended June 30, 2012, Intel's operating income was $3.8 billion and net income was $2.8 billion down. The 2012 2nd quarter net come was down 5% compared to the $2.95 billion net income in 2011 2nd quarter. Earnings per share stayed flat at 54 cents on a diluted basis.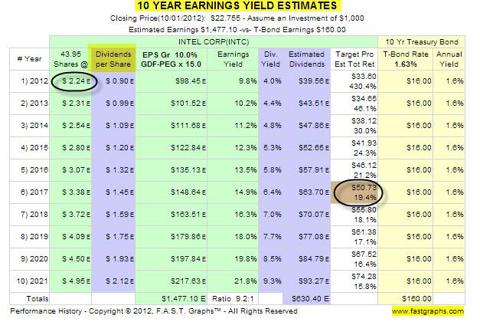 2012 earnings per share are anticipated to be $2.24.
2012 Revenue Slowdown
Intel management warned of a revenue slowdown because of a challenging global economic environment. This warning guided 2012 3rd quarter revenues down to $13.2 billion from earlier forecasts of $13.8 to $14.8 billion. Intel also plans to reduce capital spending to less than the lower range ($12.1 billion) of its earlier guidance.
Advanced Micro Devices, Inc. (NASDAQ:AMD)
Historically Advanced Micro Devices has been Intel's main competitor. Advanced Micro Devices is currently a $3 stock with a market cap of $2.3 billion. The company has averaged a -15.6% return over the past 10 years. Intel has higher revenues and earnings growth than Advanced Micro Devices.

Action
Intel is attractively valued at a price to earnings ratio of 9.8x. The 2012 economic slowdown has placed downward pressure on Intel shares. This creates an opportunity for income investors. A 4% yield, new products, revenue opportunities with the upcoming Microsoft Surface tablet, and a 9.8x price to earning offers an excellent entry price.
Disclosure: I am long INTC, MSFT, AAPL. I wrote this article myself, and it expresses my own opinions. I am not receiving compensation for it (other than from Seeking Alpha). I have no business relationship with any company whose stock is mentioned in this article.